DeMarcus Cousins Is a Legitimate X-Factor for a Bucks Team Trying to Repeat as NBA Champions
DeMarcus Cousins is no longer an All-NBA talent, but he still can be a significant X-factor for a Milwaukee Bucks trying to repeat as NBA champions.
Milwaukee is currently playing without typical starting center Brook Lopez, who is out with a back injury. That's left Giannis Antetokounmpo and Bobby Portis as the de facto frontcourt, which is taxing on the Greek Freak even if the Bucks are currently surging. Cousins can give Milwaukee toughness and offensive spurts while allowing Antetokounmpo to play more freely and excel as a rover and help defender.
Boogie can play a vital role in the Bucks' quest to win a second straight title.
The Bucks are signing DeMarcus Cousins to a non-guaranteed contract
Although the Bucks have found success in the Giannis-Bobby Portis frontcourt pairing, they still appeared to need size. Enter DeMarcus Cousins.
Adrian Wojnarowski of ESPN reported Sunday that Milwaukee is signing Boogie to a one-year, non-guaranteed contract. Head coach Mike Budenholzer alluded to the need for size immediately following Sunday's win over the Indiana Pacers.
"We're playing Giannis and Bobby really as our two bigs right now, so I think when you look at the depth chart and look at how we're subbing and everything, depth at the big position is something that we could use," Budenholzer said, via ESPN.
Antetokounmpo offered a similar sentiment, saying "it's a lot of a load" on himself and Portis to play heavy minutes as the team's bigs in various rotations and suggesting that construction somewhat constricts what Milwaukee can do. He's been begging for Brook Lopez to return for weeks. The addition of Cousins should ease some of the burdens on Giannis.
Given it's a non-guaranteed deal, Cousins has just over a month to cement his spot on the roster, as teams must guarantee contracts by Jan. 7. Boogie should have no problem doing just that.
Cousins can replicate some of Brook Lopez's value for the Bucks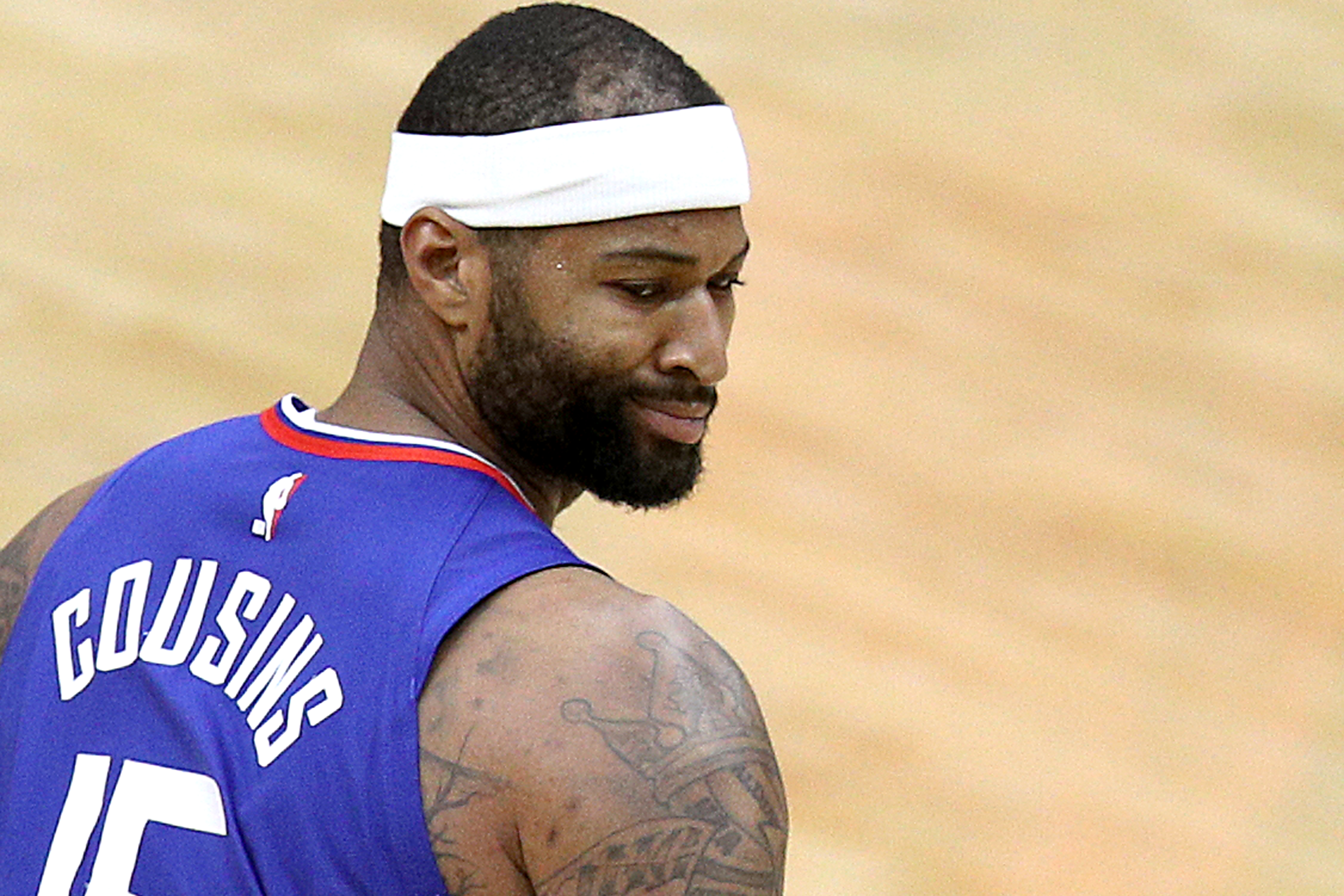 Brook Lopez gave the Bucks one of the better rim protectors in basketball, as well as a big capable of stepping out and hitting 3-pointers. Cousins can offer some of the same, to an extent.
After struggling early in the 2020-21 season with the Houston Rockets, Cousins showed his quality and proved haters wrong during a brief stint with the Los Angeles Clippers. In 16 games, Boogie averaged 7.8 and 4.5 rebounds while shooting 42.1% from deep on 1.2 attempts per contest. The most impressive aspect of his production is he amassed those numbers on just 12.9 minutes per contest.
Cousins can provide offense in bunches off the bench. He can pick-and-pop for open jumpers while still having the explosiveness to finish through contact at the rim and diving to the basket for easy twos.
Now, the defensive impact isn't quite the same as Lopez. Still, Cousins clogs the lane and is a handful to deal with on the boards. It's worth noting that the Rockets were nearly eight points better per 100 possessions with Cousins on the floor last season. Additionally, Boogie's toughness fits nicely with the Bucks' identity.
But while Cousins himself can contribute to Milwaukee's success, the most consequential aspect of his addition might be how it eases stress on Antetokounmpo.
The addition of Boogie allows the Bucks to reinstall Giannis Antetokounmpo as a point forward
Giannis Antetokounmpo can certainly play in the frontcourt. He bullies smaller defenders in the post and can cause havoc on the offensive glass. But Giannis is at his best when he can extend to the perimeter and work in pick-and-roll.
Antetokounmpo forces defenses to collapse when he gets downhill in the half court. He can either score at the rim or kick to open shooters on the wing and in the corners. But he doesn't have as many opportunities to get on the ball if the Bucks rely on him down low. That lessens Milwaukee's playmaking potential.
The addition of DeMarcus Cousins should give Giannis more freedom on the offensive end. Boogie can operate out of the low post and likely becomes the team's screener and roll man when he's on the floor, a role Antetokounmpo has taken up in Lopez's absence.
Moreover, Cousins can take some of the hits Antetokounmpo might otherwise have if he had to keep playing in the frontcourt. That's not insignificant.
The Greek Freak is still grappling with a knee injury suffered during last season's playoffs. It's crucial that the Bucks find ways to limit the number of bumps and contact he receives on a nightly basis. Boogie helps in that regard.
The Cousins signing is unlikely to turn many heads. But it affords Giannis and the Bucks different rotational looks and can somewhat replicate Lopez's value on the floor.
Stats courtesy of Basketball Reference.