Demarcus Lawrence Just Set the Stage for the Cowboys to Release Him
The Dallas Cowboys are entering a tricky offseason in which cost-cutting will be at a premium. It's already been reported that veteran wide receiver Amari Cooper will be released to clear cap space. More moves like this will likely be on the way as Dallas fights to free up money.
As good as the Cowboys roster was on paper last season, it failed to show up when the lights shined brightest. Not only do changes need to be made this offseason, but improvements need to be made as well.
It's a tricky position to be in when you're $20-plus million over the salary cap.
The Cowboys asked DE Demarcus Lawrence to take a pay cut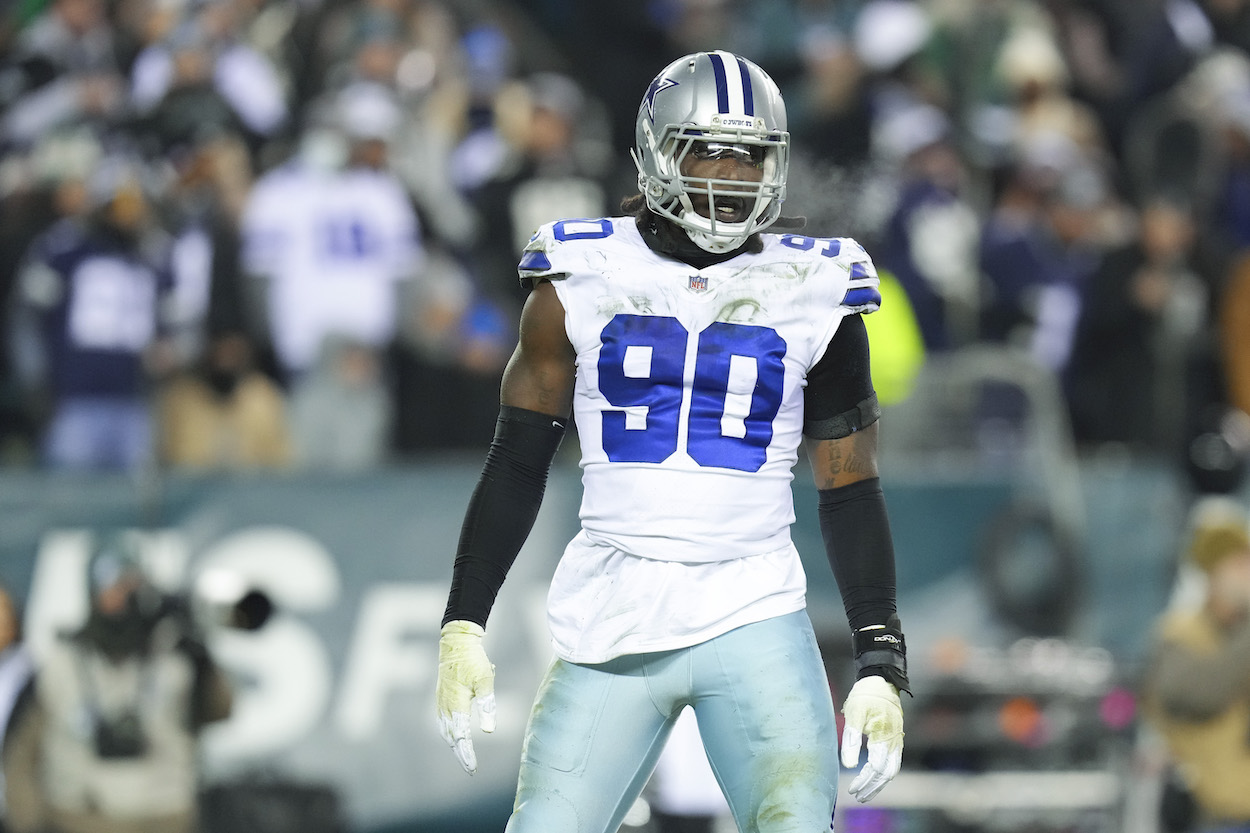 Demarcus Lawrence has been the Cowboys' best pass-rusher for several seasons. However, 2021 was the first year NFL fans started seeing signs of regression appear for the veteran defensive end.
Lawrence missed 10 games due to injury and only recorded 3.0 sacks in the seven games he played. Micah Parsons and Randy Gregory were both significantly better pass-rushers in 2021.
Many view Lawrence as a prime candidate to bounce back in 2022. However, the bad news for Dallas is that he's set to make $27 million in 2022. That's the second-highest cap figure on the Cowboys payroll, right behind quarterback Dak Prescott.
Still needing to free up money for the offseason, the Cowboys recently approached Lawrence about taking a pay cut. They did not get the answer they were hoping for.
The team's front office recently asked the All-Pro pass rusher to accept a pay cut for 2022, sources confirmed to CBS Sports, but Lawrence politely (or maybe not so politely) declined. Lawrence is set to earn a base salary of $19 million next season, and the Cowboys are trying to free up tens of millions to help aid their free agency plan that might involve tagging either tight end Dalton Schultz or defensive end Randy Gregory, but Lawrence also knows there's an easy option the team could pull the trigger on that gains them millions toward the cap without amputating his direct deposits.

Patrik Walker, CBS Sports
Demarcus Lawrence is now a prime candidate to be released
Now that Lawrence has formally rejected Dallas' request to take a pay cut, the next logical step for the Cowboys is to explore releasing the veteran pass-rusher.
The Cowboys would save $19 million in salary (with an $8 million dead-cap hit) by cutting Lawrence post-June 1. Considering Lawrence's measly sack numbers last year and Dallas' ugly cap situation, this appears to be a pretty straightforward decision for the front office.
Lawrence has been a crucial member of the Dallas defense for almost a decade now. However, a bad cap situation always forces teams into making tough decisions — like this one.
The Cowboys will likely turn their attention to Randy Gregory
With Cooper and Lawrence set to be released in the coming days/weeks, the Cowboys will likely turn their attention to defensive end Randy Gregory.
They've already started contract talks with WR Michael Gallup, who will be asked to fill the void left by a departing Cooper. Gregory could see a similar ask if he's brought back to replace Lawrence permanently.
Either way, the Cowboys are likely losing two of their more iconic players this offseason due to financial reasons. That's never a good spot to be in.
All stats courtesy of Pro Football Reference.
RELATED: The Cowboys Reportedly Want Randy Gregory to Take a 'Hometown Discount'