Demetrious "Mighty Mouse" Johnson Wants to Be Known for eSports, Not MMA Career
Demetrious "Mighty Mouse" Johnson made a name for himself in the octagon.
Now, the former UFC flyweight champion has built a virtual following. Johnson has streamed himself playing video games for over five years and just signed with a professional eSports company.
In a recent interview with Sportscasting, Johnson looked back at his MMA career and admitted he wants his reputation to come from his gaming career, not just his time in the octagon.
Demetrious "Mighty Mouse" Johnson had a standout MMA career
Demetrious "Mighty Mouse" Johnson had a standout UFC career. A former freestyle wrestler, Johnson held the UFC flyweight championship in 2017.
He has 30 wins, five by knockout, in 34 attempts at the UFC level and landed the most takedowns in UFC flyweight history.
Johnson is the only UFC fighter to record over 10 takedowns in three different fights. His seven finishes are the most in UFC flyweight history,
Johnson has always loved video games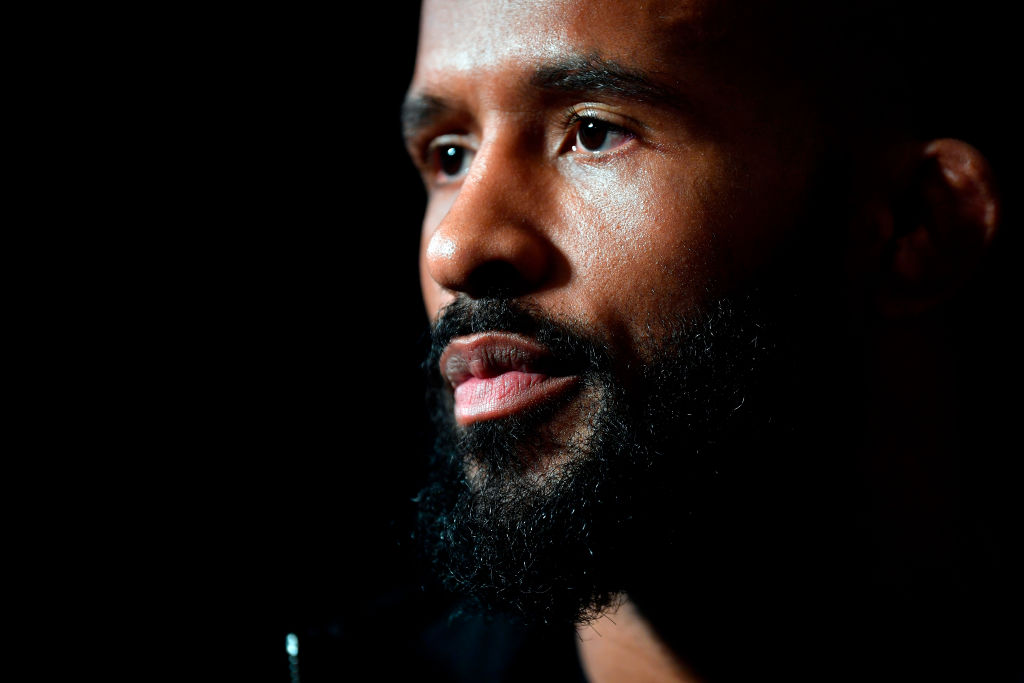 Every professional athlete has their hobbies away from the field. Johnson's passion is video games.
Growing up in the 1990s allowed Johnson to play cult classics like Doom, Final Fantasy, and Metroid. Years later, Johnson turned his passion into a professional gaming career.
Johnson joined Twitch, a streaming service, in 2015. He's played the immensely popular Grand Theft Auto V and Fortnite, among many other games.
Johnson built a following on World of Warcraft, an online multiplayer role-playing game. He is a member of the Horde, one of the game's two main factions.
Demetrious Johnson wants to be known more for gaming than fighting
Demetrious Johnson has two primary homes for video games. His Twitch channel, Mighty Gaming, has over 17,000 followers.
Johnson's YouTube channel, which has the same name, boasts over 75,000 subscribers and nearly three million views since he joined in 2010.
Johnson primarily streams World of Warcraft and Escape from Tarkov, a first-person shooting game. He's also posted videos of him playing Call of Duty and Halo in recent months.
Johnson's prowess with a controller recently earned him a partnership with Method Gaming, a professional eSports company. Method consists of nine teams featuring over 75 "world class" players, according to a press release.
Christian Bishop, the Chief Revenue Officer of Method Gaming, called Johnson a "true legend" in the release.
"He is one of the most authentic celebrities in our space," Bishop said. "He has streamed for over five years and is passionate about World of Warcraft and RPGs which makes him the perfect fit at Method."
Johnson is excited about his gaming future
Johnson said his experience and conversations with those at Method have been "amazing." He used the same word when describing the the team's content.
Method referenced Johnson's MMA career in the press release. Johnson told Sportscasting there have been times, though, where people have recognized him not for his time in the octagon, but his live streams.
"That's always been a goal of mine — not to be recognized for my mixed martial arts. It's to be recognized also as my gaming content. I think it's important to start building a brand in two different worlds instead of just one."
Demetrious "Mighty Mouse" Johnson streams most days on Twitch. Select clips later appear on his YouTube channel.