Dennis Rodman Claimed That He Was Once More Popular Than Michael Jordan: 'Michael is a God … I Should've Been Moses'
Dennis Rodman was fascinating — if not controversial — during the 1990s. He died his hair every color under the sun, partied unabashedly in public, and married Carmen Electra. For a brief period during the Chicago Bulls' second three-peat, The Worm claimed he was even more famous than Michael Jordan himself.
Somehow, though, even throughout his infamous romps, Rodman remained a key on-court piece of MJ's final Bulls run. But in terms of popularity — even in the city of Chicago — Rodzilla sometimes beat out The GOAT.
Dennis Rodman was always underrated on the court
Drafted with the third pick of the second round in 1986, Rodman was originally a member of the Bad Boy Pistons. He was an energetic spark plug off the bench for one of the toughest, most physical teams in NBA history. Perhaps that was foreshadowing of the power forward's future, or maybe he plied his trade there.
Either way, Rodman played the first seven years of his career in Detroit. He developed into the role that eventually got him into the Naismith Memorial Basketball Hall of Fame — a rebounder, defender, and overall agitator. He averaged single digits in points with the Pistons but brought down 11.5 rebounds per game his first seven years in the league.
After spending two seasons as a poor fit with David Robinson and the San Antonio Spurs, Rodman found his niche when Phil Jackson brought him to Chicago. Jordan and Pippen were initially hesitant on the signing, but Jackson gave them assurances, and everything worked out for all parties involved (no pun intended).
Rodman, Jordan, and Pippen won three consecutive titles together. The seven-time rebounding champion understood his role next to MJ — he averaged only 5.2 points but brought down 15.3 rebounds per game over those three seasons.
Off the court, Rodman was a captivating figure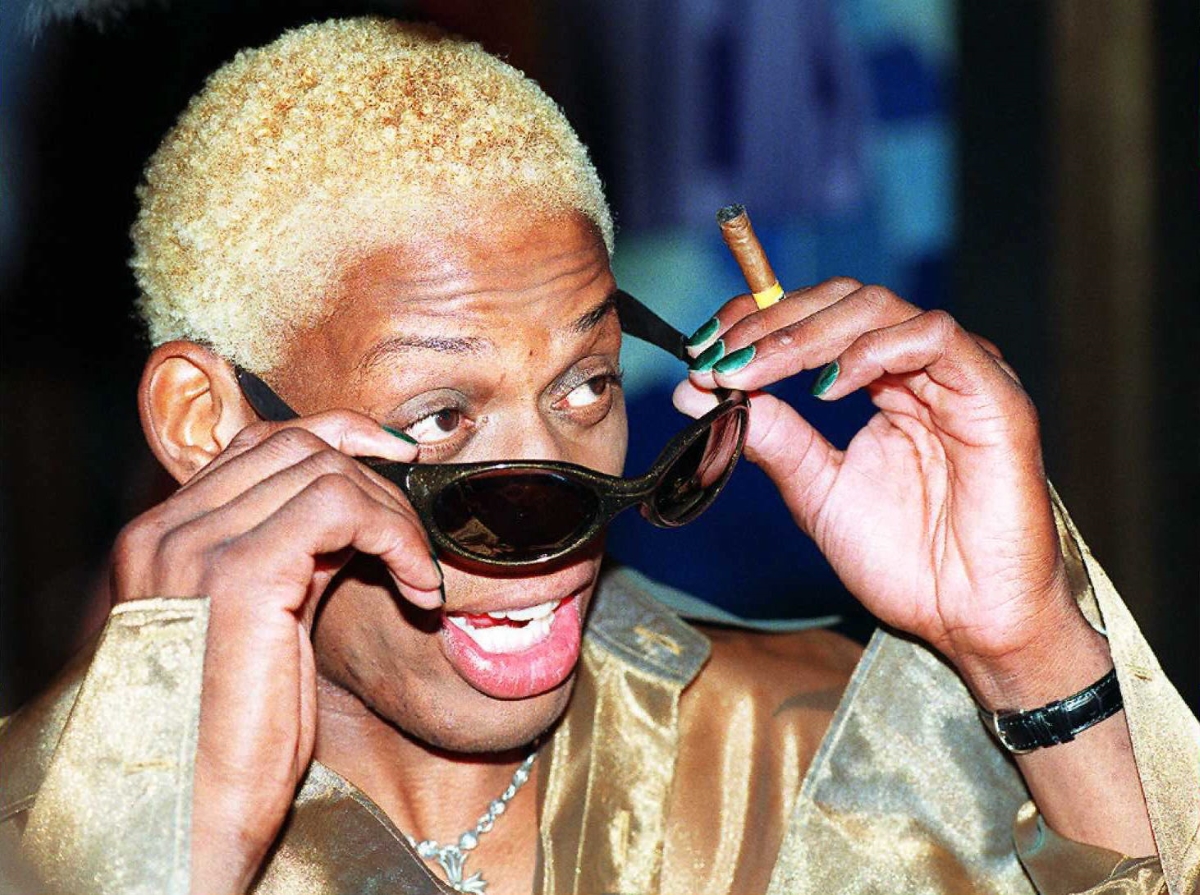 Jordan was must-see TV on the basketball court and even glamorous and charming off it. But he had nothing on Rodman's popularity during the mid-90s.
The two-time Defensive Player of the Year partied, dated celebrities, and donned wedding dresses. He was an instant hit in Chicago. To hear Rodman himself tell it in an interview with Complex prior to ESPN's 30 for 30 documentary Rodman: For Better or Worse, he was more famous than Jordan at the height of his off-court powers.
"In Chicago, Michael is a God and Scottie Pippen's Jesus. I should've been Moses.

"I was the opposite of Michael Jordan off the court and people loved seeing me doing these other antics and like, 'Wow, I mean this guy's interesting.' Because back then in 1996, 7, and 8, I was pretty much like on top of the world.

"As funny as it sound, I was more famous than Michael for three years in a row."

Dennis Rodman on being more popular than Michael Jordan during the Bulls' second three-peat
But Rodman's claim was seconded by a few different sources in the documentary. Former Pistons teammate John Salley said, "Yes. He was as famous as Michael Jordan in 1996, '97, and '98. Dennis was the tangible superstar. He would show up at places."
ESPN's Chris Connelly added, "It's like saying that somebody like had become more popular in Vatican City than the Pope. But here's the thing – there were people throughout America that, you know, didn't feel any connection to Michael Jordan."
The Worm is a Hall of Famer but will always be remembered for his off-court antics
Rodman's off-court galavants are sometimes hilarious, sometimes heartbreaking, but always memorable. Even now, at 60 years old, he's a compelling personality.
But he's also a member of the Naismith Memorial Basketball Hall of Fame. He was part of five championship teams. He won seven rebounding titles, was an eight-time all-defensive player, twice won the Defensive Player of the Year Award, and made two all-star teams. His basketball resume is legit.
Despite his on-court credentials, though, Dennis Rodman will bring raves, hair dye, and shenanigans to mind. And for a brief moment in time, those things made him more popular than even Jordan.
All statistics courtesy of Basketball Reference.
RELATED: A Young Michael Jordan Was Furious With the Chicago Bulls When They Traded for an NBA Legend: 'I Have No Comment. Just Say I Am Unhappy'