Dennis Rodman Destroys Stephen Curry for Ruining the NBA
If one player personifies the modern NBA, it is Golden State Warriors superstar Stephen Curry. And at least one former legend of the game, Dennis Rodman, is not OK with the changes. It's not unusual for players from past eras to dislike the way the game has changed. What is remarkable is just how visceral Rodman's reaction is, even compared with his contemporaries.
Rodman was a physical, defensive-minded player who evolved into one of the NBA's best rebounders ever. Despite his 6-foot-7 frame, Rodman's career average of 13.1 boards per game is just outside the top-10 all-time at No. 11. He won seven consecutive rebounding titles from 1991–98. Rodman was also a career 23.1% shooter from 3-point range, so his reluctance to embrace pace-and-space offense makes sense.
The changes from Dennis Rodman's time to Stephen Curry's are massive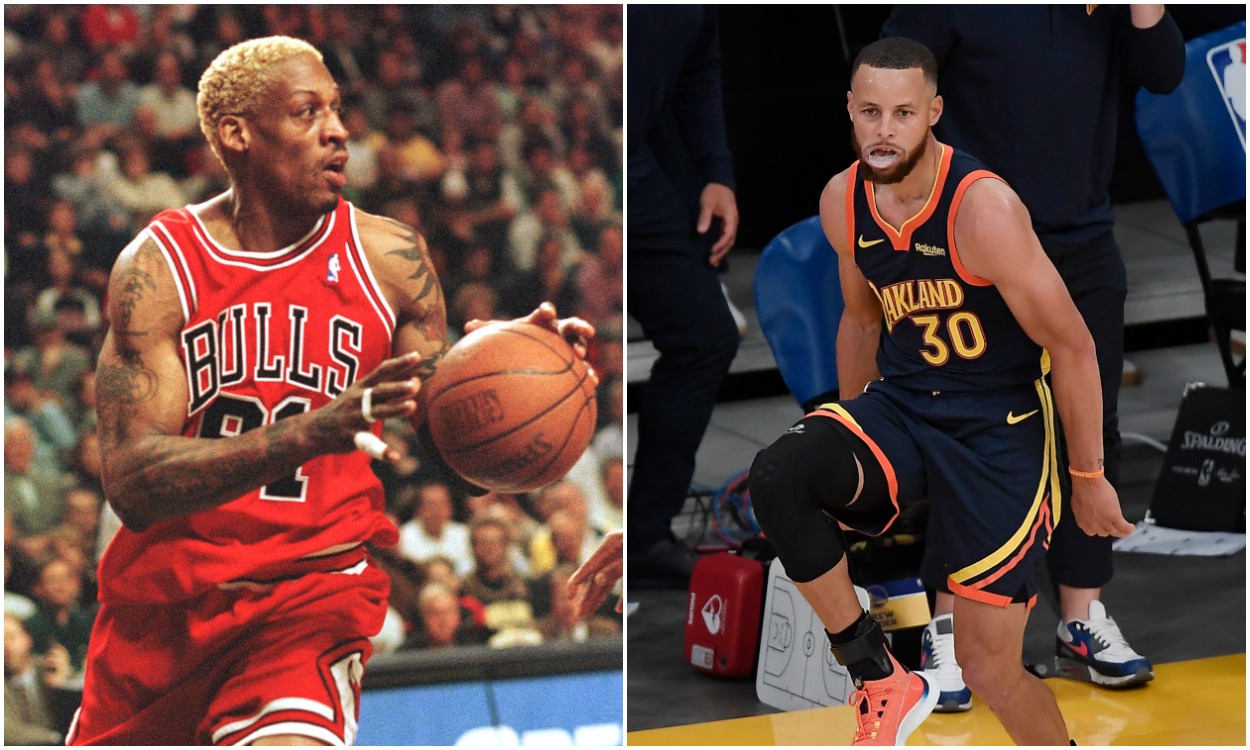 To say the NBA is different now than when Dennis Rodman debuted in 1986 is an enormous understatement. When Rodman was a rookie, NBA teams shot 30.1% from 3-point range. Teams averaged 4.7 deep tries a game, with the Dallas Mavericks leading the league at 8.0.
In his last full season, 1997–98, the 3-pointer was a more viable weapon. Teams took an average of 12.7 per game that year, hitting 34.6%, with the Houston Rockets top gunners of the NBA hoisting 20.4 triple tries a night.
Fast forward to 2020-21. Remember that average of 12.7 3-point attempts per game that teams averaged in 1997–98. Yeah, that's the exact number of attempts Curry averaged last season. That led the league considerably, with Damian Lillard of the Portland Trail Blazers (10.5) and Buddy Hield of the Sacramento Kings (10.2) the only others averaging double figures.
The landscape of the NBA is nothing like the late 1990s. Last season, teams averaged a record 34.6 3-point tries a game and shot 36.7%, breaking the league record of 36.2% set in 2017–18.
Further, the NBA has set a record for team attempts per game for 10 consecutive seasons. The last time the total dropped year over year was when it dipped from 18.1 shots from the great beyond in 2009–10 to 18.0 in 2010–11. That's not a downward trend as much as it was a temporary glitch.
In other words, Rodman does have a point.
Dennis Rodman didn't call out Curry by name, but it doesn't take a genius to figure it out
On a recent appearance on the Full Send Podcast, Dennis Rodman said he didn't watch much of the NBA in its modern form.
"Not really. Seriously, not really. It's just very hard to watch because once you've played the game the way we played, intensity, just competitiveness. But now it's more like; I don't want to watch players come down and shoot 50-footers. That's not basketball. I understand you want to score long-range, but my god … It's difficult to watch, but a lot of kids love it."
That doesn't call out Stephen Curry by name, but the rise of Curry's stardom coincides with the explosion of the pace-and-space style. He's averaged more than 10 3-point tries a game four times in his career, with a career average of 8.6. That is No. 1 all-time.
Among those with a minimum of 250 made 3s, 23 of the top 25 in 3-point attempts per game are active players. Ray Allen is the first retired player on the rankings, at No. 23.  Only six of the top 50 are no longer in the NBA.
The Stephen Curry era is here to stay, at least for now
Stephen Curry may not have started the revolution Dennis Rodman detests, but he's been a significant part of it.
And pace-and-space basketball isn't going anywhere. In terms of offensive efficiency, the seven most prolific teams in NBA history played last season. That's not a misprint — the Denver Nuggets were seventh in the league, scoring 117.1 points per 100 possessions, in 2020–21. That was more than any team before last season.
Every team in the top 10 comes from the last three seasons. The team that held the record for offensive efficiency for 32 years, the 1986–87 Los Angeles Lakers, now isn't even in the top 10. The team that broke that mark, the 2018–19 Warriors, currently ranks ninth.
The bottom line is that whether Dennis Rodman likes it or not, Stephen Curry's influence on the NBA is deeply rooted, at least until the next revolution comes along.
Statistics courtesy of Basketball Reference and Stathead.