Dennis Rodman Didn't Fear Playing Against Magic Johnson After Johnson's HIV Diagnosis: 'I Don't Give a Damn if He Got That'
Magic Johnson could say whatever he wanted about Dennis Rodman as a player, but the legendary point guard knew he couldn't deny Rodman's humanity.
This year marks 30 years since Johnson, the Los Angeles Lakers' star point guard, announced that he had contracted HIV. Leave it to Rodman, the Detroit Pistons' eccentric big man, to stand apart from the horrified and concerned crowd.
Dennis Rodman wasn't afraid of Magic Johnson's HIV diagnosis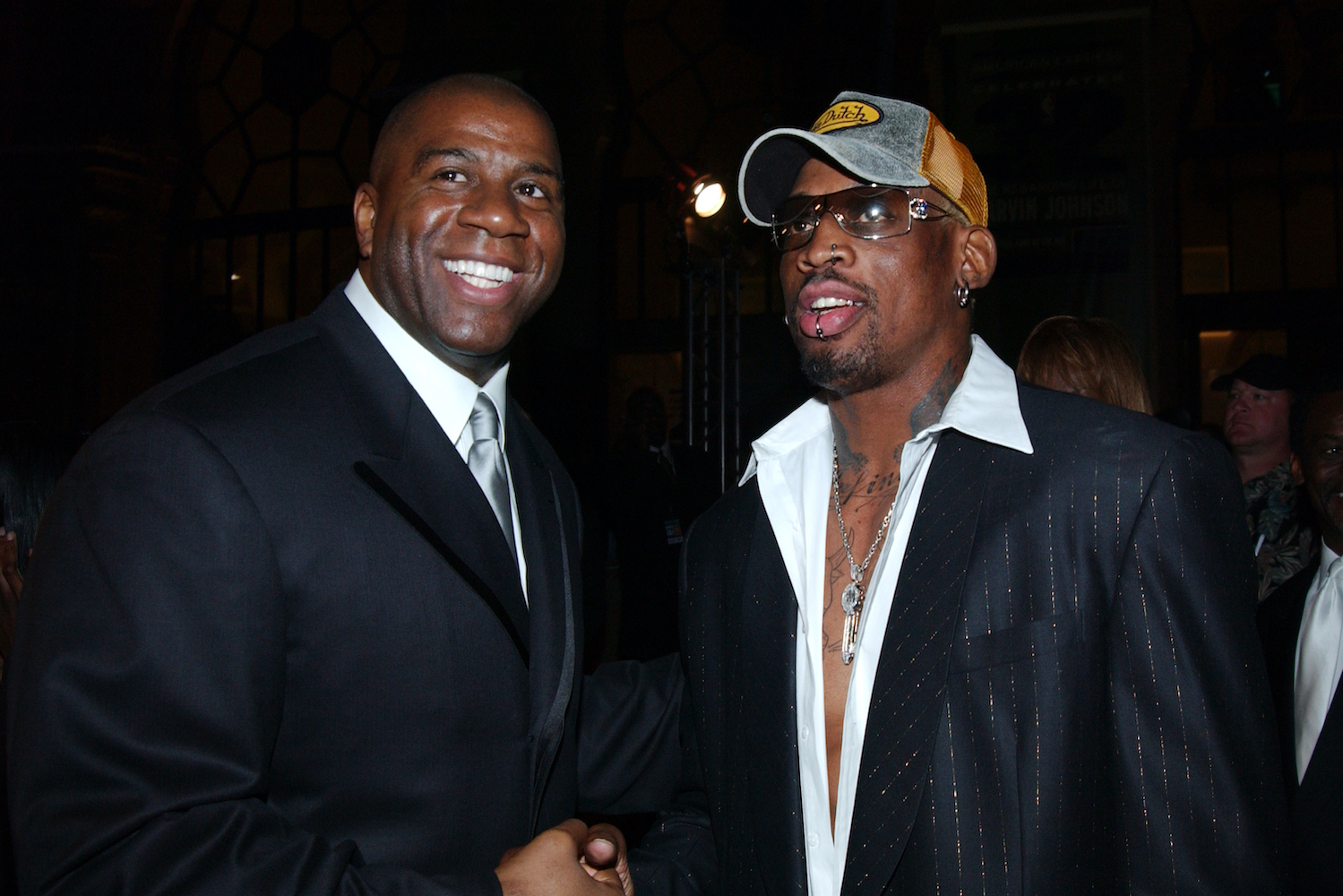 RELATED: Magic Johnson Says This Was Harder Than Playing Michael Jordan
When Magic Johnson announced that he had HIV, it was easy to believe at the time that he'd just revealed his own death sentence.
The early 1990s were a far different time for understanding HIV, especially in California, an area that had been hit hard during the epidemic. Misinformation about the virus spread like wildfire, and those around the NBA panicked.
As for Dennis Rodman, he could only shrug his shoulders. In a 2019 interview with Business Insider, Rodman reflected on Johnson's announcement and how it impacted the NBA.
Rodman said that he didn't feel one way or the other about potentially sharing a court with Johnson.
"They asked all the players in the NBA; nobody wanted to play with him. They asked me, I said, I don't give a damn, I just wanna play. I don't give a damn if he got that."

Dennis Rodman.
It is worth noting that Rodman has had a long and productive relationship with the LGBTQ community. The HIV and AIDS crisis in the 1980s had a devastating impact on that community.
Mostly, as Rodman said, his personal reaction had nothing to do with the virus or fear. Rodman just wanted to play, and if Johnson could suit up, Rodman would do the same.
Johnson became an advocate in the fight against HIV
RELATED: Magic Johnson Has Survived Nearly 30 Years With HIV Thanks to a Once-Experimental Drug Cocktail
It's important to understand that 1991 was a far different time, both in the NBA and regarding overall public life.
That is a large part of why Magic Johnson went public with his diagnosis in the fall of 1991. He wanted those listening, especially younger fans, to practice safe sex and learn the facts about HIV.
Johnson immediately became a public advocate in the fight against HIV, and NBA Commissioner David Stern was happy to help. In a tweet remembering Stern after the former commissioner's death in 2020, Johnson shared how instrumental Stern was in battling misinformation about the virus.
"When I announced in 1991 I had HIV, people thought they could get the virus from shaking my hand. When David allowed me to play in the 1992 All Star Game in Orlando and then play for the Olympic Dream Team, we were able to change the world."

Magic Johnson
Much like what Dennis Rodman said in 2019, NBA players took a simple approach before the 1992 All-Star Game. They wanted to play the game, and they took a chance on playing with Johnson, who scored 25 points in 29 minutes and won the game's MVP award.
Rodman grabbed 13 rebounds in the Eastern Conference's 40-point loss that night.
Dennis Rodman and Magic Johnson are still going strong in 2021
RELATED: Dennis Rodman Called Into a Miami Heat Radio Show and Did the Interview While Doing NSFW Activities With a Woman
Nearly 30 years after Magic Johnson's announcement, he and Dennis Rodman are still living productive lives.
Johnson holds ownership stakes in the Los Angeles Dodgers and the Los Angeles Sparks. The Dodgers won the World Series last year and have made the Fall Classic three times since the current ownership group took over in 2012.
Rodman is still being Rodman. He's traded rebounds and championships for overseas trips and a close bond with Kim Jong-un, the North Korean dictator.
How to get help: Text HOME to 741-741 to connect with a trained crisis counselor at the free Crisis Text Line.