Dennis Rodman Heavily Dismissed the Idea of Him Being a Role Model: 'They Don't Need Me To Show Them'
Chicago Bulls legend Dennis Rodman developed a reputation for being witty, eccentric, and himself.
Naturally, the All-Star big man also built a large fanbase in the process. But if anyone considered the five-time champion a role model, they shouldn't have brought that idea up to Rodman himself.
Dennis Rodman didn't want to be considered a role model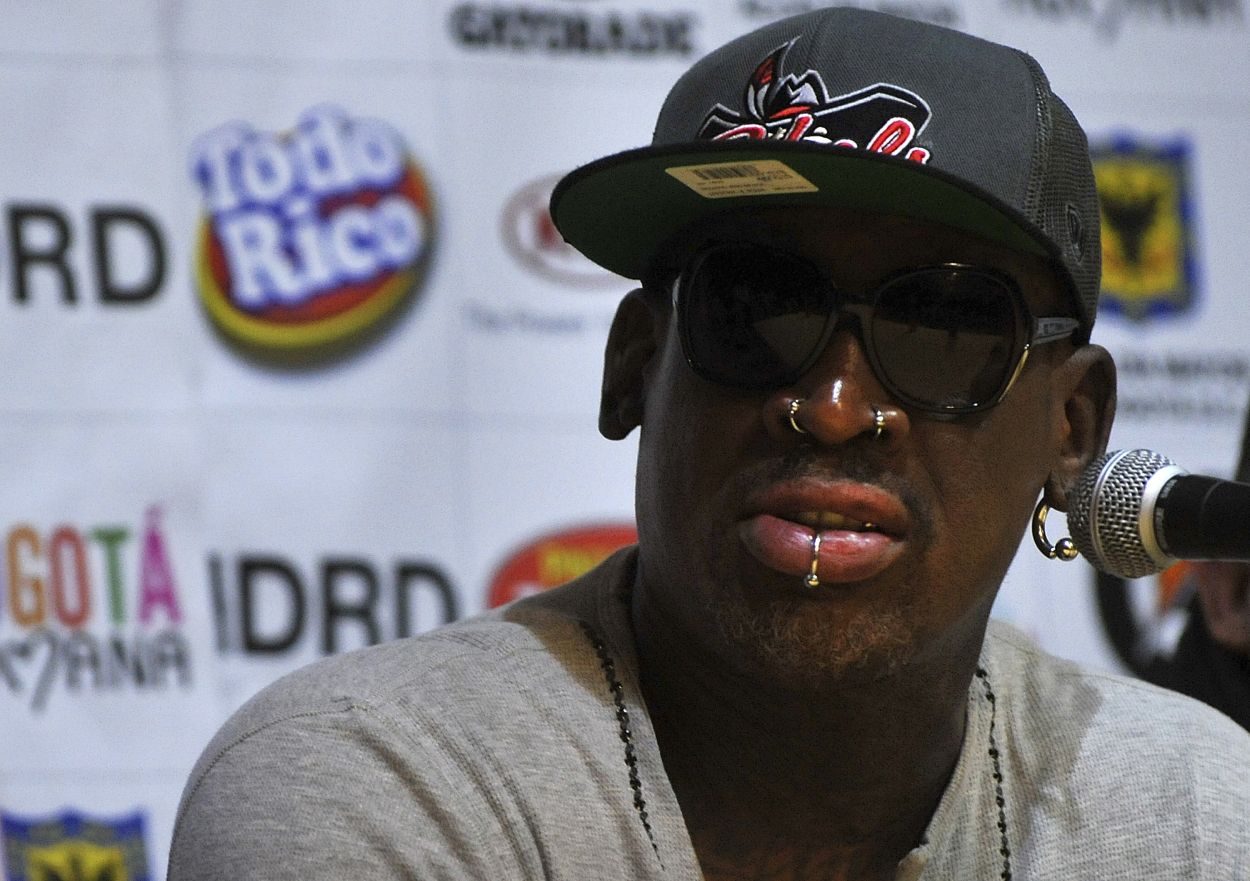 Dennis Rodman is many things, and that includes a champion, an All-Star, and a beloved basketball player.
Some people may have considered him a role model, and they'd have reason to feel so strongly. Rodman challenged stereotypes, turned his body into a canvas featuring tattoos and piercings, and spent time with people from any group imaginable.
Still, don't ever think of him as a role model. In a 1997 interview with Playboy, the NBA legend said he didn't want anyone to look up to him.
"Nobody in the world is a role model except to his own kids. People think athletes and entertainers are role models for kids, but they're wrong. Kids today have more options than we ever had. They don't need me to show them. These kids are 15 years old, partying their asses off. Every day is Woodstock."

Dennis Rodman
However, Rodman did want one thing from his fans, and it had nothing to do with viewing him as a role model.
"I do ask people to respect the individuality I bring to the table," Rodman said.
Charles Barkley famously said something similar
Rodman wasn't the only NBA player who wanted nothing to do with being a role model.
Charles Barkley famously said something similar in a 1993 Nike commercial. His 41-word speech remains among the more iconic moments of his career.
"I am not a role model. I'm not paid to be a role model. I'm paid to wreak havoc on the basketball court. Parents should be role models. Just because I dunk a basketball doesn't mean I should raise your kids."

Charles Barkley
Nearly 30 years later, Barkley hasn't changed his mind. He is still outspoken and prone to controversy, but he doesn't publicly consider himself a role model.
Other athletes have embraced the idea of being role models
Barkley and Rodman have made their views clear: They don't consider themselves to be role models, and they believe parents should be the actual sources of inspiration for children.
Other athletes have embraced their popularity and success, however, and tried to inspire millions. LeBron James opened the I Promise School in 2018 to help at-risk children in Ohio. Former Baltimore Ravens offensive lineman Michael Oher, who The Blind Side was based on, created the Oher Foundation to help children in poverty.
Athletes frequently host youth camps, speak to children, and use their social media following for good. Barkley and Rodman aren't necessarily wrong that parents should set the example for their children, but there may not need to be a definitive answer about whether athletes are role models.
Like Sportscasting on Facebook. Follow us on Twitter @sportscasting19.
RELATED: How Charles Barkley's Controversial 'I Am Not a Role Model' Nike Spot Came to Be