Dennis Rodman Felt Like a 'Total Person' When He Spent Time With the LGBTQ Community
Basketball fans always know that they're getting something unique when Chicago Bulls legend Dennis Rodman is involved.
Rodman has long been an eccentric figure, someone who lives life to the fullest, however he feels is correct. As he grew older, Rodman realized that everyone — regardless of their background — deserved to live their life with as much fun and freedom as he did.
The LGBTQ community made Dennis Rodman feel like a 'total person'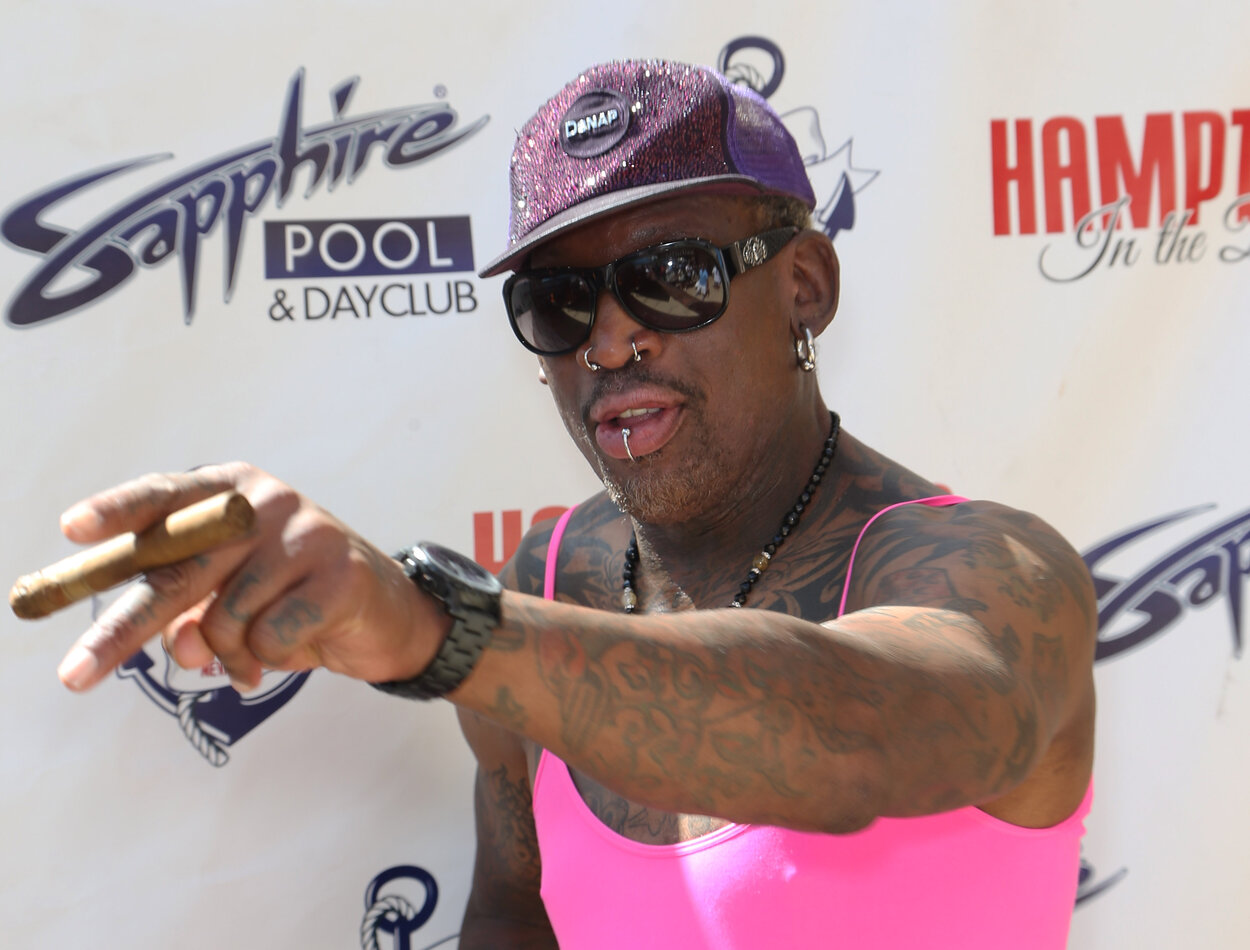 Dennis Rodman has long been a free spirit, someone who cares a great deal about piercings and bright clothing.
It made sense, then, that Rodman would want to spend time with people of different tastes and interest. In his 1996 book, Bad As I Wanna Be, Rodman wrote about bonding with the LGBTQ community. 
At one point, Rodman elaborated on how he'd often spend time in gay bars. 
"To hang out in a gay bar or out on a sequined halter top makes me feel like a total person and not just a one-dimensional man."
Rodman made it clear in the book that he isn't gay. He did write, however, that he fantasized about having sex with another man. 
"I believe it's natural for your body to go and explore anything it wants," Rodman wrote. 
Rodman took a long journey to loving and accepting himself
Dennis Rodman is an advocate of individualism, enough to where his tattoos and piercings are more synonymous with him than his rebounding or championship rings.
Rodman never backed down from a challenge on the court. He fought other players while on the 'Bad Boys' Detroit Pistons teams, and later served as Michael Jordan's enforcer on the Chicago Bulls.
Away from the court, Rodman eventually accepted that he could be more than a basketball player. Rodman wrote in Bad As I Wanna Be that he considered death by suicide in 1993, his final year with the Pistons.
With Pearl Jam playing in his car, Rodman decided that night that he would live life how he intended. What has followed, nearly 30 years later, is a man who loves himself and is comfortable in his own skin.
Dennis Rodman still supports the LGBTQ community
If Dennis Rodman feels comfortable in his own skin, why shouldn't others?
Rodman has spent many years as an advocate for marginalized people, from those struggling with their own individualism to overall groups. That includes the LGBTQ community, who Rodman embraced during his playing days.
In a 2019 interview with Business Insider, Rodman reiterated that he just wants people to be happy. That included, he explained, people embracing who they really are.
"I don't know why people haven't came out before," Rodman said. "It's cool that people are coming out being, you know, gay or homosexual or whatever, lesbian and stuff like that."
How to get help: In the U.S. and Canada, text the Crisis Text Line at 741741 to reach a crisis counselor for support.