Dennis Rodman Once Gave Post Malone a Lame (but Thoughtful) Christmas Gift: 'You Didn't Have to Do That'
Dennis Rodman is famous for his Hall of Fame NBA career, most notably with the Detroit Pistons and Chicago Bulls. But he has become popular for much more than that.
Despite the fact he was a hoops star with many responsibilities, Rodman enjoyed having a good time during his basketball career and typically hung out with some massive celebrities while doing it. That has since extended into his post-playing days, as Rodman once bought rapper Post Malone a Christmas present.
Dennis Rodman's NBA success made him a pop culture icon
Dennis Rodman rose to fame in the 80s and 90s when his passionate play on the basketball court helped him win five NBA championships with the Bulls and Pistons. However, his unique personality captivated fans everywhere and even led to him becoming well-acquainted with some of the world's biggest stars.
From dating Madonna to actually marrying Carmen Electra, Dennis had multiple high-profile relationships. But he also worked with some big-time celebrities. Rodman once skipped practice for the NBA Finals to wrestle in WCW with Hulk Hogan. He also released the 1997 action film Double Team with Jean-Claude Van Damme and Mickey Rourke.
However, just because he's no longer at the height of his popularity doesn't mean The Worm is done rubbing elbows with some of America's most famous personalities.
In fact, in 2018, Rodman bought Post Malone a gift for the holidays.
Dennis Rodman bought Post Malone an Olive Garden gift card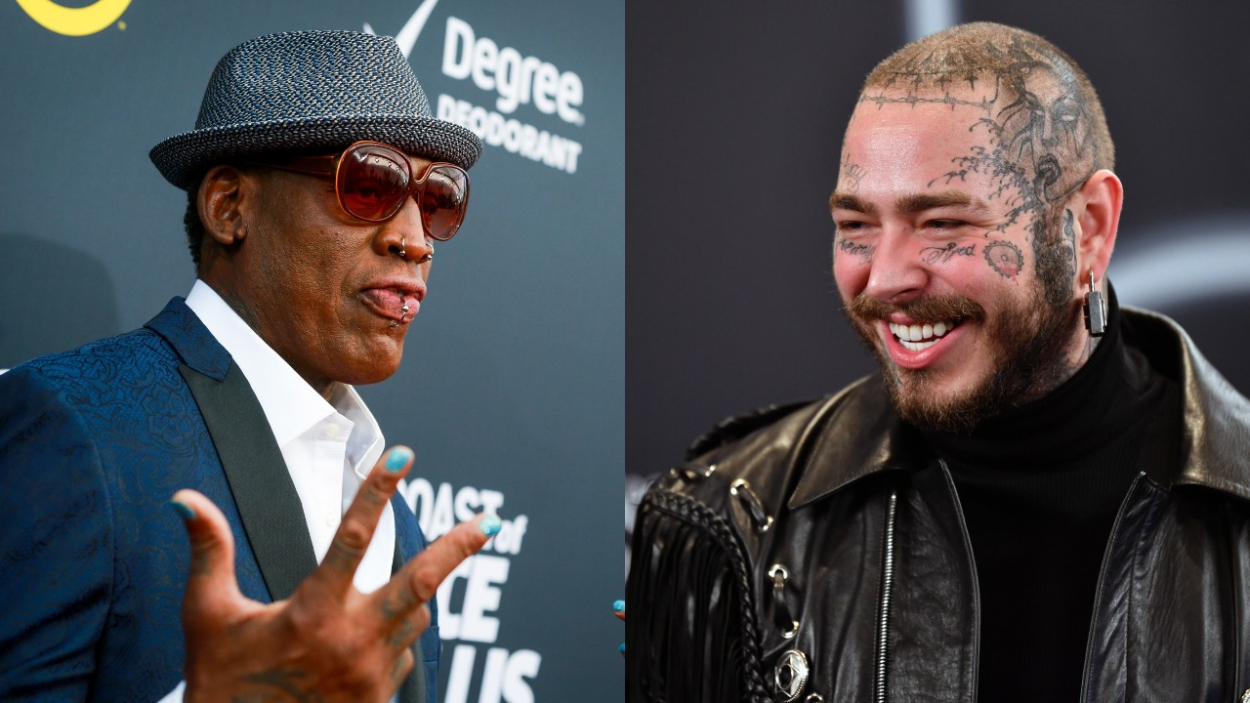 In 2018, Dennis Rodman tweeted a video of himself with Post Malone along with the caption, "Merry Xmas. @PostMalone." 
The clip showed him giving the superstar rapper a Christmas gift.
"I got you a little gift," Rodman said in the video. "I had to put it in my sock, or I'd lose it. I lose everything, man."
He then pulled a gift card out of his sock and handed it to his friend. Once Post Malone looked at it, he immediately said, "You didn't have to do that, man," and gave the former hooper a hug.
When asked about it, Rodman said it was for Olive Garden.
"I love it," the artist said.
While that may seem like a lame gift for one superstar to give to another, Post Malone has made his love for the restaurant known over the years. So, Rodman gave him something he knew he would actually enjoy.
But how much was it for? According to a photo taken by Post's personal photographer, it was worth $25.
That was likely enough to buy a nice dinner for one, or a couple of soup, salad, and breadstick meals.
Dennis Rodman never let his lifestyle affect his play on the court for the Bulls
Dennis Rodman no longer has to worry about juggling his celebrity friendships with basketball, but he did so magnificently during his playing days.
He gave it his all whenever he was on the court, leading the NBA in rebounds per game in seven different seasons and pulling down as many as 18.7 in 1991-92. He also won two Defensive Player of the Year Awards and not only earned Michael Jordan's respect on the Bulls by helping them win a second three-peat, but before his Chicago days, Rodman played a major role in the Pistons winning a couple of championships as well.
And like his personality, Dennis the Menace's playing style was also unique.
"I think he took great pride in not scoring," his former teammate Steve Kerr said earlier this year on an episode of the Tolbert, Krueger, and Brooks Podcast. "It was really bizarre. When we were in Chicago together, he would have games where he would get an offensive board and literally have a layup, and he would just throw it back out, I think hoping that we would miss another shot so that he could get another offensive board."
Dennis Rodman's actions may have been (and may still be) confusing to some. Why did he care so much about hanging out with celebrities during his NBA career? Why didn't he try to score? But everything he did not only helped him become one of the greatest basketball players of all time, but it also made him a pop culture icon and a beloved personality.
Stats courtesy of Basketball Reference