Dennis Rodman Spent the Final 29 Days of His NBA Career in a TV-Style Relationship With Mark Cuban
Even the most dedicated Dallas Mavericks fans might not remember when Mark Cuban signed Dennis Rodman.
That is not a misprint. At the end of Rodman's NBA career and the start of Cuban's tenure owning the Mavericks, the eccentric figures partnered in Texas. What followed over the next 29 days is something straight out of a TV sitcom.
Dennis Rodman closed his career with the Dallas Mavericks
RELATED: Dennis Rodman Tried to Wear a Number 69 Jersey, but David Stern and the NBA Refused to Allow It
When the calendar turned over from 1999 to 2000, Dennis Rodman likely knew the end was near.
Rodman, who would turn 39 in the spring of 2000, was coming off a 23-game stint with the Los Angeles Lakers during the 1998-99 season. He averaged 2.1 points and 11.2 rebounds in 28.6 minutes per night while on the Lakers.
Midway through the 1999-2000 season, the Dallas Mavericks — now owned by Mark Cuban — signed Rodman to join a young Dirk Nowitzki and Steve Nash. Cuban had purchsed his majority stake in the team only weeks earlier.
Rodman didn't need long to endear himself to the hometown fans. The NBA declined Rodman's former request to wear No. 69, which was nothing more than a sexual reference. Rodman instead wore No. 70.
On the court, Rodman averaged 2.8 points and an eye-popping 14.3 rebounds per night in 12 games. Dallas lost nine of those games, however, and cut Rodman only 29 days after he made his Mavericks debut.
Rodman spent that time living with Mark Cuban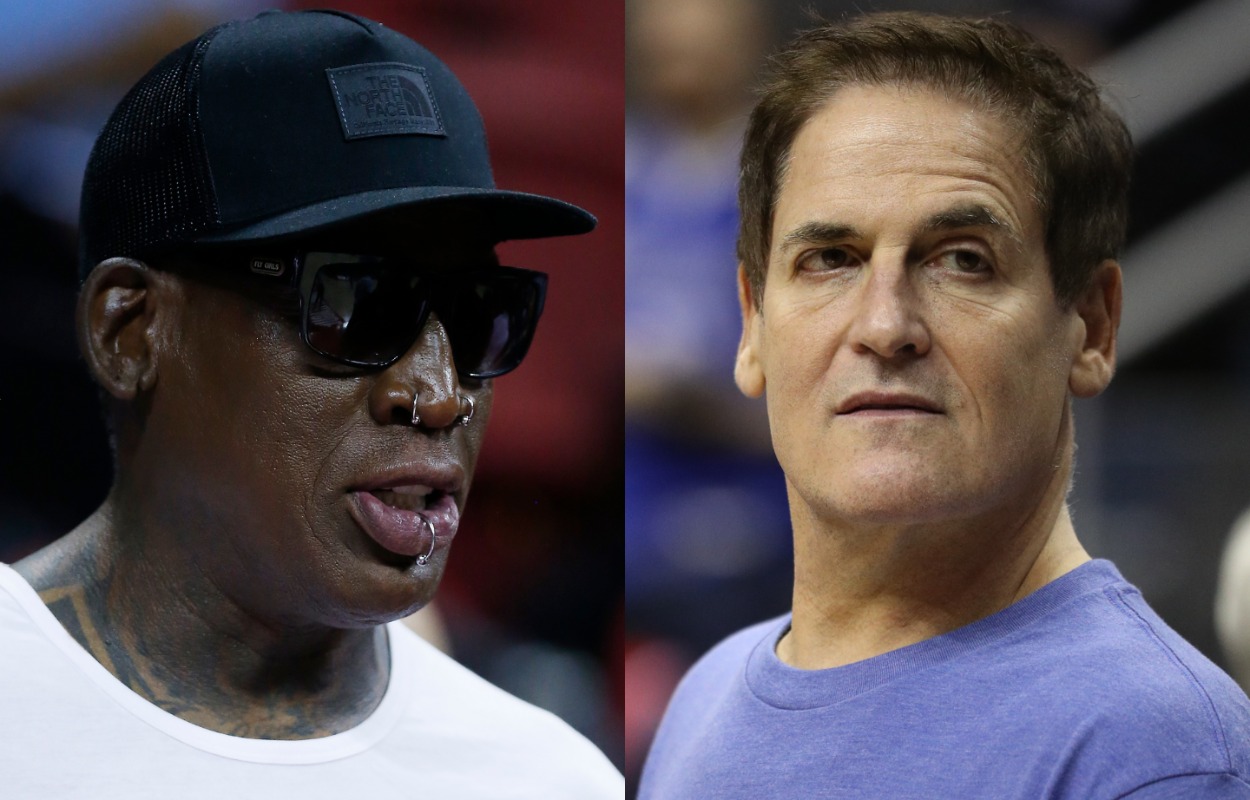 RELATED: Dennis Rodman Tried to Date Donald Trump's Daughter and Was Laughed at When He Asked Her Out
In something that sounds straight out of The Odd Couple, Dennis Rodman spent his time with the Mavericks as Mark Cuban's housemate.
According to the Hartford Courant, Rodman lived in a 4,000-foot guest house on Mark Cuban's property in Dallas. Cuban spent $13 million on the mansion and had plenty of room for guests.
When speaking to the Courant, Cuban explained why he didn't mind taking a chance on Rodman and his eccentric personality.
"So many people look at it and say, 'Well, you ought to demand this from him and that from him.' But remember, in the Internet business I had 22- and 23- year-old kids with blue hair, shaved heads, so many piercings they'd whistle when they walked by you. But they were worth 10, 15, 20 million dollars, and you don't just say to them, 'This is what I demand you to do.' You say, 'What are your goals? What are your dreams? And what can I do to get there and make it work for you?' "
Things didn't work out, and Dallas cut Rodman after a month. Rodman had been ejected twice, suspended once, and fined $13,500 in his month with the Mavericks.
The day that the Mavericks waived him, Rodman criticized Cuban — 41 years old at the time — for spending too much time around the players.
"That's like [Cowboys owner] Jerry Jones, and it's dumb," Rodman said. "That's why the Cowboys went down. [Cuban] needs to be the owner, step back and put people in who can get this team in the right direction."
Dennis Rodman left a lasting impact on the Mavericks
RELATED: Mark Cuban Threw Keg Parties and Lived With 5 Guys To Squeak by After College
The Dennis Rodman chapter in Dallas, while it quickly became a disaster, is exactly what one would expect from such an eccentric figure.
Still, the years have been kind to how the Mavericks, especially Cuban, remember those days. A picture of Cuban speaking at the Web Summit in December 2020 went viral because it had Rodman's No. 69 jersey in the background.
In a 2020 interview with The Athletic, longtime Mavericks public relations staffer Sarah Melton took the high road when discussing Rodman.
"It was a short-lived experience, but it was fun," Melton said. "It did rejuvenate our fanbase, for sure."
Like Sportscasting on Facebook. Follow us on Twitter @sportscasting19.