Dennis Rodman Is Missing $5,000 From His Bank Account Because of Scottie Pippen's Scar
In hindsight, it is incredible that the Chicago Bulls won three titles with Dennis Rodman, Michael Jordan, and Scottie Pippen all trying to co-exist on the same team.
Jordan and Pippen were all business, and their partnership helped ensure the Bulls became a dynasty. But then there was Rodman, whose tattoos and bright hair seemingly went against everything that Jordan and the Bulls had tried creating.
It took some time, but Rodman and his Bulls teammates eventually found common ground. That included Pippen, who had his own reasons for not viewing Rodman too fondly.
Dennis Rodman gave Scottie Pippen a scar in 1991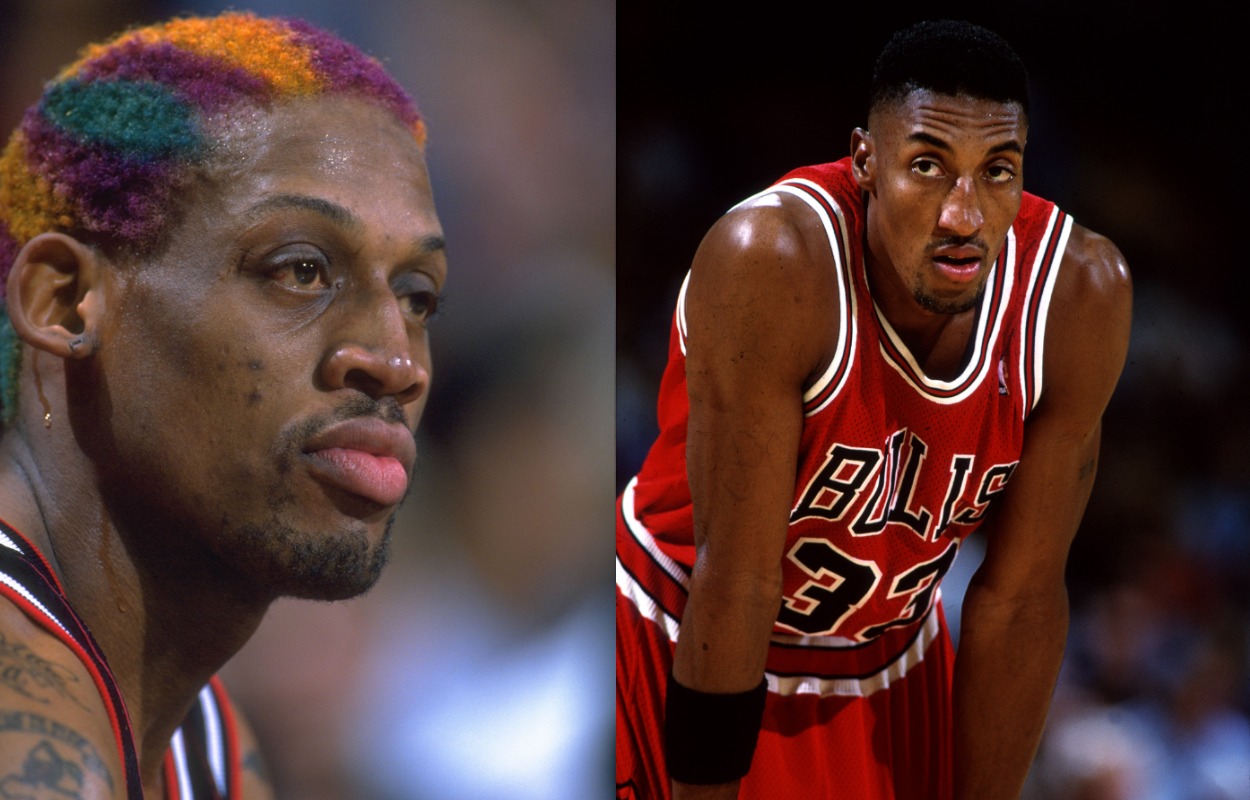 RELATED: A Dominating Easter Performance From Michael Jordan Led the 'Bad Boys' Detroit Pistons to Create the 'Jordan Rules'
Before becoming Michael Jordan's enforcer, Dennis Rodman often found himself brawling when he played for the Detroit Pistons.
Rodman personified the Pistons' "Bad Boy" mentality, and he never backed down from a fight. That included going up against Scottie Pippen, his future Bulls teammate, in the spring of 1991.
Chicago defeated Detroit in that year's Eastern Conference finals, but not without controversy. Rodman flagrantly pushed Pippen out of bounds in the series-ending fourth game, a 115-94 victory for the Bulls. 
The NBA fined Rodman $5,000 for the incident. According to the Chicago Tribune, Rodman wrote Pippen an apology letter, but Pippen wanted nothing to do with it.
"I'm not convinced he wrote it. If he did, it's a confession, but I don't believe it's going to make up for the scar I might have on my chin."

Scottie Pippen
Indeed, Pippen received a scar on his chin. However, Chicago at least won the NBA Finals by defeating Magic Johnson and the Lakers in five games.
Pippen and Rodman had a complicated relationship
RELATED: Scottie Pippen and Dennis Rodman Didn't Talk to Each Other for the First 6 Months of the Bulls' 72-10 Season
Dennis Rodman and Scottie Pippen were far from friends during the Bulls and Pistons' heated rivalry.
Everything changed when the Chicago Bulls acquired Rodman from the San Antonio Spurs in 1995. Although Rodman played well in San Antonio, he didn't mesh well with David Robinson, and the sides were eager to part ways.
It took some time for Rodman and his Bulls teammates, especially Pippen, to get along. They had a shared goal in wanting to win an NBA championship, and that was enough for 48 minutes a night.
But, things eventually improved. Chicago won the NBA Finals in each of Rodman's three seasons with the Bulls, giving Jordan and Pippen an even six championships.
Dennis Rodman and Scottie Pippen became friendlier over the years
RELATED: Dennis Rodman Says Scottie Pippen Was the Best Player in the World When Michael Jordan Retired
It might be a stretch going so far as to say that Dennis Rodman and Scottie Pippen are friends.
The two at least created a working relationship, one that has lasted in retirement. Rodman and Pippen have done interviews together, played in charity games, and posed for photos.
Their relationship will never be one of brotherly love, and that is fine. The fact that the two patched things up after that 1991 incident to where they can get along is good enough.
Like Sportscasting on Facebook. Follow us on Twitter @sportscasting19.