Dennis Rodman Pocketed $80,000 When He Tried His Hand at Being a Professional Basketball Head Coach
Chicago Bulls legend Dennis Rodman has remained a popular and busy man in retirement.
Unlike some of his former Bulls teammates, Rodman didn't exactly stick around the NBA. Michael Jordan owns the Charlotte Hornets, and Steve Kerr, the sharp-shooting guard, has won three championships as the Golden State Warriors' head coach.
Several years before Kerr took over on the sidelines, Rodman actually tried his hand at coaching — and it went better than you might think.
Dennis Rodman briefly served as a head coach in 2010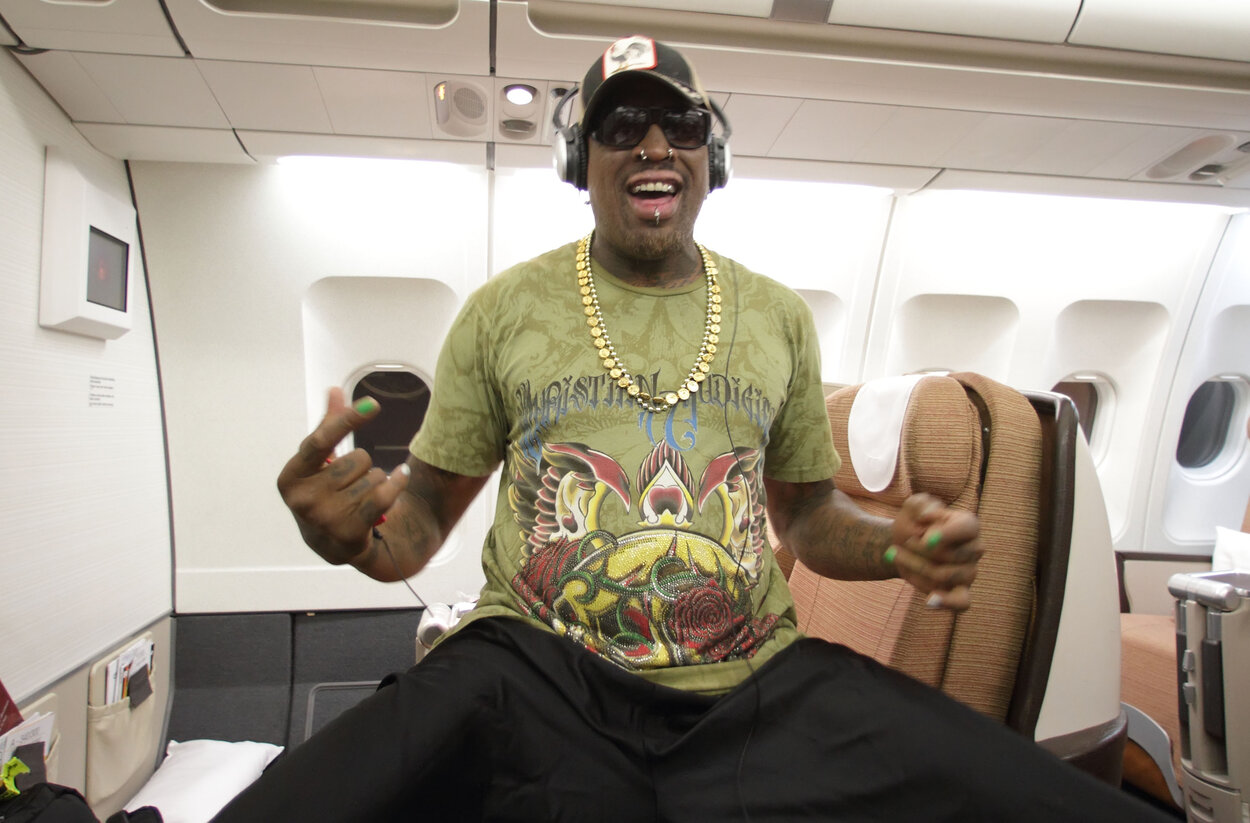 RELATED: Dennis Rodman Was Offered Money by Husbands to Sleep With Their Wives but Ended Up Doing It for Free
As of publication, Dennis Rodman has never worked on an NBA coaching staff, and it seems unlikely that will change anytime soon.
However, Rodman did once serve as a professional basketball team's head coach. In February 2010, Rodman took the coaching reins of the Elmira Bulldogs, a winter league team based in New York.
According to the Corning Leader (New York), Rodman said he hoped to use the lessons he'd received from Chuck Daly and Phil Jackson, his former head coaches, and share them with the Bulldogs.
"One thing these guys need to know is it's up to you to make it. It's up to you to go out on that court and do your job. It ain't about other people; it's about you doing one thing – go make money, have a good time, and support your family."

Dennis Rodman
Considering that the Bulldogs won both games that Rodman coached, maybe those lessons paid off. Rodman earned $40,000 for each game on the sidelines for an even $80,000.
That was it for Rodman as a coach, though. He retired with an undefeated record, and the Bulldogs ceased operations later that year.
Rodman later wanted to coach the Knicks
RELATED: James Dolan Still Has a Massive Net Worth Despite Constantly Bringing Controversy to the New York Knicks
If Dennis Rodman could win games with a winter league team in New York, he could certainly do the same with the Knicks, right?
That sounds harsh, but Rodman did publicly lobby for the Knicks' head coaching job in 2016. Phil Jackson, who coached Rodman on the Bulls, had just fired Derek Fisher — another of Jackson's former players — after two disappointing seasons.
Instead of hiring Rodman, the Knicks eventually went with former Phoenix Suns head coach Jeff Hornacek. Unfortunately for Knicks fans, Hornaceck only lasted two seasons and never made the postseason.
Would things have been different with Rodman coaching in a bright-colored suit and sunglasses? We'll leave that one to the imagination.
Dennis Rodman found other ways to stay around basketball
RELATED: Kim Jong II Once Built a Michael Jordan Shrine Next to a Crocodile Handbag From Fidel Castro
Even if he isn't coaching or owning a team, Dennis Rodman has tried remaining close to the overall game of basketball in retirement.
Rodman has participated in many charity games and exhibitions over the years. He even reunited with his father, Philander, after a 2012 game in the Philipines. Rodman hadn't seen his father in over 42 years at the time.
Of course, Rodman has also played basketball in North Korea with Kim Jong-un, which still remains a sentence that basketball fans of the 1990s likely would never have imagined they'd read.
Like Sportscasting on Facebook. Follow us on Twitter @sportscasting19.