Dennis Rodman Predicted the NBA's Current Problems in a Candid 1997 Interview: 'It's Going Downhill'
Where other NBA players zigged, Dennis Rodman didn't just zag. He went completely in the other direction, turned a few times, and, really, never quite zagged after all.
Few professional athletes have been as eccentric or as candid as Rodman over the last 30 years. Interestingly, he may have proved prophetic, too, based on comments he made in 1997.
Dennis Rodman said the NBA was going downhill in 1997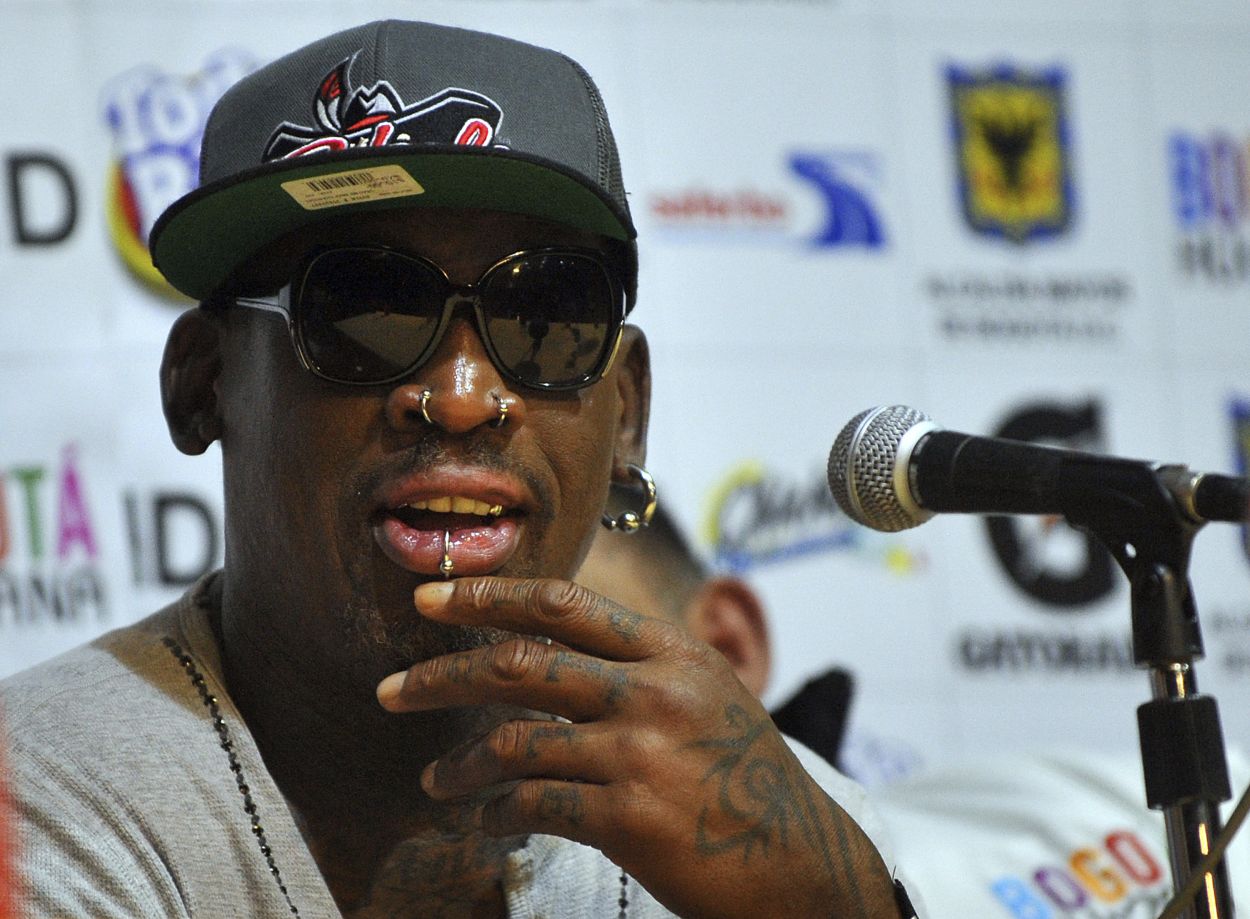 RELATED: Michael Jordan and Scottie Pippen Legit Tackled Dennis Rodman During an Epic Bulls-Lakers Matchup That Featured a Big Moment for Kobe Bryant
Dennis Rodman has never held back, whether it comes to his off-court lifestyle or his view of the NBA at large.
In a 1997 interview with Playboy, Rodman was asked about the state of the NBA compared to how it was in 1987 when he was a young player on the Detroit Pistons. 
He did not hold back in the slightest:
"It's going downhill. The younger players have a whole different vibe, a different game. Some are big stars before they even play in our league, and right away, they want to be more famous. Everyone wants to shoot. Everybody wants to be a big f——g star. But there are only about 20 real stars, and maybe four shining stars, in the league. Maybe one ultimate star."

Dennis Rodman
Now, one could make the argument that Rodman was simply a grouchy veteran. That is, of course, until one really stops and thinks about those comments.
The NBA's ratings struggled after Michael Jordan retired in 1998
RELATED: NBA Finals Ratings Are Lower Than Ever, and They're Getting Worse Every Game
Let's assume that Rodman's idea of an "ultimate star" was Michael Jordan, his teammate on the Chicago Bulls.
Game 6 of the 1998 NBA Finals drew 35.89 million viewers, and it's still the most-watched game in Finals history.
That was also the last time Jordan played in an NBA game until October 2001, when he suited up for the Washington Wizards. Four of the six games in the 1998 Finals topped at least 25 million viewers.
It wasn't until Game 4 of the 2001 Finals that NBC even topped 20 million viewers, and that saw 20.28 million tune in to see Kobe Bryant and the Los Angeles Lakers against Allen Iverson and the Philadelphia 76ers.
For most of the 2000s and 2010s, the NBA Finals would usually draw between 10-15 million viewers per game. However, things eventually improved, and Game 7 of the 2016 NBA Finals drew 31.02 million viewers, the third-highest total in league history.
Rodman's comments ring even more true in 2021
RELATED: Donald Trump Takes a Shot at Plummeting NBA Ratings
Rodman made two extremely valuable points in that interview with Playboy, the first being the "ultimate star." Once Jordan retired, the NBA's television ratings were never the same because the league lacked that definitive icon for too long.
Now, there are arguments to be made about the impact of technology on the Finals ratings, including streaming, and those are valid. But Rodman's overall point about how there were only a handful of legitimate stars remains interesting.
When the NBA Finals constantly showcased LeBron James and the Cleveland Cavaliers against Stephen Curry and the Golden State Warriors, people naturally wanted to watch some of the game's biggest stars every June. Most of those matchups also featured Kyrie Irving, Kevin Durant, and Klay Thompson.
Compare that to the 2020 NBA Finals, which produced the lowest ratings on record. The games took place in October because of the coronavirus pandemic's impact on the league, which means the NBA went up against the MLB playoffs and the NFL regular season. It also didn't help that the game's ultimate star, James, had become a more divisive figure following his controversial comments about politics and China.
The Athletic recently reported that the league is averaging fewer than 3 million viewers on ABC games. All of this bodes poorly as the NBA playoffs approach and the league hopes to rebound from last year's Finals.
Like Sportscasting on Facebook. Follow us on Twitter @sportscasting19.