Dennis Rodman Reveals That Phil Jackson 'Got Emotional' With Him During a 'Sketchy' Time in His Life: 'I Don't Want You to Die'
Defense, rebounds, and parties. Those are likely the three words you think of when discussing NBA and Chicago Bulls legend Dennis Rodman. On the court, no one played harder. Off the court, no one partied harder.
The latter eventually caught up with him after his NBA career ended, though, and Rodman recently revealed that former Bulls head coach Phil Jackson got emotional because of it.
Dennis Rodman enjoys having a good time
Dennis Rodman's electrifying play on the basketball court for multiple teams, most notably the Detroit Pistons, San Antonio Spurs, and Chicago Bulls, made him a superstar. But off the court, he was a rockstar.
Countless Rodman partying stories have come out over the years, one being the famous midseason vacation he went on in 1997-98, which we heard all about during The Last Dance docuseries.
"While Scottie was out, Dennis was a model citizen to a point where it was driving him f****** insane," Michael Jordan said during the documentary, per NBC Sports. "So when Scottie came back, Dennis wanted to take a vacation."
Phil Jackson and Jordan allowed Rodman to spend two days partying in Las Vegas, but he didn't return on time, so Jordan had to go and get him out of bed himself.
Another great Rodman story came when he was out celebrating a championship with Scottie Pippen and gave his teammate a scare by diving off the "top floor" of a club and into a crowd of people.
"All of the fans stepped in and caught him and gave him a soft landing," Pippen said during a June 2021 episode of The Dan Le Batard Show With Stugotz. "But that was Dennis; he always lived on the edge, but a very reliable teammate."
Rodman's partying, though, didn't stop once basketball stopped.
Phil Jackson got emotional with Dennis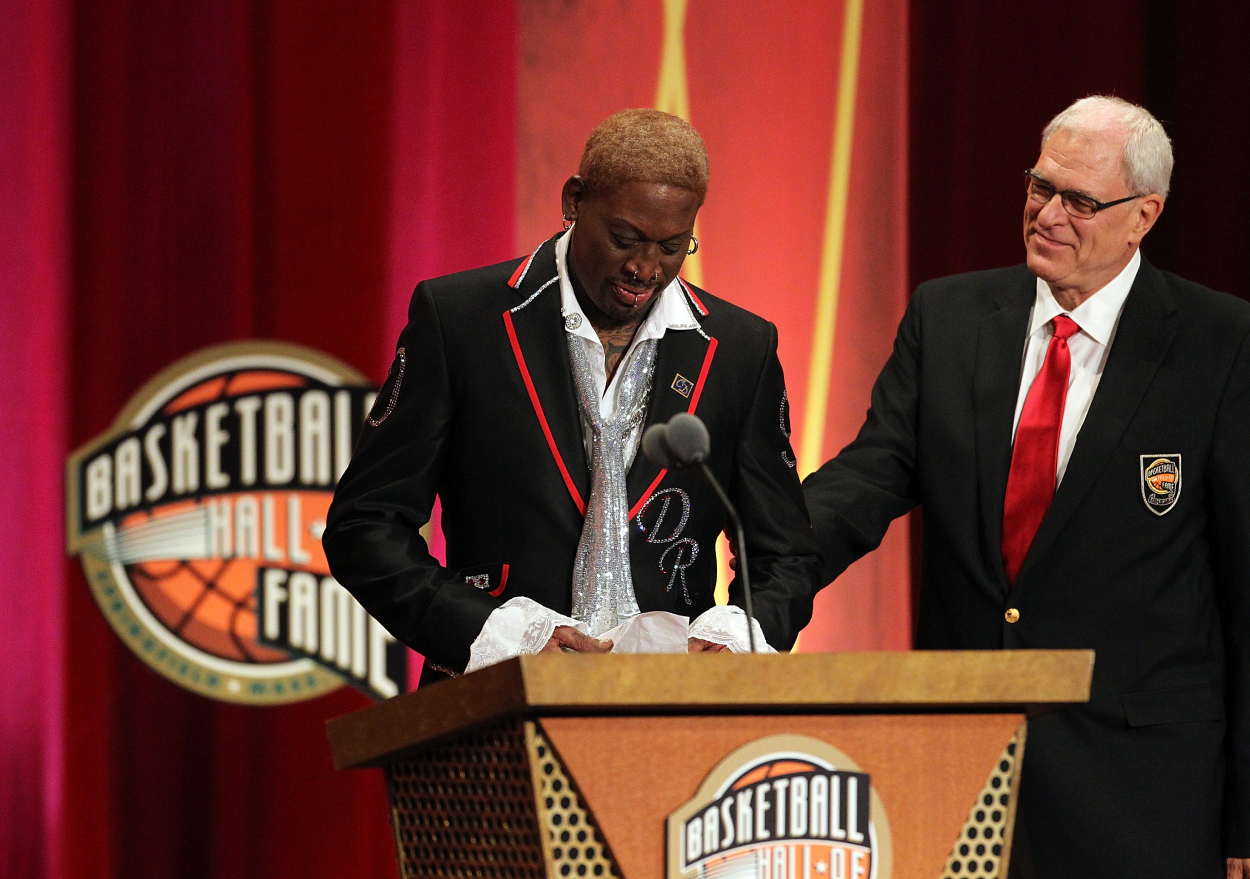 Rodman recently sat down with GQ, and the magazine's piece on the basketball legend says he "partied nonstop" once his NBA career ended. Rodman's final season came in 1999-2000 when he played in only 12 games at 38 years old for the Dallas Mavericks.
"They had bets in Vegas when I was 40 years old about what year I was going to die," he told GQ. "You go in like… what they call it? The sportsbooks in the casinos. You go in and say, 'Oh, 10 to 1 Dennis Rodman is going to die this year.'"
Rodman attempted to make a comeback a few years after retiring, but, as GQ reported, he crashed his motorcycle in October 2003 and pleaded "no contest to driving under the influence." A leg injury then kept The Worm from getting back into the league.
The five-time NBA champion was officially done playing basketball at an elite level, but it appears the people he connected with during his years on the court were still there for him when he needed it.
"I like to have a good time, man. Good, clean fun," Rodman said, per GQ. "But for a while it was kind of a little sketchy. That's when Phil Jackson took me to the side, and that's the first time Phil Jackson ever got emotional with me. He said, 'Dennis, I don't want you to die.'"
The GQ article suggests that this happened after his accident, but we don't 100% know when his former coach reached out.
Either way, those are some heavy words to hear from someone like Jackson, who Rodman bonded with during their years in Chicago. But while it now seems that the two-time All-Star still likes to have a good time, it appears he just does so more responsibly.
Dennis Rodman played as hard as he partied
Even with all the off-court storylines that surrounded Rodman — good and bad — he worked hard to perfect his craft when he was in the league.
It led to him becoming a Hall of Fame rebounder and defender.
"I worked on defense every day for, like, a couple of years, man," Rodman said to GQ. "And all of a sudden, I perfected it to the point where I knew how players were going to react to something [before they did]."
Rodman led the league in rebounds per game seven times in his career, averaging as many as 18.7 in 1991-92. He also won Defensive Player of the Year twice and earned eight All-Defensive Team honors.
His play led to a ton of success with Phil Jackson on the Bulls as well, which likely played a role in their close relationship. Rodman averaged 5.2 points and 15.3 rebounds in three seasons with Chicago, and he won a championship each year he was there wearing red and black under Jackson.
At times, it was likely hard to get past his big personality, but through it all, Rodman was one of the greatest players to ever play in the NBA. He was a rockstar off the court but one of the league's hardest-playing contributors on it.
Stats courtesy of Basketball Reference