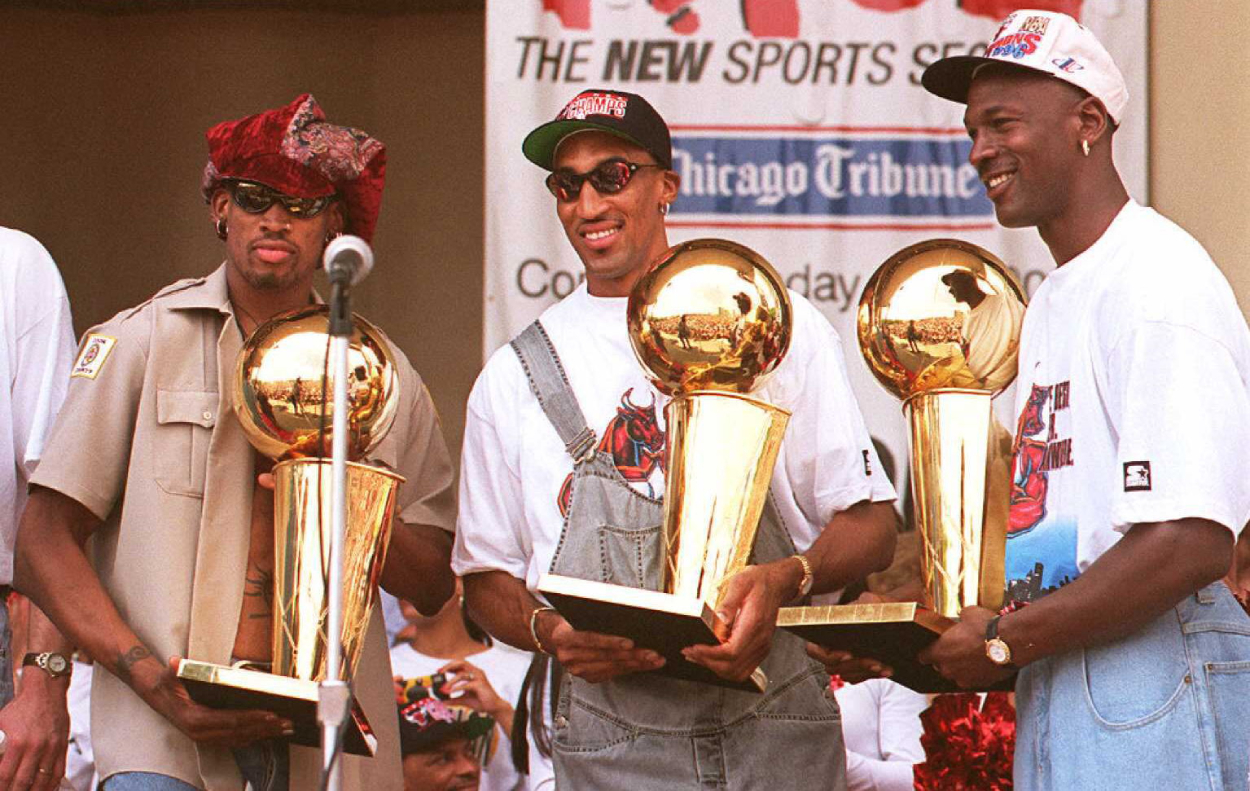 Dennis Rodman Once Scared Scottie Pippen by Diving Into a Crowd of People From the Top Floor of a Club
Dennis Rodman and Scottie Pippen had many reasons to celebrate during their time on the Chicago Bulls. They ultimately won three championships together in Chicago. However, on one occasion, Rodman left Pippen scared while they were out celebrating a title, as he dove into a crowd from the top floor of a club.
Dennis Rodman was known for his iconic personality during his time on the Chicago Bulls; the Hall of Famer loved to have a good time. Many incredible Rodman stories have since come out following his legendary hoops career, and some even made The Last Dance. However, Rodman's aspiration to live life to the fullest once resulted in a scary moment for his Hall of Fame teammate Scottie Pippen. 
Fortunately for them both, fans were there to save the day.
There are many legendary Dennis Rodman stories
Dennis Rodman was — and still is — one of the most entertaining personalities in the NBA. From his fun hairstyles to the effort he gave on the court, Rodman always caught the attention of fans.
He also lived life to the fullest off the court.
During The Last Dance, we heard how Phil Jackson allowed Rodman to take a 48-hour vacation to Las Vegas during the 1997-98 season. He, however, didn't come back on time, so Michael Jordan — as retold by USA Today — had to actually go and get him from his room where he had been spending time with his superstar girlfriend, Carmen Electra.
Of course, there are many other interesting Rodman stories out there, but Pippen recently shared a memory from one of their multiple championship celebrations.
Dennis Rodman scared Scottie Pippen by diving into a crowd
Pippen recently appeared on The Dan Le Batard Show With Stugotz, and he was asked if he could tell his favorite Rodman story.
Of course, Pippen wouldn't discuss anything too extreme, as he said, "I don't think you have enough time for me to talk about Dennis."
But he did give an incredible story from one of their times out celebrating a championship.
"I had some great memories with Dennis," he said on the June 22 episode. "… We went out to a party at this club called Drink. And it was so many people there celebrating with us. All of a sudden, I look around, and we were on the top floor, and Dennis was entertaining the crowd. And then, all of a sudden, he just took a dive out into the crowd."
Pippen said it was a pretty scary moment at first, but fans were there to save the day.
"All of the fans stepped in and caught him and gave him a soft landing," Pippen said. "But that was Dennis; he always lived on the edge, but a very reliable teammate."
It sounds like Rodman and Pippen had a great time that night. And good thing the fans kept the two-time Defensive Player of the Year from falling too hard, as he ultimately won two other championships with the Bulls.
Dennis Rodman had more championships to celebrate with Scottie Pippen and the Bulls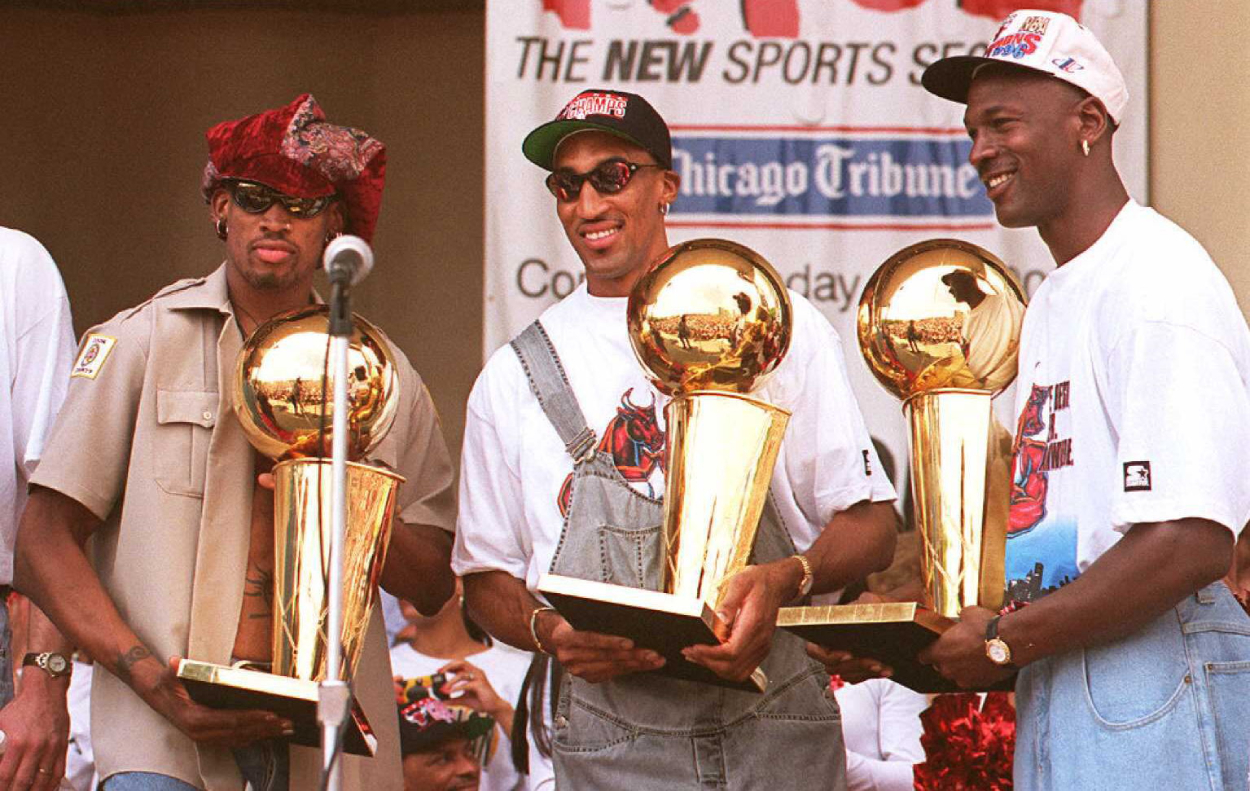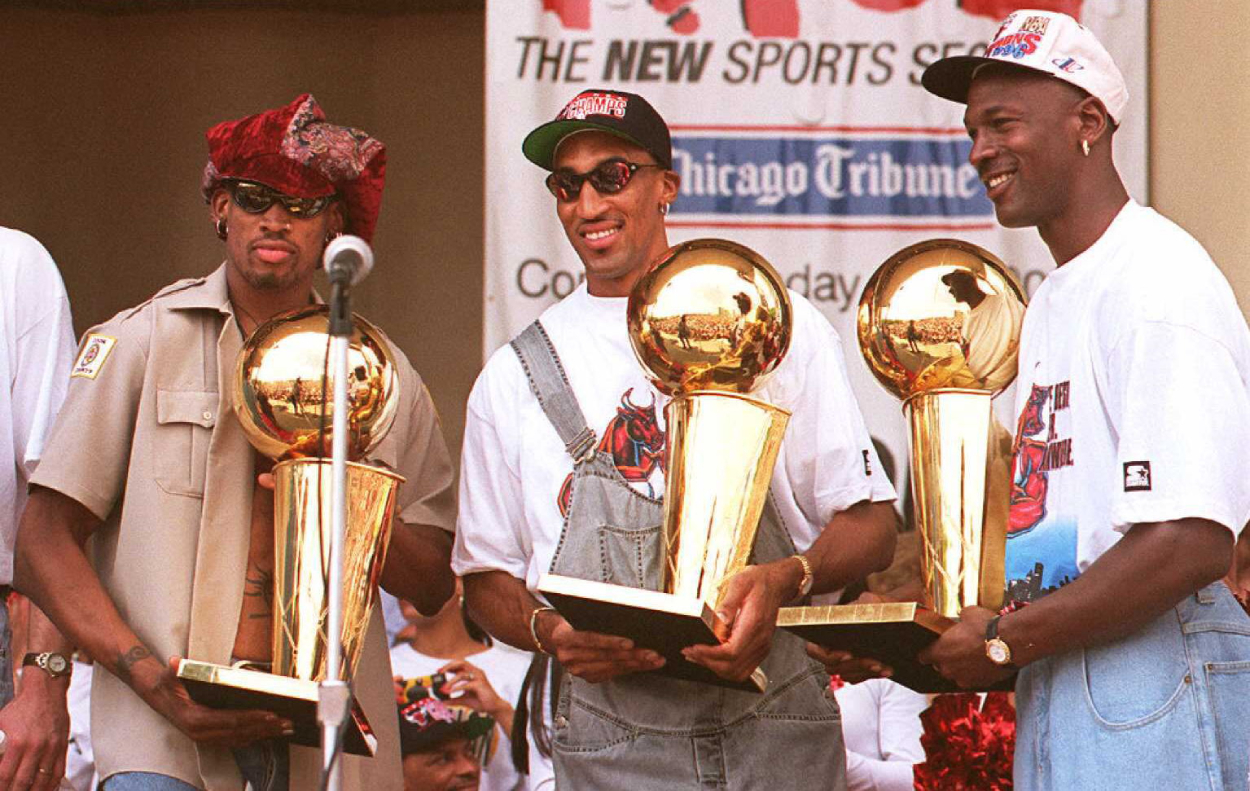 That, of course, wasn't the only title Rodman and Pippen celebrated together.
After Rodman won two titles with the Detroit Pistons in 1988-89 and 1989-90, he eventually found his way onto the Bulls during the 1995-96 season.
That year was Jordan's first full season back from his initial retirement, and the Bulls had a historic run. They went 72-10, won the title, and ultimately kicked off three straight championships for the team. Rodman averaged 11.3 rebounds during those three postseason runs, while Pippen averaged 17.6 points, 7.4 rebounds, and 5.0 assists. Jordan, on the other hand, was the top dog on that team — and in the league — as he averaged 31.4 points per game and 6.0 rebounds during those three postseason trips.
Fans may know Rodman for his entertaining personality, but he understood his role on the Bulls, which resulted in Chicago winning championships. Those title runs, in turn, gave him and his teammates more and more opportunities to celebrate.
Hopefully, though, he refrained from scaring Pippen again after that night.
Stats courtesy of Basketball Reference