Dennis Schroder Gets Blasted by a Former NBA Champion for His $84 Million Mistake: 'You Are the Disaster of Your Own Game Plan'
Dennis Schroder has been the target of everyone's criticism in recent weeks and even the past few months. He reportedly turned down an $84 million contract extension with the Los Angeles Lakers this past year, and he will now likely get nowhere near that from whichever team signs or acquires him via trade this offseason. 
However, it isn't just fans criticizing Schroder; a former NBA champion and Lakers legend blasted him in a recent TV appearance.
That former NBA champion is Robert Horry.
Dennis Schroder reportedly turned down $84 million from the Lakers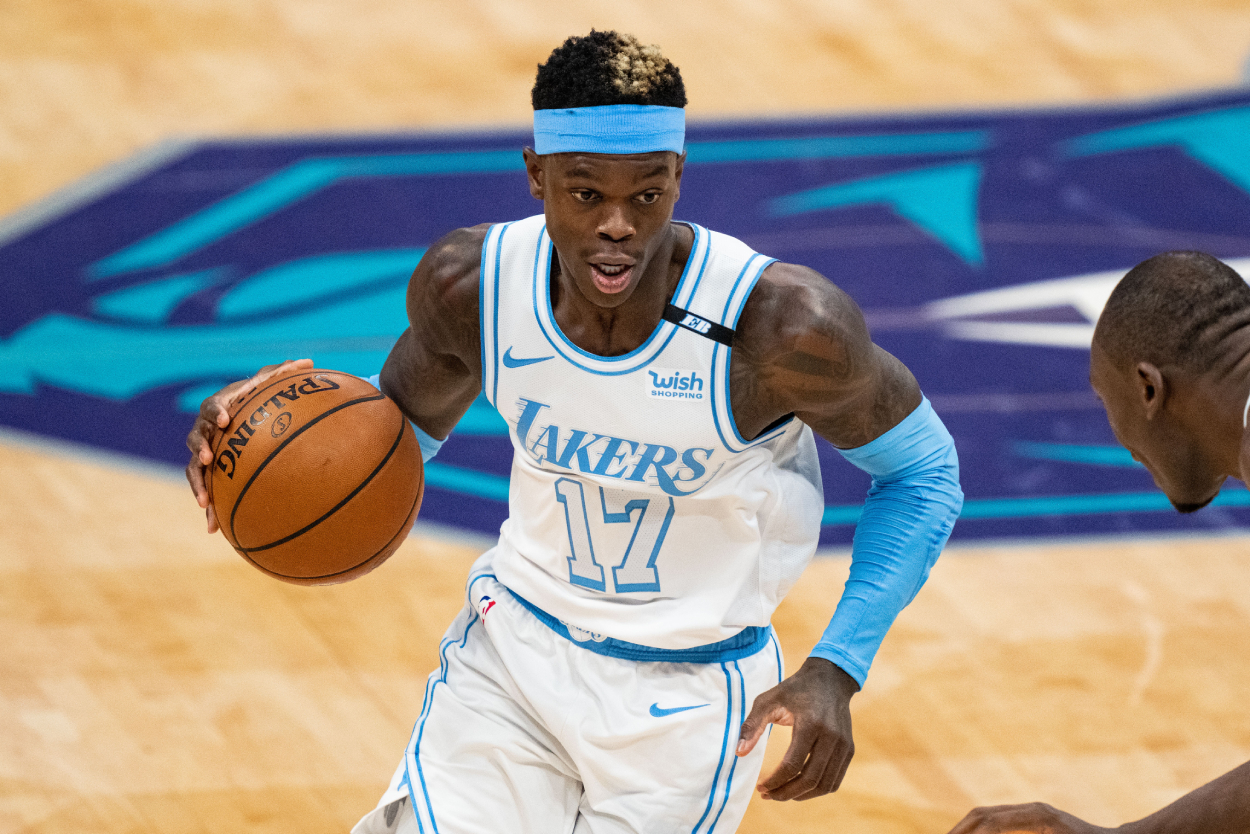 Dennis Schroder had a decent season with the Lakers in 2020-21, averaging 15.4 points and 5.8 assists. So when the Lakers offered him a four-year, $84 million contract extension, he reportedly turned it down, per CBS Sports, as he likely thought he could get more.
That decision has backfired in a big way as his stock has since plummeted due to his struggles in the playoffs. In fact, Schroder failed to drop a single point in a Game 5 blowout loss to the Phoenix Suns during the Lakers' first-round postseason series, so teams are now wondering if he's even worth that $84 million, let alone a larger deal.
Unless they want to pay a ton in taxes, the Lakers certainly don't have the money to sign him to that large of a deal anymore — especially after trading for Russell Westbrook — and it appears not many teams are interested in spending significant cash on him either. Schroder may be stuck signing a one-year deal somewhere so he can prove his worth and then potentially get a larger contract next offseason.
While the guard probably regrets his decision to gamble on himself, Horry recently called him out for the move.
Robert Horry blasted Dennis Schroder for his $84 million mistake
Horry is pretty much a legend in Lakers country. He not only won three titles with the team, but he also hit the game-winner in Game 4 of the 2002 Western Conference Finals. His opinion holds a decent amount of weight around LA, and he had some strong comments about Schroder's decision to reportedly turn down the Lakers' contract offer.
"If I'm Dennis Schroder, as soon as I saw that trade with Westbrook, I'm like, 'Oh, I'm in trouble,' because you want to get your money, you said, 'Oh, I want to return to the Lakers,' but you wanted to play games," Horry said on the Aug. 5 episode of The Jump. "Now, you are the disaster of your own game plan. You don't know what you're going to do."
He continued: "You probably lost about $60 million because you didn't sign with the Lakers. Now, you're probably gonna have to sign a one-year deal because I don't think the Lakers are gonna bring him back because they're stacked now. They have no room for you. … I just hope it doesn't turn out like an [Isaiah Thomas] situation where you pass up all this money, and then you can never recoup it."
Horry makes a good point in saying that the Lakers don't need him. They have added Westbrook, Wayne Ellington, Kendrick Nunn, and Malik Monk at the point guard and shooting guard positions, so he will likely have to find a new team.
But what are all his options?
The Lakers can sign him outright or move him via sign-and-trade, or he can just sign elsewhere
As he figures out where he will play next, Schroder's options are dwindling. One would be to sign outright with a new team. The Oklahoma City Thunder — who he previously played for — need a guard, and the Boston Celtics could use him. But neither of those teams can probably offer the amount of cash Schroder wants.
The Lakers could, of course, also sign him to a decent deal given that his Bird rights with the team would allow them to, but it would also push them above the tax line. LA would then owe millions more in taxes on top of what it already owes.
If the Lakers aren't interested in footing that tax bill, Schroder could also figure out a sign-and-trade deal with them, but finding a trade partner could be difficult given the Lakers' financial situation.
All in all, Schroder is in a tough spot this offseason. He probably won't get the large contract he wanted, and if he stays with the Lakers, he won't get the minutes he had last season; a one-year deal is probably his best bet.
As Horry said, Schroder's decision to turn down the big bucks has turned into a "disaster."
Stats courtesy of Basketball Reference