Dennis Schroder Reportedly Left a Lakers Star Frustrated During His Lone Season in LA, Which May Have Played a Role in His Departure
The 2020-21 NBA season didn't go as planned for the Los Angeles Lakers. After adding guys like Dennis Schroder and Montrezl Harrell to an already loaded roster, LA had sky-high expectations following the championship the team won the previous year. Injuries, though, got in the way of its goals, and Los Angeles lost in the first round of the playoffs.
Now, Schroder and Harrell are both on different teams, and the former created quite a few headlines with his departure, as he reportedly turned down a sizable contract offer from the Lakers and later signed a much smaller deal. However, it may be best for the team that he did so, as Schroder's decision not only allowed LA to bring in players like Russell Westbrook and Carmelo Anthony, but it might have also kept Anthony Davis happy.
Dennis Schroder and the Los Angeles Lakers parted ways after one season
The Lakers had high hopes for Schroder when they acquired him via trade from the Oklahoma City Thunder last offseason. He had just had one of the best seasons of his career with OKC in 2019-20, averaging 18.9 points to go with 4.0 assists. He also had a career year shooting the ball, as he posted a 46.9% field goal percentage and shot 38.5% from 3-point range.
His scoring numbers then took a dip with the Lakers, which came as no surprise. Schroder recorded 15.4 points per game on only 43.7% shooting for LA last season. He also only shot 33.5% from long range.
The 2013 first-round pick, though, did average 5.8 assists and played well enough to earn a four-year, $84 million contract offer from LA, per CBS Sports. He, however, turned it down, which proved to be a massive mistake.
Schroder was horrible in the playoffs, averaging 14.3 points on 40% shooting. He also went scoreless on 0-of-9 shooting in Game 5 of the Lakers' first-round postseason loss to the Phoenix Suns.
So, just like that, his stock plummeted, and he and the Lakers parted ways this offseason. Schroder then signed a one-year, $5.9 million deal with the Boston Celtics in August.
Dennis Schroder reportedly frustrated Anthony Davis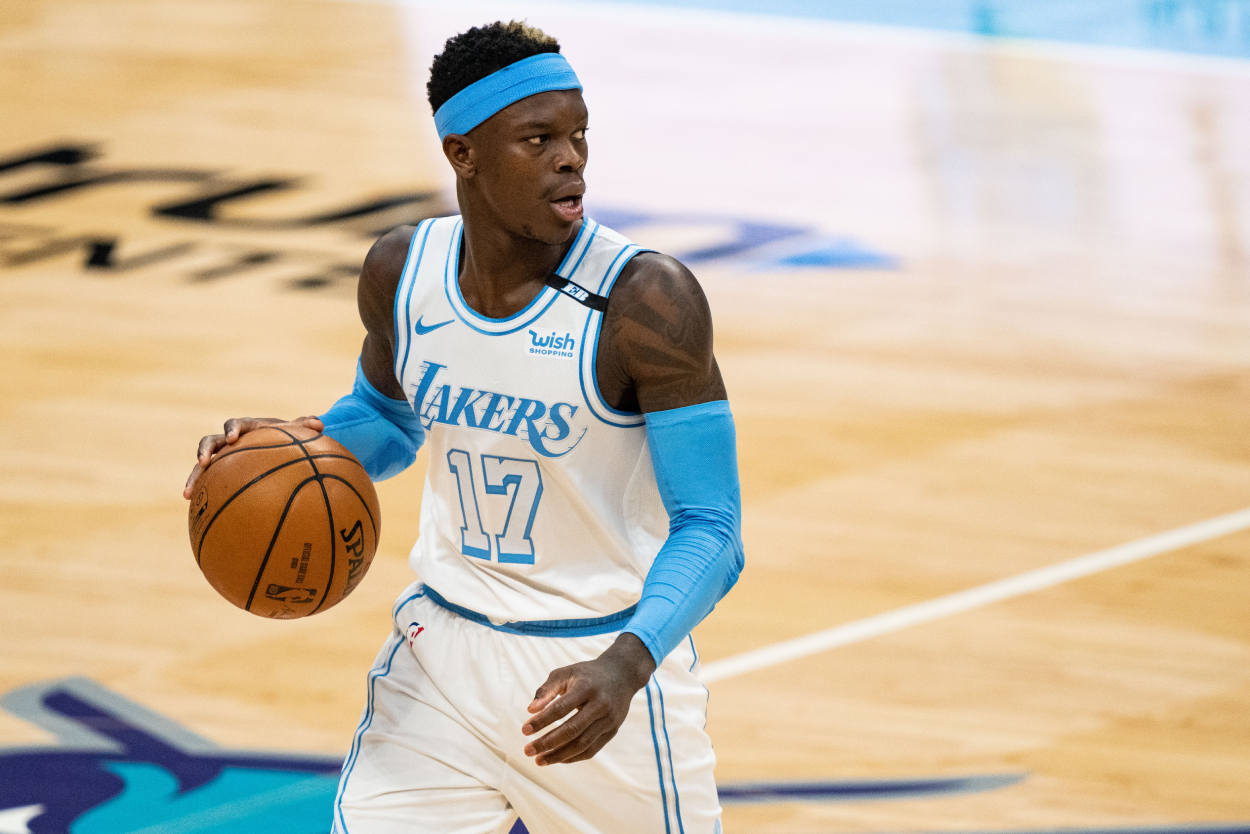 Schroder's decision to turn down the Lakers' lucrative contract offer helped his now-former team completely revamp its roster.
LA has since traded for Russell Westbrook and has added Carmelo Anthony, Kendrick Nunn, Malik Monk, Trevor Ariza, Wayne Ellington, Kent Bazemore, Dwight Howard, and Rajon Rondo.
The last two names on that list helped the Lakers win their 2020 championship, and Rondo specifically proved to be a valuable asset for not just their title run but for the success of Anthony Davis.
Rondo averaged 8.9 points and 6.6 assists in 24.7 minutes per game during 16 postseason contests for the Lakers in 2020. He also proved to be a valuable teammate for Davis when the two played on the New Orleans Pelicans together a couple of seasons prior. Rondo led the NBA with 12.2 assists during the 2017-18 postseason, while Davis averaged 30.1 points and an NBA-leading 13.4 rebounds.
So, to put it simply: Rondo knows how to set Davis up for success.
But Schroder apparently didn't.
According to Bleacher Report's Eric Pincus, a source familiar with the Lakers' 2020-21 season said Davis was somewhat frustrated when Schroder played point guard because he didn't give him the type of looks down low that Rondo gave him the season before.
Pincus added that Davis' frustration and Schroder's struggles may have played a role in the Lakers not re-signing the guard.
Davis isn't someone who will throw a teammate under the bus, though, so this could be true, or it could just be hearsay. But it's important to keep him and LeBron James happy, and they will likely be just that if they're competing for championships, which Schroder's departure may have just allowed them to do that.
Anthony Davis, LeBron James, and the Lakers can compete for a title in 2021-22
Now that Schroder has moved on and the Lakers have a Big Three with excellent role players around them, they can (if healthy) easily compete for a title this season.
LeBron James and Russell Westbrook can not only attack the rim with the best of them, but they are elite passers, too. Davis has also proven to be an all-time great player around the rim, and the Lakers have excellent shooters along the perimeter that each of them can kick out to if double-teamed.
Age is certainly an issue given that they are the oldest team in the league, but this Lakers squad is set up for success. They have the talent to win another NBA championship.
Stats courtesy of Basketball Reference