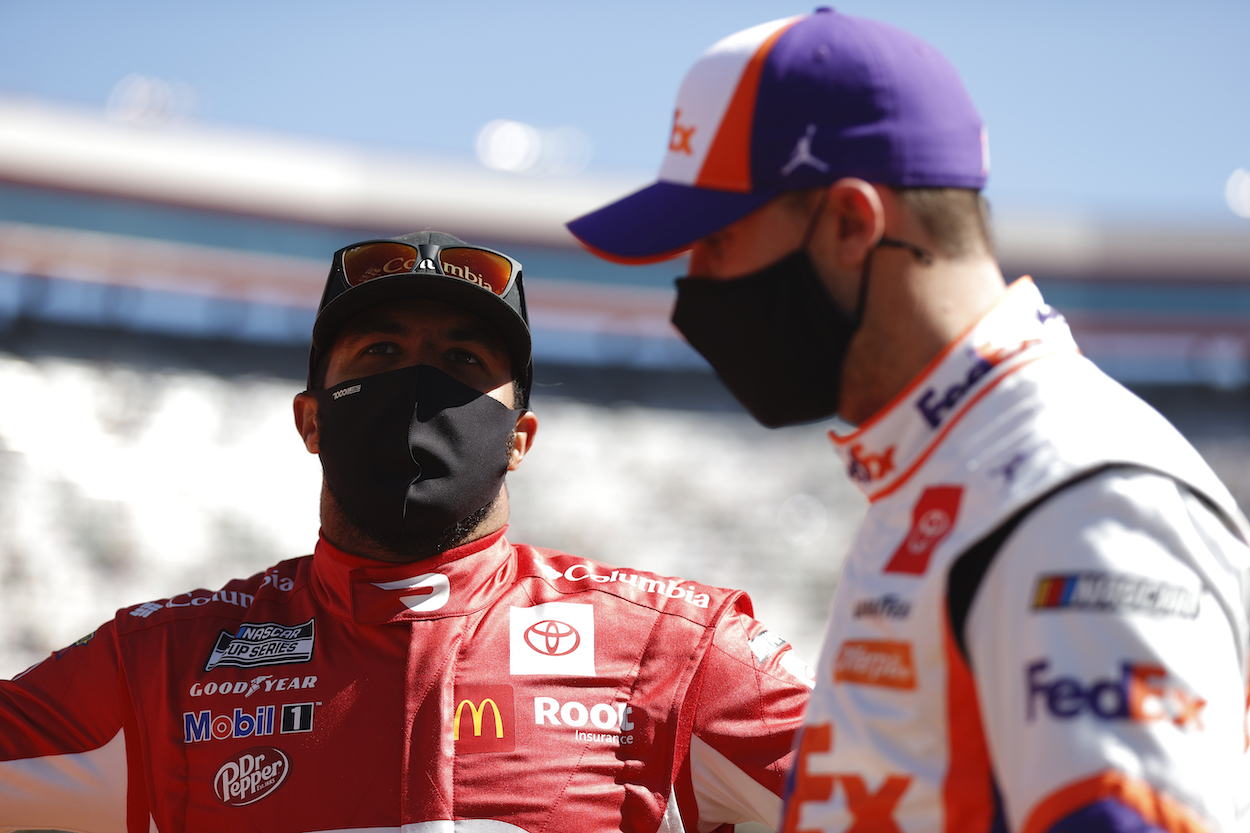 Denny Hamlin Bizarrely Calls out NASCAR Journalist Who Was Defending His 23XI Racing Driver Bubba Wallace
Denny Hamlin bizarrely calls out Fox NASCAR reporter on Twitter who was defending Bubba Wallace.
Denny Hamlin has had a frustratingly good start to the 2021 NASCAR Cup Series season. In nine races, the three-time Daytona 500 winner has impressively earned eight top-10 finishes. That's the good part. Conversely, Hamlin has yet to convert any of those top finishes into a victory, and on multiple occasions, has maddeningly watched it slip away in the waning laps.
Whether or not Hamlin will admit it, it appears some of that frustration is seeping into his social media in recent weeks. The latest chapter occurred this week and featured a bizarre twist when Hamlin took to Twitter and publicly called out a respected NASCAR journalist, who was defending his 23XI Racing Team driver Bubba Wallace.
Bubba Wallace documentary announced
Bubba Wallace rose from relative anonymity in NASCAR last year to the face and voice of the sport on social justice issues. To those outside racing circles who saw him interviewed on various major media outlets, he is NASCAR. 
That explosion in popularity and talent on the track converted into Wallace signing with the newly formed 23XI Racing Team, co-owned by NBA Hall of Fame legend Michael Jordan and fellow Cup Series driver Denny Hamlin. 
In the early going, Wallace and the team have been average at best, with the highest finish a 16th place, achieved on three different occasions. On Thursday, Netflix announced it was working with Wallace and company on a documentary series providing a behind-the-scenes look at the No. 23 team during the 2021 NASCAR season. 
Denny Hamlin strangely calls out journalist who was defending Bubba Wallace 
Fox NASCAR reporter Bob Pockrass posted a short tweet about the Bubba Wallace documentary on Netflix. Not surprisingly, many of those who didn't like Wallace from the start were not happy to hear about the documentary, and responded to the Pockrass tweet. 
"This is so pathetic," one person wrote. Pockrass took the time and provided a thoughtful response.
"Nothing pathetic about Netflix documentary on Bubba Wallace & 23XI Racing. Wallace attracts interest from those who don't regularly watch NASCAR. Maybe viewers become new fans & watch on TV or attend a race, which can increase interest not just in Wallace but all drivers/teams."
After that, that's when things got weird. Denny Hamlin responded to Pockrass' tweet and called out the veteran journalist for no apparent reason. 
"Bob. You are replying to a account with 16 followers and no profile," Hamlin tweeted. "Please make better decisions. Thanks"
Denny Hamlin doxes Uber driver on Twitter
Denny Hamlin's comment directed at Pockrass is by no means his first time to criticize someone on Twitter. In fact, it was just a couple of weeks ago when Hamlin publicly aired his grievances with an Uber driver instead of reaching out to the company's support through the app.
"Dear @Uber. This guy that is driving around Miami south beach is a complete douche bag," he wrote.
Hamlin's tweet by itself would have just been considered an angry tweet. But he didn't stop there. He also shared the driver's profile that included the driver's name and profile photo.
The response was overwhelming, and most of it defended the driver while directing criticism at Hamlin for doxing him. Some even referred to Hamlin as a "Karen."  
His latest Twitter move, publicly calling out a respected NASCAR journalist, who was defending his driver, likely won't sit well with many NASCAR fans. And it shouldn't sit well with Wallace or Jordan because it's a poor reflection on the 23XI Racing Team as a whole.
Like Sportscasting on Facebook. Follow us on Twitter @sportscasting19.