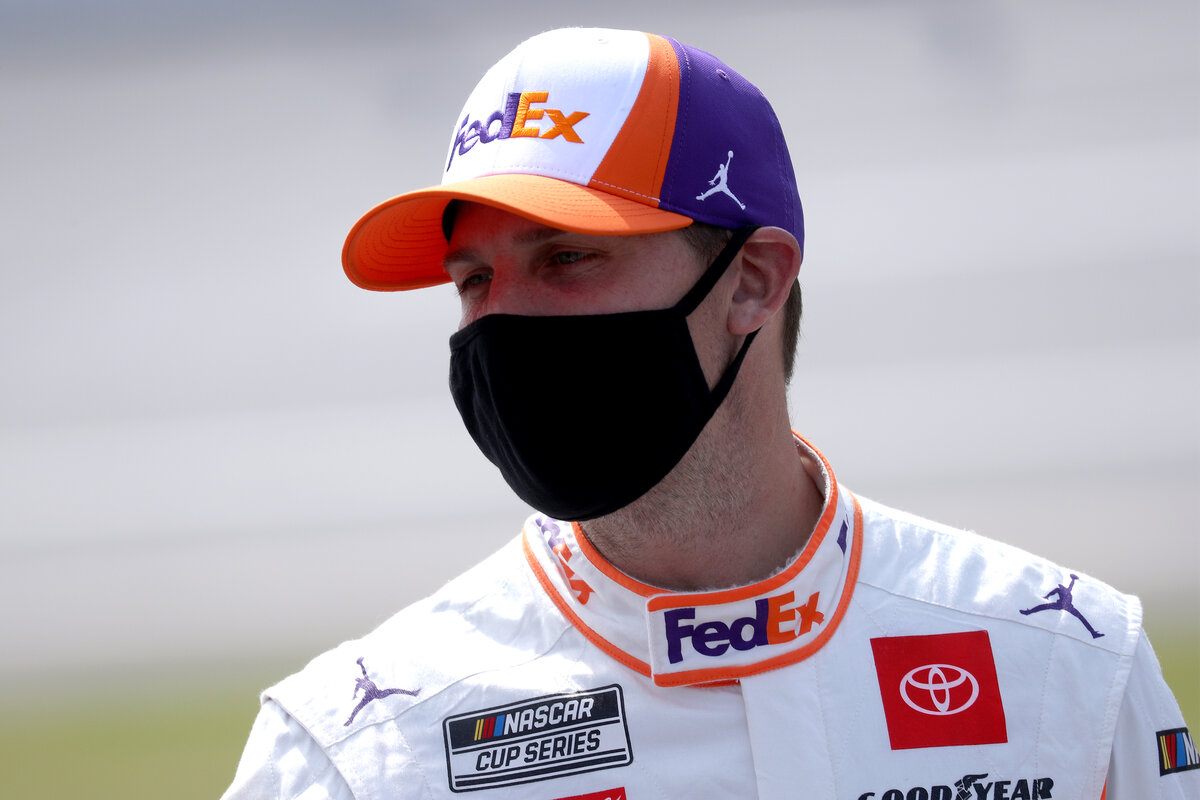 Denny Hamlin Doesn't Find His Ideal Exercise to Be 'Masculine,' but He Certainly Enjoys It
NASCAR icon Denny Hamlin has an exercise routine he sticks to, even though he doesn't find the activity in question to be "masculine."
NASCAR icon Denny Hamlin is just like the rest of us in having, say, quirky interests.
One of the most accomplished racers of his generation, Hamlin has an exercise routine he's stuck to over the years. What makes it so interesting is Hamlin does a certain activity, even though he doesn't find it to be "masculine."
Denny Hamlin has become a NASCAR legend
If new NASCAR fans are looking for a powerhouse, the New England Patriots or Los Angeles Lakers of this generation, to root for, they could do far worse than Denny Hamlin.
A full-time racer since 2005, Hamlin enters the 2021 racing season with 44 victories and 280 top-10 finishes across 542 races.
Hamlin is a surefire bet each season to rank near the top of the Cup Series standings. The veteran driver has a top-10 finish in the Cup Series standings 11 times in the last 13 years.
Hamlin has finished fourth in each of the last two seasons. In addition to competing for Joe Gibbs Racing in 2021, Hamlin is also a co-owner of 23XI Racing alongside NBA legend Michael Jordan.
Hamlin is admittedly big on doing pilates
Even NASCAR drivers have certain interests off the racetrack that many people can relate to enjoying.
Erik Jones, one of the Cup Series' youngest drivers, is working on a classic car collection. Some drivers enjoy movies or fishing and so forth.
Hamlin has a hobby, of sorts, that while he isn't ashamed of it, he at least understands the activity can be perceived as strange. In a 2016 interview with USA Today, Hamlin opened up on aspects of his personal routine and admitted that he enjoys Pilates.
"I have to go (to keep his back healthy). It's not that masculine, but it's effective. I always have to work on my flexibility to help my back, and Pilates helps the most."
Hamlin suffered a compression fracture in his lower back in March 2013. He missed a good chunk of that season but has remained healthy since then.
Denny Hamlin could have a huge 2021 racing season
All eyes will be on Denny Hamlin when the 2021 racing season begins in February at Daytona — barring any COVID issues, of course.
Hamlin has placed fourth in each of the last two years and is eager to break that streak. At the same time, Hamlin has a rooting interest in Bubba Wallace, who is racing in the No. 23 car for Hamlin and Michael Jordan's 23XI Racing.
According to NASCAR's official website, Hamlin opened at 8-1 odds to win the 2021 Cup Series in November. Hamlin joined six other drivers, including reigning champion Chase Elliott, with 8/1 and +500 odds.
That group also includes the likes of Joey Logano, Kyle Busch, and Martin Truex Jr.
Kevin Harvick, who finished fifth last season, is the favorite at 11-2 and +500.
Betting odds courtesy of Nascar.com as of Dec. 26, 2020. How to get help: In the U.S., contact the National Council on Problem Gambling helpline at 1-800-522-4700.