Denny Hamlin Once Won a NASCAR Xfinity Series Race but Didn't Receive Credit for It
"Busch-whacking" has plagued the NASCAR Xfinity Series for years. Named for the series' former sponsor, Busch Beer, Busch-whacking is the much-despised phenomenon of Cup Series drivers entering lower-series races and sweeping up wins. Although NASCAR has changed its rules to discourage drivers from doing this, it still happens on occasion. This reared its ugly head during a 2007 race at Milwaukee when Cup Series regular Denny Hamlin stole a win — sort of — from a young up-and-coming driver named Aric Almirola.
Denny Hamlin pulls double-duty
RELATED: Derrike Cope Doesn't Care What You Think of His Age as He Preps for Daytona 500
In 2007, Denny Hamlin was in his second year in the NASCAR Cup Series. At the same time, he drove 22 of 36 races in the Busch Series, as it was called at the time. For both series, he drove for Joe Gibbs Racing.
Most of these Busch Series races were held at the same track the day before the Cup Series races, making it easier for drivers like Hamlin to pull double-duty. The AT&T 250, on Saturday, June 23rd at the Milwaukee Mile in Wisconsin, was not one of those weekends. The following day, the Cup Series would race at Infineon Raceway at Sonoma, California — 2,149 miles away.
But the sponsor of Hamlin's no. 20 Busch Series car, Rockwell Automation, wanted Hamlin in the car anyway. It just so happened that Rockwell was headquartered nearby, and some officials from the company had come to attend the race in person. They put pressure on Gibbs to put the top driver, Hamlin, in the car no matter what.
Hamlin would be busy with his Cup duties in Sonoma, so 23-year-old Aric Almirola took Hamlin's place for Busch Series qualifying. He placed the no. 20 car on the pole position.
Aric Almirola is placed in an awkward situation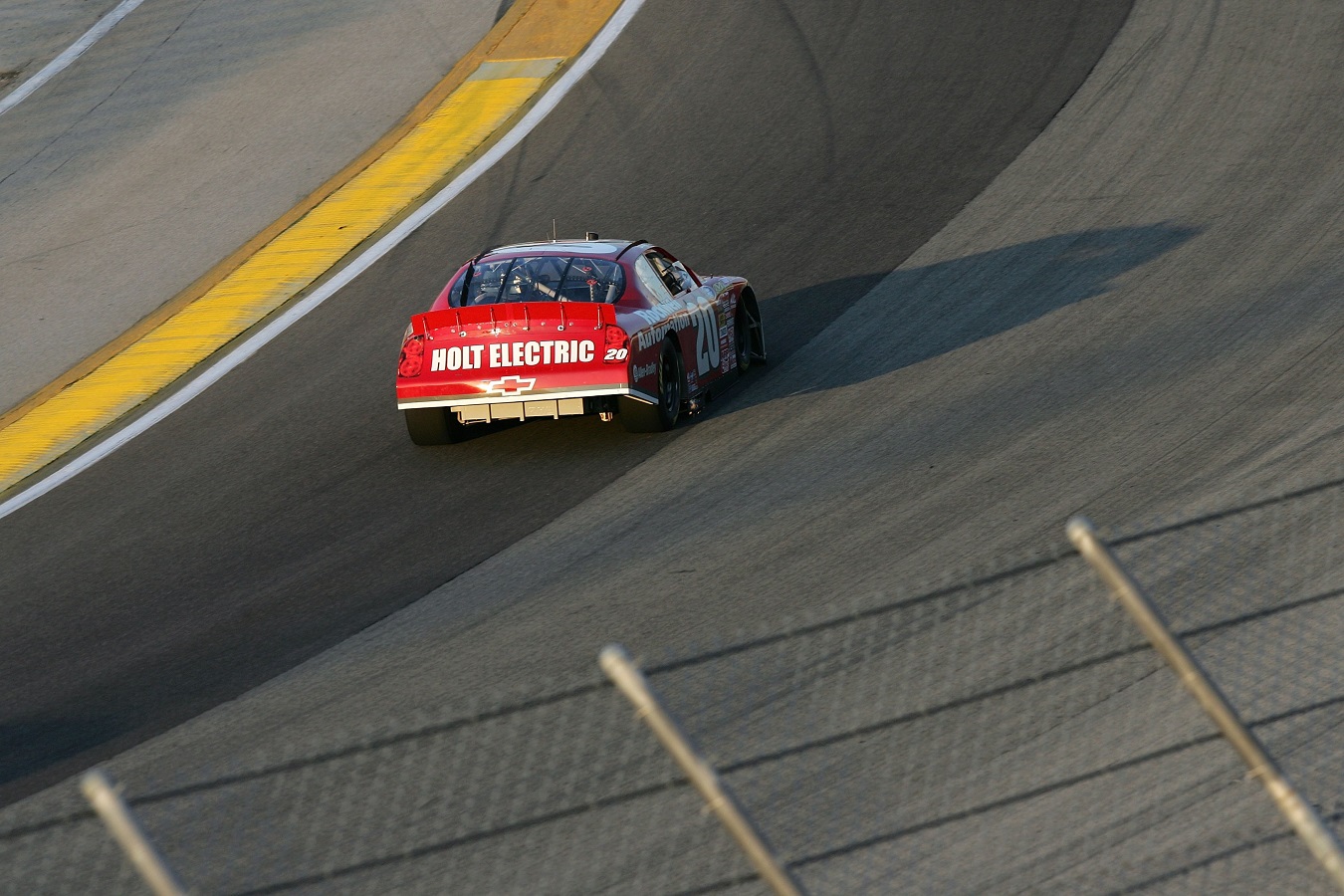 RELATED: Dale Earnhardt Jr. Sends NASCAR a Warning About the Return of Kyle Larson in 2021
On the same day as the Busch Series race, the Cup Series drivers had final practice at Sonoma. After that finished, Hamlin hopped on a helicopter in the hopes of making it to Milwaukee for the race that started at 7:00 PM central time. Unfortunately, Hamlin's helicopter could not find a place to land, as the usual landing spot had been blocked by parked cars. By the time he finally arrived, the race had already started.
Aric Almirola started the race in the #20 Rockwell car. He held onto his lead for the first 43 laps until Carl Edwards — another Cup regular — overtook him. On lap 57, Todd Kluever spun out Ron Hornaday to trigger the race's third caution flag. During that caution, Almirola's team ordered him into the pits.
By then, Denny Hamlin had finally arrived at the track. The call had come down to put Denny in the car.
Although the driver swap brought the no. 20 car a lap down, Hamlin rallied to win the race. Under NASCAR rules however, the driver who starts the race will receive credit for the result even in the event of a driver change. This meant that Aric Almirola would be credited with the win, and the standings points and prize money would go to him.
Hamlin crosses the line but doesn't technically win
In the end, though, no one really "won". Almirola certainly wasn't too happy about what happened. He left the track before the race even concluded and refused to talk to reporters. This result may have been a factor in Almirola's decision to leave Joe Gibbs Racing after the season.
After the race, even Hamlin expressed regret about how things worked out. "I didn't want to do it," said Hamlin, as quoted by NASCAR.com. "I knew he'd be really upset."
Weeks later, Almirola expressed that while he had come to terms with the result, he still did not consider Milwaukee to be an actual win.
I feel like I was a part of it, but by no way, shape or form do I feel like that was my first victory. I feel like my first victory is still to come and I'll actually be in the car when it crosses the start-finish line for that one.

Aric Almirola, to NASCAR.com
That win finally came at the 2016 Subway Firecracker 250 at Daytona. As of 2021, Aric Almirola is one of 34 drivers in history to record wins in all three of NASCAR's main national series.