Denny Hamlin, Others Call Out Brad Keselowski for Causing Carnage at Daytona
As the NASCAR tour rolls West, Brad Keselowski's caravan is an unwelcome straggler. 
Driving with a heavy heart during the 64th Daytona 500, Keselowski was called, among other things, "too aggressive" by Denny Hamlin. 
Ricky Stenhouse Jr. declared Keselowski wanted to wreck the entire field. 
Keselowski will have difficulty driving away from his debut ride for RFK Racing. The driver/owner is facing the heat before heading out to California. 
Brad Keselowski attempted 'aggressive' tactics at wrong times, Ricky Stenhouse Jr. insists
Keselowski opened the RFK Racing era with an impressive P9, but his style ignited an immediate backlash.
Harrison Burton was the first victim as the rookie lost control after receiving an ill-timed bump. The No. 21 Ford flipped and soared over the track. Burton, who failed to become the first rookie to win a race, avoided severe injury.
The Burton incident ended Denny Hamlin's ride on Lap 41. He was displeased.
Speaking to Fox Sports in the garage area, Hamlin didn't hold back his frustrations. In 17 previous Daytona 500 starts, Feb. 20 was the first time the three-time winner failed to finish running, including 15 on the lead lap.
"The six (car) was pushing 21 (Harrison Burton), and you could see the 21 getting out of control," Hamlin said. "The mindset is you gotta back off. I think (the No. 6 car) was insistent on pushing the No. 21 at all costs.
"Too aggressive pushing there when they weren't lined up and in control."
Stenhouse was the follow-up act.
Stenhouse: 'There were definitely spots on the race track you didn't want to push or get pushed'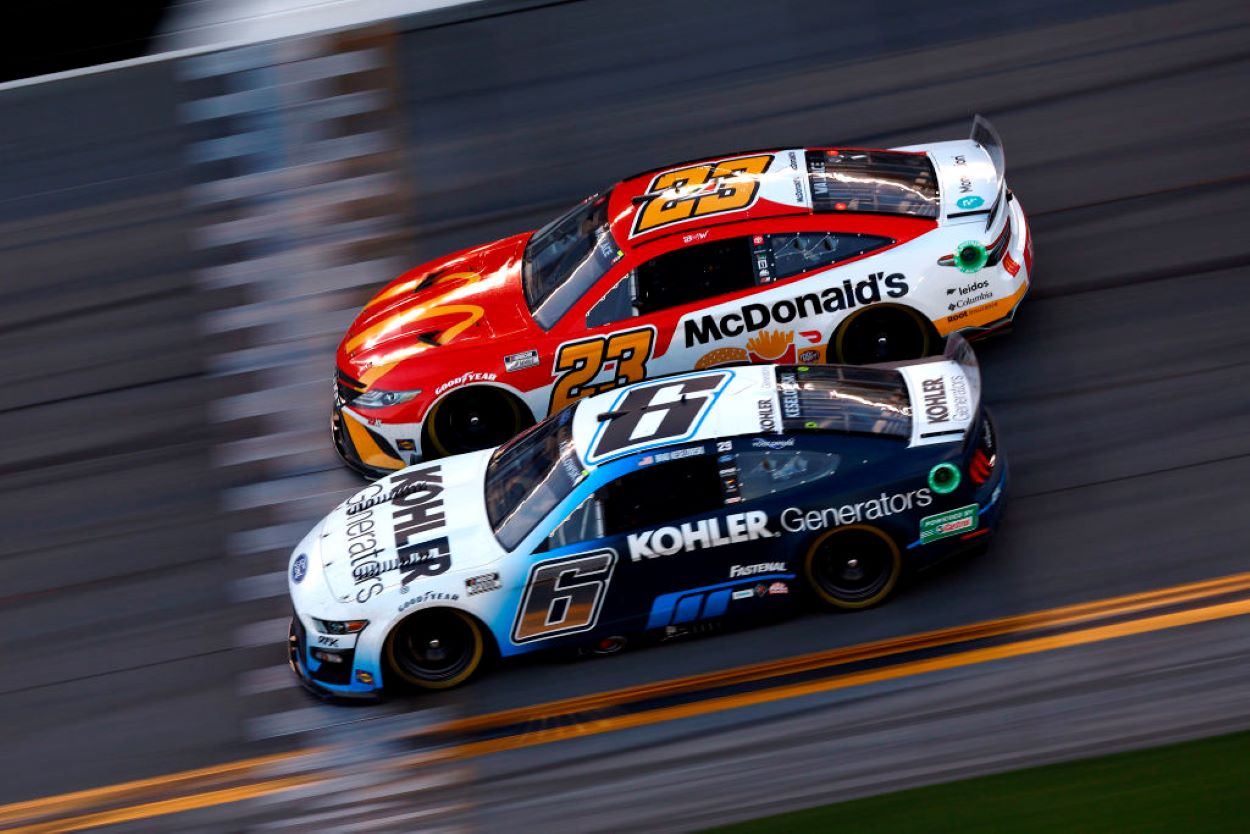 Stenhouse was prepared to fight for track position, leading the field to a green flag with five laps remaining. He just didn't like losing the way he did. Keselowski's bump prevented Stenhouse from a potential top-five finish.
Again, it wasn't the bump. Stenhouse expected a few. It was the place Keselowski attempted the move.
Didn't he learn his lesson 150 laps earlier?
Stenhouse failed to control the No. 47 Chevrolet and it slammed hard into the wall, allowing eventual winner Austin Cindric to take the lead.
"I had position all day really and felt like we were really pushing people at the right time," Stenhouse Jr. told FOX Sports' Bob Pockrass. "There were definitely spots on the race track you didn't want to push or get pushed. "The six, I guess, found that out a couple (of) times today."
Stenhouse settled for what he considered a disappointing 28th-place finish.
The first rookie to capture the Daytona 500, Cindric nipped Bubba Wallace at the finish by 0.036 seconds in overtime.
Keselowski's Gang on NASCAR's 10 most wanted list 
With one points race completed and 35 to go, RFK Racing has notched one top-10 performance.
Keselowski and the RFK Gang made another top-10: NASCAR'S 10 most wanted list.
Driving in the Daytona 500 for the first time since his father died last December, Keselowski drove with a determination detriment to the Daytona field. He attempted to defend his actions after emerging from his machine on Feb. 20.
"Whenever somebody spins out obviously, there's somebody over-aggressive, but, in the moment, I didn't," Keselowski said. "I was just pushing."
Too hard and at the right time?
NASCAR fans will see by the degrees of heat Keselowski feels during the Wise Power 400 at Auto Club Speedway on Feb. 27.
Like Sportscasting on Facebook. Follow us on Twitter @sportscasting19. 
RELATED: No-Name Austin Cindric Treats NASCAR Team to Fast Food After Daytona 500 Win