Denny Hamlin, Ryan Blaney, Daniel Suarez: 3 Disappointing NASCAR Drivers During Pennzoil 400
Most visitors are eager to arrive in Las Vegas, Nevada.
Three NASCAR Cup Series drivers, led by Denny Hamlin, Ryan Blaney, and Daniel Suarez, couldn't wait to leave the Pennzoil 400 behind.
And fast.
Denny Hamlin, 32nd-place finish
A future NASCAR Hall of Famer, Denny Hamlin didn't feel like one of the best drivers of his generation on March 6. How did he describe his performance after leading for 31 of the event's opening 105 laps?
"Worst driver on the track today," Hamlin tweeted.
On Lap 219, Hamlin attempted to cruise onto the track off of pit road. He miss-shifted, causing a spin and breaking the transaxle on his No. 11 Toyota.
Possessing one of the early dominant cars, Hamlin twice paced the field for prolonged runs, but he couldn't maintain the momentum.
In three events this season, Hamlin, who has placed in the top 10 in the drivers' standings 13 times during his 18-year career, has yet to finish better than 15th. At Daytona, he crashed out and ended up 37th.
"We just got back there (near the front of the Pennzoil 400 field) and was working our way forward," he said, reported by NBC Sports.
Until that is, the "worst" pilot "made mistakes."
Ryan Blaney, 36th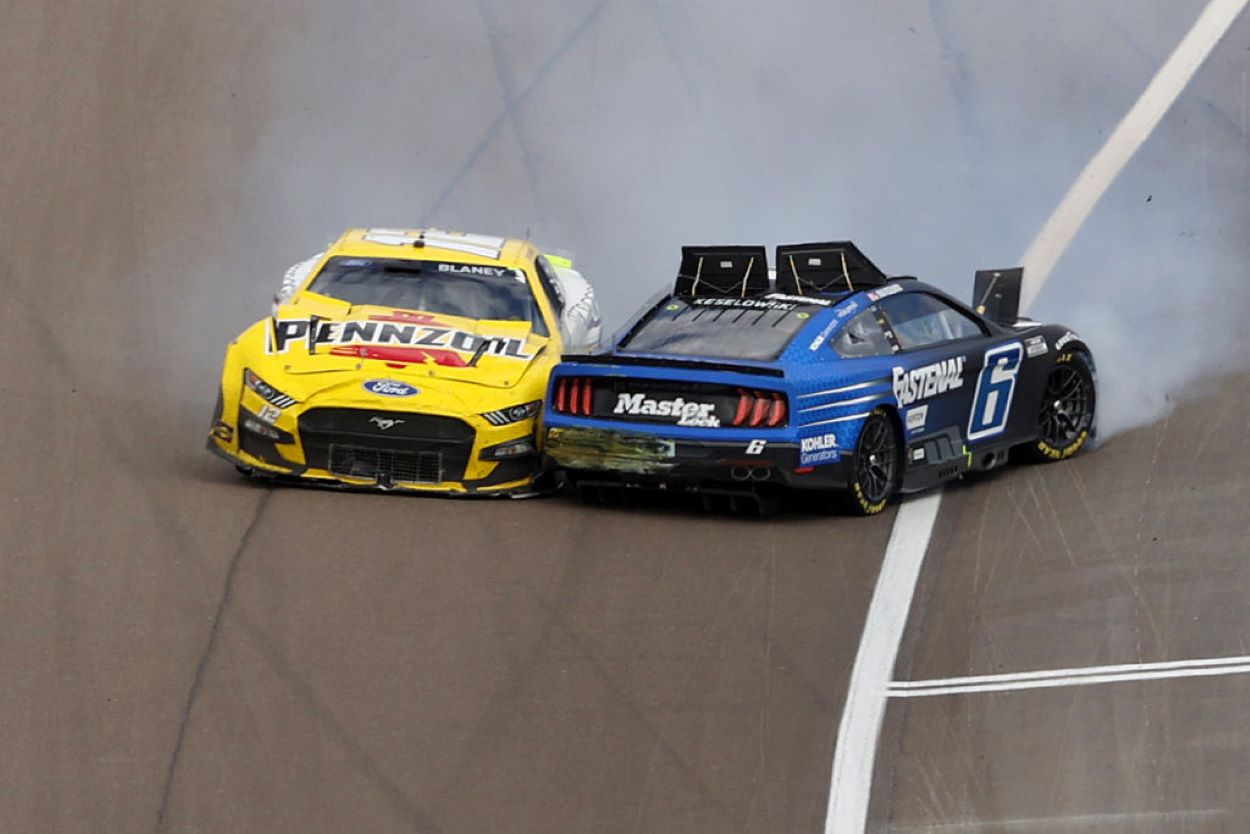 Sarcastically, Blaney wished Brad Keselowski all the luck in the world.
"I'm happy he's still running," Blaney told Fox Sports in the garage area after his abrupt exit.
Sarcastically, he was ready to sit down and relax.
"We're sittin' in here wrecked," Blaney said.
Before taking a restful seat, Blaney possessed a strong machine, leading the race for 10 laps after taking over for hard-luck pole-sitter Christopher Bell.
Racing along the wall, Blaney appeared to be in the clear. Not expecting Keselowski to spin out while riding alone, Blaney wasn't prepared to take evasive action.
Instead, "I just piled right into him," Blaney told SiriusXM NASCAR Radio. "Ends our day. Nothing to be happy about."
Blaney has led at least one lap in each of the three Cup stops this season, but his average finish is 19.3
"That sucks," he said.
Daniel Suarez, 37th
The first car over the wall at Law Vegas Motor Speedway, Suarez called himself a "victim" when interviewed by SiriusXM NASCAR Radio. The early-race incident started when Michael McDowell's team decided to run on old tires when most of the field pitted for fresh rubber.
McDowell's No. 34 Ford could not keep pace on an extended run. Chase Briscoe came up on McDowell and "got loose, and I was so sideways," Briscoe told NBC Sports. "I came across and got the 99."
That was it for Suarez, who finished last and failed to effectively follow up his Wise Power 400 performance, posting a P4.
"I was the victim of it," Suarez said. "It's a struggle to finish like this so early, but we'll keep working and come back next week."
NASCAR's West Coast swing concludes with the Ruoff Mortgage 500 at Phoenix Raceway on March 13.
At least three disappointed pilots couldn't leave Las Vegas quick enough.
As Hamlin tweeted: "Get me to Phx."
Like Sportscasting on Facebook. Follow us on Twitter @sportscasting19.
RELATED: NASCAR Notebook: Denny Hamlin Miss-Shifts; Aric Almirola Goes Numb; Kyle Larson Fights Teammate at Finish Again