Denver Broncos: Is Brock Osweiler Worth a Big Contract?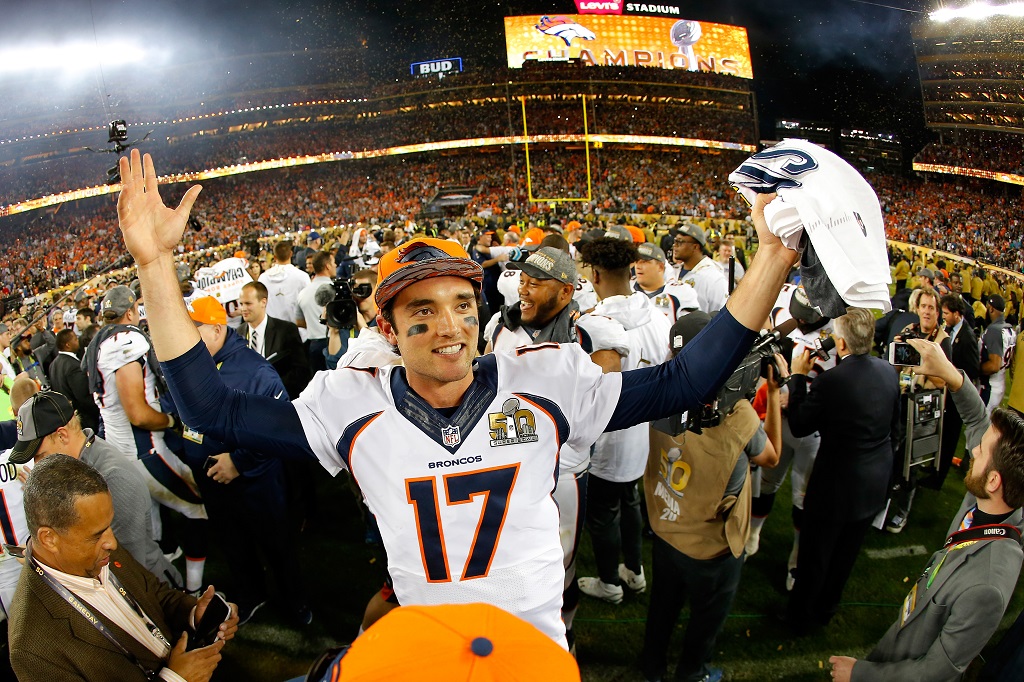 The Denver Broncos are coming off their third championship in franchise history after defeating the Carolina Panthers in Super Bowl 50. With Manning's retirement and Brock Osweiler's uncertain future with the team, the quarterback position is a major question mark.
Although Manning helped lead the Broncos to their first Super Bowl win in almost two decades, the soon-to-be 40-year-old saw a significant drop in production as he posted more interceptions (17) than touchdown passes (nine) along with his lowest completion percentage (59.8) since his rookie campaign. His 2015 season may have been marred by injuries, but it was clear that the five-time league MVP wasn't the same player he once was — more of a liability than an impact player (the Broncos can thank their defense for the win, and no one can really argue otherwise).
Set to officially announce his retirement on Monday, had Manning continued to seek an NFL gig Denver was almost certainly expected to cut ties with him by March 9, when the $19 million in the final year of his contract became fully guaranteed. While he's one of the greatest quarterbacks in league history, Manning simply wasn't performing like an elite quarterback at this point in his career; it could be argued that he's worth less than half of his base salary pay.
The Broncos' biggest concern beyond working out a new long-term deal for Super Bowl 50 MVP Von Miller is getting Osweiler locked up to a new contract. They are ready to move on from the extraordinary success of the Manning era (four consecutive AFC West division titles, two Super Bowl appearances, and at least 12 regular season wins in each campaign). Signing one of the game's greatest quarterbacks was a gamble that turned out well for Denver, but now their attention must shift to Osweiler, who is scheduled to become an unrestricted free agent for the first time in his career this offseason.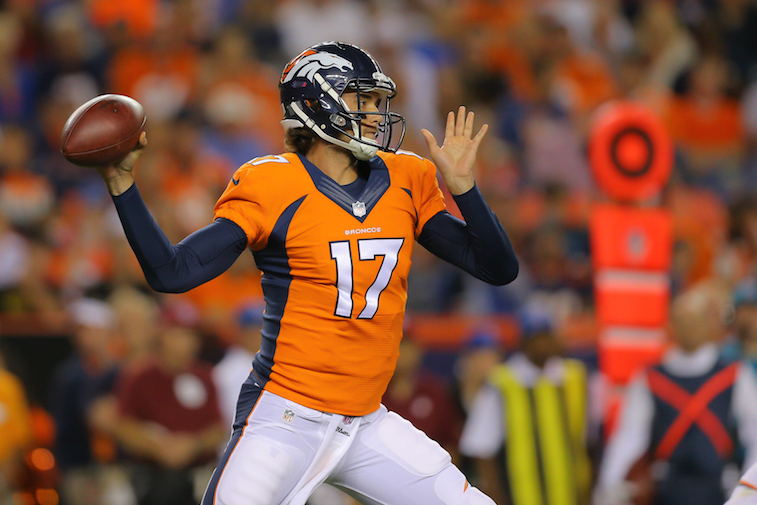 The 25-year-old got his first real action in 2015 following the Broncos' 29-13 loss against the Kansas City Chiefs in Week 10 — a game that saw Manning get benched at halftime after four interceptions as he posted a 0.0 passer rating. Osweiler was named the starting quarterback with the former 14-time Pro Bowler on the mend with a torn plantar fascia in his left foot.
The former Arizona State product took advantage of the opportunity to make a strong case for being the starter next season. He was quite effective in his seven starts, recording a 5-2 record that included throwing at least 230 passing yards in all but one game with 10 touchdown passes. His first three starts were encouraging as he threw one or more touchdown in each game with his best performance out of the bunch being an overtime win against the New England Patriots that saw the Broncos overcome a 14-point deficit in the fourth quarter.
That said, there were obvious growing pains in the latter portion of his starts, which led the Broncos to reinsert Manning back into the starting lineup in the second half of their Week 17 matchup against the San Diego Chargers with the No. 1 overall seed in the AFC on the line. This also heavily influenced Denver to start Manning in the playoffs over Osweiler. In hindsight, that decision crucially influenced their Super Bowl run, however it's no secret that the Broncos would like to lock up the 25-year-old to a long-term deal as they have reportedly made a significant offer to him before the start of the free agency period.
The Broncos may have to somewhat overpay Osweiler to keep him, but they are far better served with him being the team's starting quarterback than Manning. Yes, the Broncos defense is a huge plus to have in their back pocket but the former second-round pick has shown that he can be a reliable and productive player. He recorded above 70 passer rating in all eight games that he played, including two contests with above 100.
In short: Osweiler is more than capable of leading Denver to another successful regular season and getting them in contention for a Super Bowl once again. He isn't worth offering a contract that would make him one of the highest-paid quarterbacks in the league, but if they want to keep him they will have to give him a contract that demonstrates that they value him like one.