What the Denver Broncos' Plan of Attack Must Be for the 2022 NFL Offseason
The Denver Broncos' 2021 season began with promise — they started the season 3-0. However, they could never truly overcome the glaring offseason mistake they made. They passed on rookie quarterbacks Justin Fields and Mac Jones during the 2021 NFL Draft, trusting Teddy Bridgewater and Drew Lock to hold down the position for a full season.
Bridgewater was perfectly solid for most of the year. However, as it typically goes with the veteran journeyman, his play put a cap on his overall ceiling. Denver missed the playoffs and finished 2021 with a 7-10 record — its third straight losing season under head coach Vic Fangio, who was fired the day following the Broncos' final game of the season, a 28-24 loss to the Kansas City Chiefs.
Moving forward, the Broncos need to construct a more concrete offseason plan worthy of being followed if they want to finally turn things around in 2022.
Biggest offseason questions for the Denver Broncos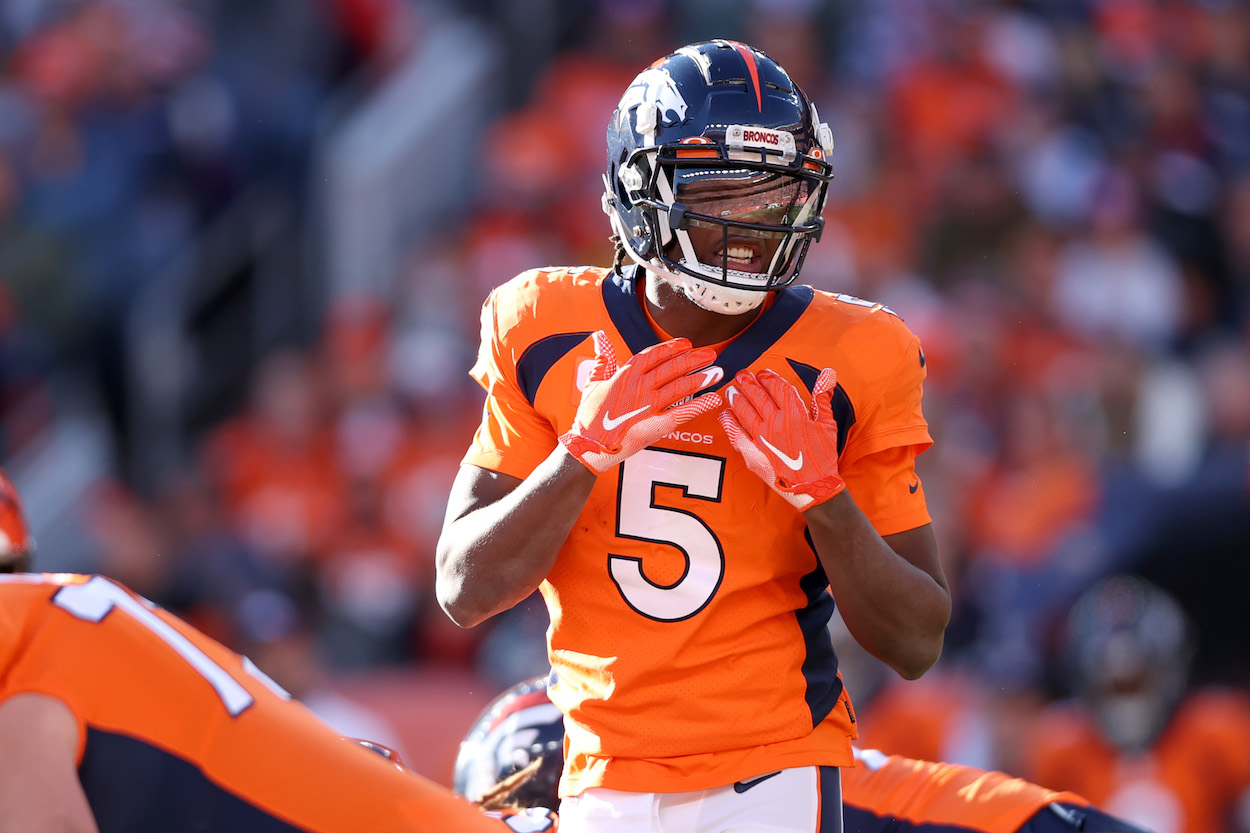 First and foremost, of course, the Denver Broncos need to hire a new head coach to replace Fangio, who should quickly latch on with another team as a defensive coordinator. But there are obviously plenty of other issues the franchise needs to address.
Since the moment Peyton Manning retired, the team has been in quarterback limbo. For six straight seasons, the organization has shuffled through a variety of below-average arms, desperately hoping someone would stick under center.
Trevor Siemian, Brock Osweiler, Paxton Lynch, Case Keenum, Joe Flacco are just a few examples. The before-mentioned Lock and Bridgewater are the latest examples of Denver attempting to fix its QB situation by slapping a band-aid over it.
If the Broncos are serious about improving in 2022 (and beyond), their biggest offseason question that needs answering is the QB position. Whether through the draft, in free agency, or via trade, the Broncos need to land a true 1A-type starter.
Kenny Pickett, Malik Wills, Matt Corral, Sam Howell all make sense as potential draft targets. Baker Mayfield, Russell Wilson, Aaron Rodgers, and even someone less high-profile like Gardner Minshew II make sense as trade targets. Regardless, the Broncos need to get someone good. They can't roll into 2022 with Lock and Bridgewater again and expect better results.
Top free-agency decisions
Key free agents: Kyle Fuller (CB), Melvin Gordon (RB), Bryce Callahan (CB), Kareem Jackson (S), Teddy Bridgewater (QB)
The Broncos have several significant pending free agents. However, the good news is that none of them should be viewed as too terribly important. The Broncos should feel comfortable letting most of these players walk in the offseason, simultaneously freeing up space for their before-mentioned quarterback pursuit.
On the offensive side of the ball, running back Melvin Gordon and Bridgewater are the two big names. Both players were starters in 2021, and yet, both players should be allowed to walk in the spring. Gordon can be replaced by promising rookie RB Jameson Williamson, while Bridgewater should be allowed to chase a starting job elsewhere.
On defense, a good chunk of the Broncos' secondary is set to be up for grabs. Kyle Fuller, Bryce Callahan, and Kareem Jackson are all solid players. Bringing back one of these guys makes sense. However, Denver shouldn't go overboard. They need to keep freeing up cap space and investing in younger players via the draft. They already have first-round CB Patrick Surtain II on the roster as well — CB isn't a super pressing need for Denver right now.
2022 NFL Draft needs and potential targets
Top picks: First round (own), second round (own), second round (Los Angeles Rams via Von Miller trade), third round (own), third round (Los Angeles Rams via Von Miller trade)
Draft needs: QB, EDGE, OT, DB
Thanks to the Von Miller trade they pulled off with the Los Angeles Rams this season; the Broncos are in a promising situation regarding their current draft capital. They currently own five picks in the first three rounds. However, they really shouldn't sit back and use all these picks. Instead, they need to package some of them together to trade up for a rookie QB or acquire an elite veteran at the position.
With the picks they keep, continuing to build across the trenches is always a smart idea. The Broncos need another starting offensive tackle, and they need to replace Von Miller on the defensive line. They could also invest another top-100 pick into the secondary, seeing as they could lose three key starters at the position.
Ultimately, this war chest of draft picks needs to be used on a quarterback.
1 player on each side of the ball who must step up in 2022
While the Broncos project to be a busy team this offseason, they still need players already on the roster to step up if they're actually to improve in 2022. Two main names stick out when surveying the roster.
On offense, it's hard to ignore the struggles that wide receiver Jerry Jeudy is still dealing with in year two. A first-round pick in 2020 who was selected over CeeDee Lamb and Justin Jefferson, Jeudy has yet to flash true WR1-type potential. He's battled injuries the past two years, which could explain his lack of production. His QB situation has also been less-than-ideal. However, he still needs to drastically improve in 2022 if the Broncos want to finally field a productive offense.
On defense, all eyes are on edge rusher Bradley Chubb. With Von Miller no longer in the building, the young DE needs to be a true franchise defensive end. Like Jeudy, Chubb has had unfortunate injury luck during his NFL career. He's only appeared in six games this past season (zero sacks).
Moving forward, Chubb needs to find a way to stay on the field while simultaneously producing. Zero sacks for a starting DE is unacceptable.
All stats courtesy of Pro Football Reference.