Denver Broncos Pry Running Back Melvin Gordon From Rival Chargers
The Denver Broncos have added a Pro Bowl running back to their backfield. Melvin Gordon, a former first-round pick of the rival Chargers, has jumped ship in the AFC West and will take his next carries in Broncos orange. Gordon's 2019 season was hampered by a late start following a holdout and overall ineffectiveness. Gordon, who only turns 27 in May, has a chance to reset his career with a team he is all too familiar with.
Here's why Melvin Gordon and the Denver Broncos each stand to strongly benefit from their partnership.
Melvin Gordon doesn't have to be the Broncos' long-term running back
After holding out with the Chargers last year in hopes of a long-term contract, Gordon instead signed a two-year deal worth $16 million with the Broncos. The chance to prove his former team wrong and hurt their playoff chances appealed to Gordon, who NFL Network reported turned down a "better offer" from another team.
The contract is a bit pricey, especially given Gordon's injury history. Gordon only played a full 16 games once in his five years with the Chargers. Gordon ran for a career-best 1,105 yards in that 2017 season. Denver should benefit from Gordon taking reduced snaps as he splits reps with third-year back Phillip Lindsay.
What does Melvin Gordon bring to the Broncos?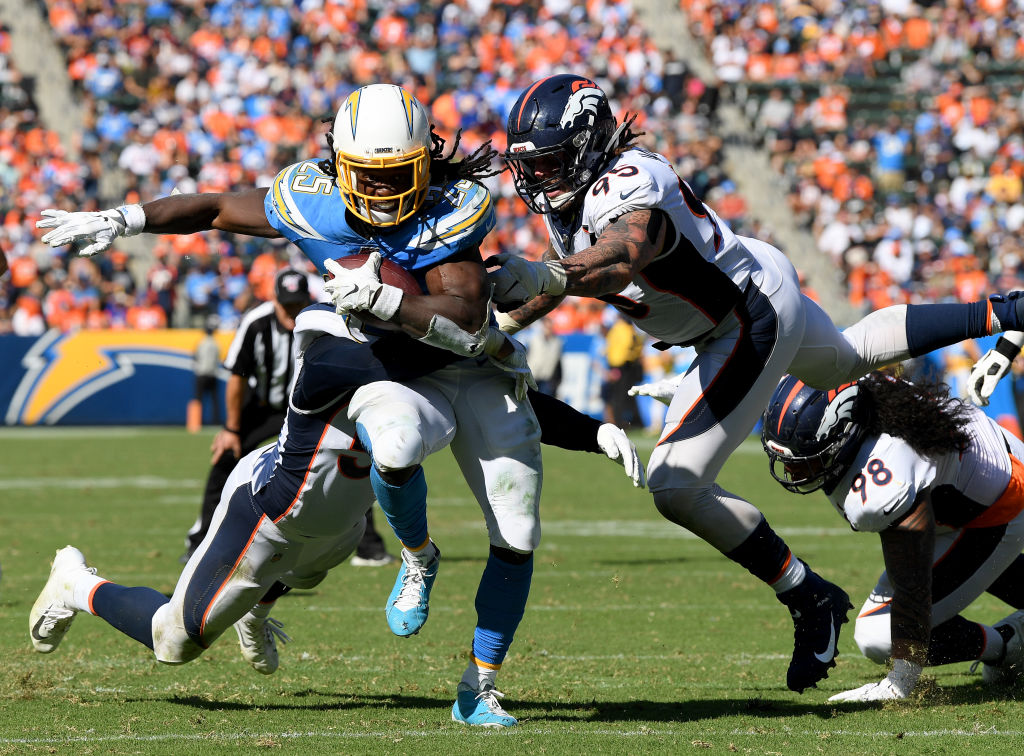 Melvin Gordon has run for 4,240 yards and 36 touchdowns in five seasons. Gordon began his career as a bruising back who struggled to extend plays in the NFL and never averaged more than 3.9 yards per rush in his first three years. When healthy in 2018, Gordon averaged 5.1 yards a carry and ran for a career-high 10 touchdowns in 12 games. Although Gordon scored twice in the playoffs, the Baltimore Ravens and New England Patriots limited him to 2.1 yards per rush.
The Chargers were only 3-6 in games against the Broncos when Gordon played. Denver held Gordon to only 3.75 yards per carry and no touchdowns in those games. However, Gordon ran for 99 yards on 20 carries in a 23-20 loss to the Broncos last Dec. 1.
Gordon also has experience making plays in the passing game. Gordon has 11 career receiving touchdowns and has caught at least 40 passes each of the last four years.
With Gordon headed to Denver, the Chargers will likely move forward with Austin Ekeler as their starting running back.
Denver's offense could surprise some in 2020
Barring a devastating injury to Patrick Mahomes, the Kansas City Chiefs should continue holding supremacy in the AFC West. But Denver quietly has developed an interesting offense to begin the new decade. Drew Lock looked poised in his five starts under center and enters 2020 as the Broncos' possible quarterback of the future. Denver hasn't had a young quarterback hold that title since trading Jay Cutler after the 2008 season.
Courtland Sutton's 72-catch, 1,112-receiving yard season netted him his first Pro Bowl nod. Young tight end Noah Fant flashed and averaged 14.1 yards per reception. Lindsay, the 5-foot-8 running back who ran for 1,037 yards and nine touchdowns as a rookie, totaled similar numbers (1,011 and seven) last year. Gordon's arrival only makes the Broncos offense potentially more potent, especially with the NFL expected to add another playoff seed this year.
Denver also added cornerback A.J. Bouye in a trade with the Jacksonville Jaguars and sent a seventh-round pick to Tennessee for veteran defensive tackle Jurrell Casey. After missing the playoffs in four consecutive seasons, the Broncos are certainly looking to snap that streak next season.