Denver Broncos: Ranking the 5 Best Candidates to Replace Vic Fangio
It finally happened. The Denver Broncos have ended the Vic Fangio tenure in the Mile High City after a loss against the Kansas City Chiefs in Week 18.
In three seasons as the Denver head coach, Fangio compiled an unimpressive 19-30 record while playing quarterback hot potato. The Broncos failed to make the playoffs in any of the three seasons and concluded the 2021 campaign with a 7-10 record and a last-place finish in the AFC West. Oddly enough, this was Fangio's best season from a record standpoint.
Now, George Paton begins his search for a new head coach. The good news? The Broncos roster is pretty stacked on both sides of the ball — except at the quarterback position. While finding a franchise quarterback is a priority, Paton must first find a viable replacement in hopes of bringing the Broncos back to relevance.
Who will be Fangio's replacement? We have a few realistic options, and no, Urban Meyer is not one of them. The list of possible head coach candidates for the Broncos is as follows, ranked based on fit with the organization and likelihood of leaving their respective teams.
5. Todd Bowles, Tampa Bay Buccaneers defensive coordinator
Todd Bowles is one of the most popular names this offseason, with plenty of head coaching jobs expected to open up. The question is: Will he leave Tampa Bay?
When asked about the NFL's new rules allowing teams to interview before the season ends, Bowles gave an interesting answer.
Sure, being a head coach is an honor, but winning Super Bowls in Tampa Bay is good also. Nonetheless, Bowles should get a call from Paton to interview for the Broncos job.
He has worked wonders with the Buccaneers defense and has all the resources available to turn this Denver team into a playoff group — assuming it fixes the quarterback issues.
The only reason Bowles is this low on the list is that he might want to stay in Tampa Bay, especially if the Bucs win another Super Bowl this year.
4. Doug Pederson, former Philadelphia Eagles head coach
Ian Rapoport of the NFL Network recently gave Bowles and Doug Pederson a massive endorsement. However, that was the same day Bowles made those comments above.
Another name Rapoport mentioned was Doug Pederson, the former Eagles head coach who defeated the New England Patriots with Nick Foles at quarterback.
Pederson has drawn interest from the Jacksonville Jaguars and makes sense as a head coach somewhere in the NFL.
He and Paton have a tiny bit of familiarity with one another from their Chicago Bears days, but Pederson could be what the Broncos need — a head coach with a Super Bowl ring.
The roster is pretty much there, and even though his ending with the Eagles was ugly, he deserves another shot.
3. Dan Quinn, Dallas Cowboys offensive coordinator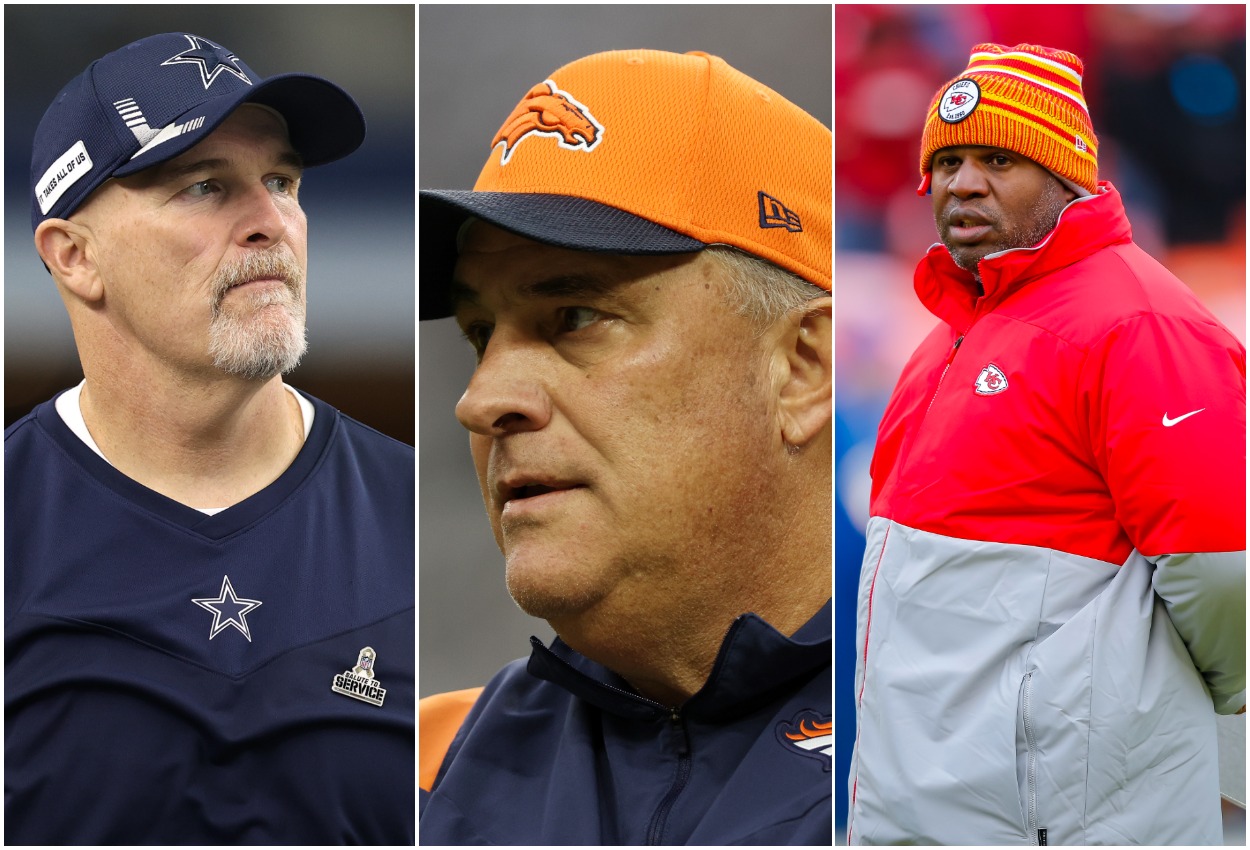 Who wouldn't want Dan Quinn as a head coach?
When filling in for Mike McCarthy, he not only led the Cowboys to a victory over the New Orleans Saints, but he also waited for every player after the game to congratulate them. That is a leader, regardless of his rocky tenure as Atlanta Falcons head coach.
Quinn has revitalized the Cowboys defense in just one season wearing the headset in Texas. He has head coaching experience and a personality that would be contagious for a young Broncos team itching for some change in the locker room.
Oh, and if the Broncos decide to make a run at Russell Wilson, Quinn knows him from his days with the Seattle Seahawks.
However, there is some concern. Quinn recently turned down the opportunity to interview for the Jacksonville Jaguars job, stating how much he loves Dallas.
Still, the Broncos job is much better than the Jaguars' position. Perhaps Quinn thinks twice about interviewing for Denver after turning down Jacksonville. If it weren't for that decision, he would be on top of this list.
2. Nathaniel Hackett, Green Bay Packers offensive coordinator
Here we go.
Things are picking up now. Nathaniel Hackett has emerged as a candidate for the Broncos job, according to Tom Pelissero of NFL Network.
Hackett's resume speaks for itself. After being let go with Doug Marrone after bringing the Jaguars to the playoffs, Hackett landed in Green Bay and has loved it every step of the way.
Aaron Rodgers won NFL MVP running Hackett's offense, and now the Packers are the top seed in the NFC as they look for a Super Bowl trip.
Moreover, Hackett earned some massive praise from Rodgers earlier this season, which is always helpful when you walk in for an interview (h/t Nicki Jhabvala of The Washington Post):
"His presentations are legendary, they really are. He finds ways every single week to come up with new cool ideas. He's got infectious energy."

Aaron Rodgers on OC Nathaniel Hackett
It sure sounds like Rodgers is enamored with Hackett.
Of course, rumors have swirled that Rodgers might be interested in joining the Broncos if he does leave Green Bay this offseason. Denver recently committed a ton of money to the wide receiver position, perhaps throwing out a nice flurry of weapons to make a run at Rodgers.
What would make that better? Hiring his former OC as the new head coach.
Hackett has a real shot to be the Broncos' guy, but he is also interviewing for the Jaguars position during the bye week.
1. Eric Bieniemy, Kansas City Chiefs offensive coordinator
For some reason, Kansas City Chiefs OC Eric Bieniemy still isn't a head coach.
Over the past few offseasons, Bieniemy has interviewed for numerous head coaching jobs but has yet to land one. The Houston Texans decided to hire David Culley over him, and surely they regret that decision now.
This time around, Bieniemy should have more interest. The Chiefs offense has flourished, and while Patrick Mahomes is sensational, Bieniemy is the one in the kitchen cooking the scheme up.
Last January, the Chiefs OC received praise from Mahomes after failing to land a head coach job (h/t Kevin Patra of NFL.com):
"If you look at his track record and the way he's able to coach us, the way he's able to lead men — people say that, but to be able to lead a locker room of people from every different background, every different race and everything like that, and be able to be the lead of the locker room is a special talent. It's a talent, and he's able to do that."

Patrick Mahomes on Eric Bieniemy
The Broncos need to offer Bieniemy whatever it takes to make him the next head coach. Plus, it can only be beneficial to have Mahomes' former OC as the head coach, especially considering the Broncos have not been able to find an answer for Kansas City.
One more thing: Bieniemy played his college ball at the University of Colorado in Boulder. Perhaps a homecoming might be intriguing.
There are so many layers to this, and Andy Reid strongly advocated for Bieniemy to land a job. Why not one with the Broncos?