Von Miller's Contract: Why the Broncos Have to Pay Him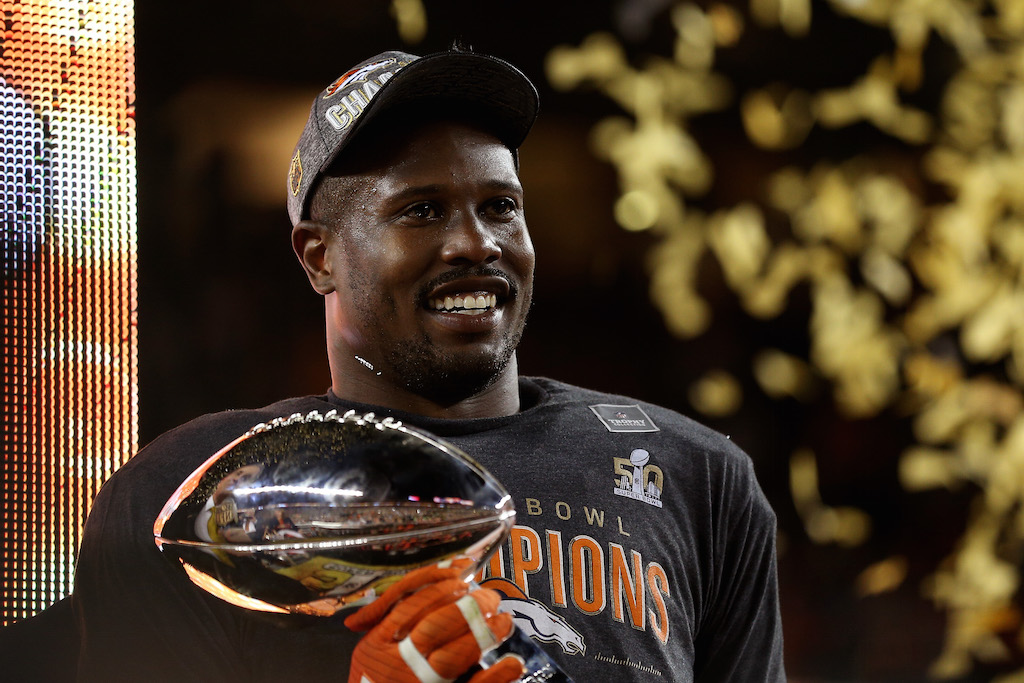 It's time for the Denver Broncos to get a reality check and open their checkbook for their best player. In case you haven't been following the situation, they are currently in a tense, very public contract dispute — that should have been resolved months ago — with outside linebacker Von Miller.
While Broncos General Manager John Elway has proven that he is one of the best personnel executives in the National Football League, he has really dropped the ball when it comes to locking up the best pure pass rusher in the NFL.
In his five NFL seasons, Miller has proven to be one of the top two or three defensive players in the game. He has accumulated 60 career sacks and 17 forced fumbles, made four All-Pro teams and four Pro Bowls, won the 2011 NFL Defensive Rookie of the Year award, and turned in one of the greatest individual performances in Super Bowl history en route to claiming the Super Bowl 50 MVP award.
From a football skill-set perspective, the former Texas A&M standout has arguably the quickest first step in the league, and when he is truly dialed in, he ranks right up there with the best pure pass rushers in NFL history.
Miller also happens to be an excellent run defender capable of making big plays in pass coverage, but when it comes down to it, he is at his best when he is getting after opposing quarterbacks. The fact that his off-field issues seem to be behind him — he is no longer in the NFL's substance abuse program — makes him even more valuable and as close to risk-free as a player can get.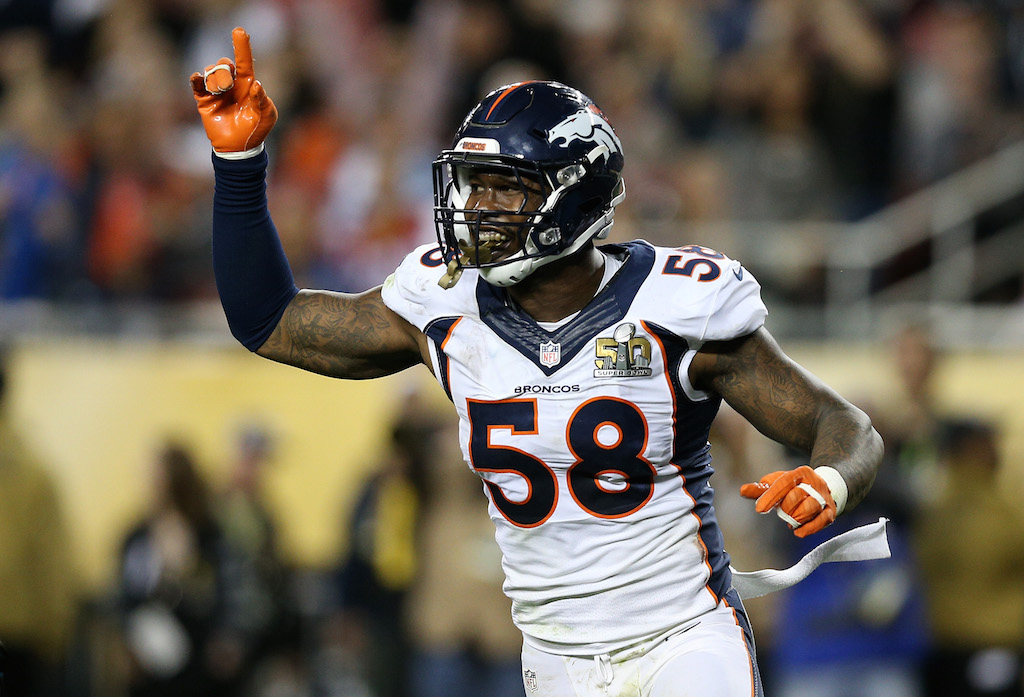 The Broncos already offered Miller a contract (six years, $114.5 million) that would have made him the highest-paid non-quarterback in the league in terms of average annual salary. But as we've learned over the last decade, what truly matters in NFL contracts is the amount of guaranteed money and the amount of money to be paid out over the first two or three years of the contract.
Denver's recent offer to Miller — $38.5 million guaranteed at signing and $39.8 million over the first two years of the deal — simply wasn't good enough. Before you call Miller greedy or just another spoiled millionaire athlete for turning down Denver's recent contract offer, a quick look at the market for defensive players of his caliber will show how badly the Broncos low-balled him.
Here is a quick look at the eight highest guaranteed money totals — all dwarf the $38.5 million in guarantees that Miller turned down — for similar players around the league:
Fletcher Cox – $63.299 million guaranteed
Marcell Dareus – $60 million guaranteed
Ndamukong Suh – $59.955 million guaranteed
Justin Houston – $52.5 million guaranteed
Olivier Vernon – $52.5 million guaranteed
J.J. Watt – $51.876 million guaranteed
Gerald McCoy – $51.5 million guaranteed
Malik Jackson – $42 million guaranteed
With the exception of Watt, Miller is better and more impactful than every player on that list. If that weren't enough to make it clear that he deserves a much better offer from the Broncos, consider the fact that none of those players have a Super Bowl MVP award to their name like Miller does.
The total money figure over the first three years of Denver's offer was not leaked. But when you consider the fact that the team was willing to leak the total money in the first two years of the deal ($39.5 million), we're led to believe that the three-year total was far less than market value.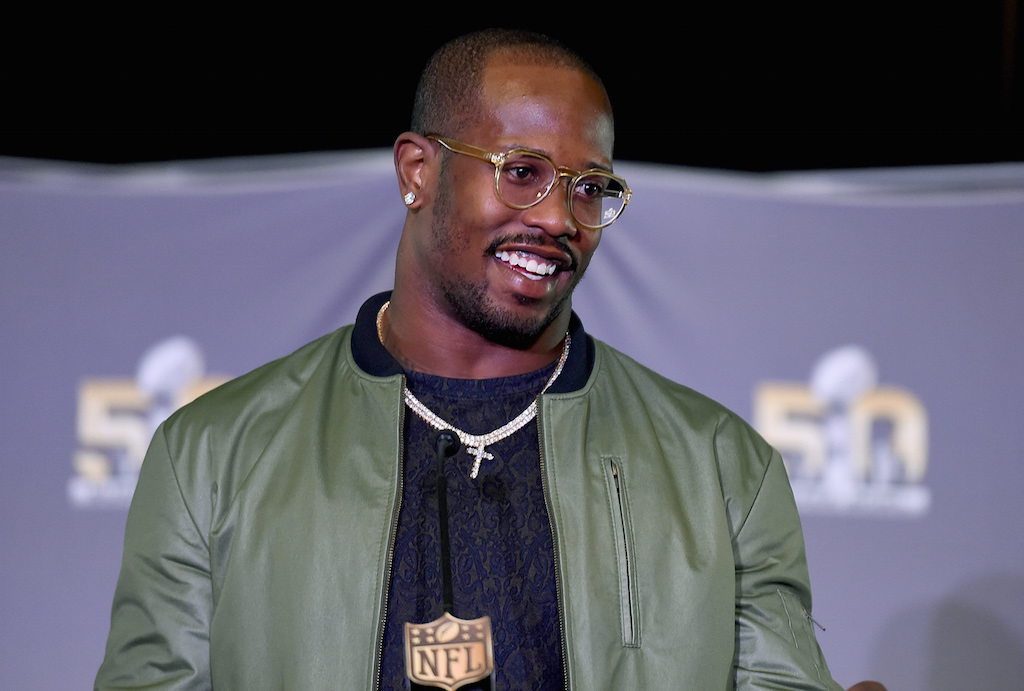 The bottom line here is that this contract negotiation should have been simple and straightforward for everyone involved. Miller is a once-in-a-generation type of talent, and given that he pretty much singlehandedly led the Broncos to a win in Super Bowl 50, he fully deserves the richest non-quarterback contract in NFL history.
The total value ($114.5 million over six years) is already there, but the guaranteed money and the total three-year value both need to increase significantly before there is a realistic chance at a deal being reached. Unfortunately for the Broncos, their decision to play hardball with Miller and his representatives likely cost them.
Had Denver offered a fair deal — something around $65 million guaranteed with $55–$60 million over the first three years — earlier this offseason, they likely would have already wrapped this thing up. Now, they will likely have to pony up close to $70 million in guaranteed money after the Philadelphia Eagles signed Fletcher Cox (an undoubtedly inferior player to Miller) to a deal that included $63.299 million guaranteed earlier this week.
If the Broncos and Miller fail to reach a contract agreement by July 15, there is a good chance that the 27-year-old linebacker will either sit out until Week 10 and play the minimum of six games that he would need for 2016 to count as a credited season, or sit out the entire season to avoid being slapped with the team's franchise tag again next offseason.
If this happens, it kind of goes without saying that the Broncos' chances of defending their Super Bowl title will be slim-to-none. Furthermore, if Miller were to sit out the season and hit the open market next offseason, the four-time All-Pro could basically name his price. And there would surely be a team willing to part with a first- and third-round pick for his services.
While we definitely appreciate and respect Elway's ability to build a team, he needs to swallow his pride and do what it takes to lock up his best player for the long-term.
Statistics courtesy of Pro-Football-Reference. Contract data courtesy of Spotrac.