Denver Broncos: Top 5 Draft Picks in Team History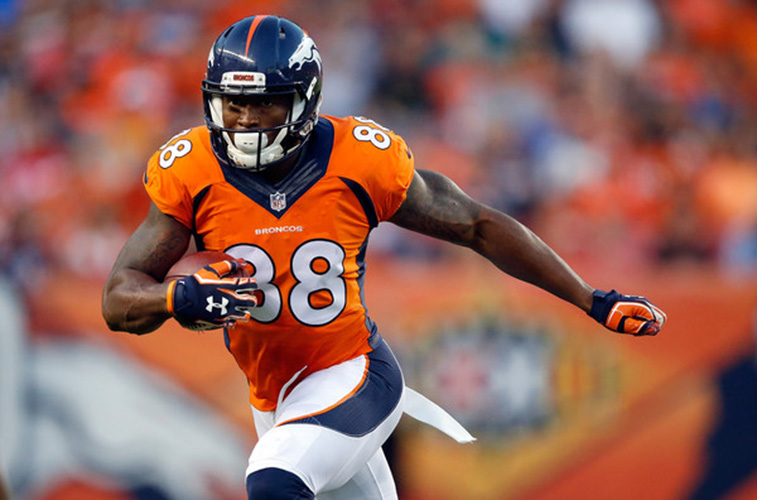 The history of the Denver Broncos is one of the most cherished in all of professional football. With three Super Bowl titles, just six losing seasons since 1977, and a number of NFL legends donning the blue and orange, success is always expected from the franchise and usually, they deliver. One of the biggest reasons for Denver's successful tenure in the NFL is because the team has typically drafted well year after year.
Here in 2016, of course, the Broncos will need another strong draft class after losing several key pieces in free agency following their Super Bowl 50 win. The main focus will be at quarterback, something that general manager John Elway knows a thing or two about. Whether it's a guy like Paxton Lynch or Connor Cook, the team will hope to hit the jackpot with a signal-caller who can lead the franchise for the next decade (something the Broncos haven't had since Elway).
Only time will tell if the Broncos' 2016 class will match up with some of their other great classes. Speaking of those past classes, Denver has drafted some of the greatest players in NFL history. That fact makes it difficult to pick the best draft choices the Broncos have ever made, but we took a shot at it, ranking the top five ever in chronological order.
5. Demaryius Thomas
Year drafted: 2010, 22nd overall
Demaryius Thomas, by many measures, did not have his best season in 2015-16. He dropped several key passes and disappeared in the postseason, catching just seven passes for 60 yards in three games.  Despite those alarming stats, DT has proven to be a great pick for the Broncos in his six NFL seasons.
With Peyton Manning under center the past four campaigns, Thomas went for at least 1,300 receiving yards four straight times while catching a total of 41 touchdowns. Alongside Emmanuel Sanders, Thomas also completes half of one of the best receiving duos the league has to offer.
While he needs to play better in the playoffs, DT already sits in fourth-place on Denver's all-time leading receiver board and if he plays for the team for another six or seven seasons, he could very well find himself at the top of that board. He's one of the best receivers in the league and the Broncos likely wouldn't want anybody else catching passes on Sundays.
4. Shannon Sharpe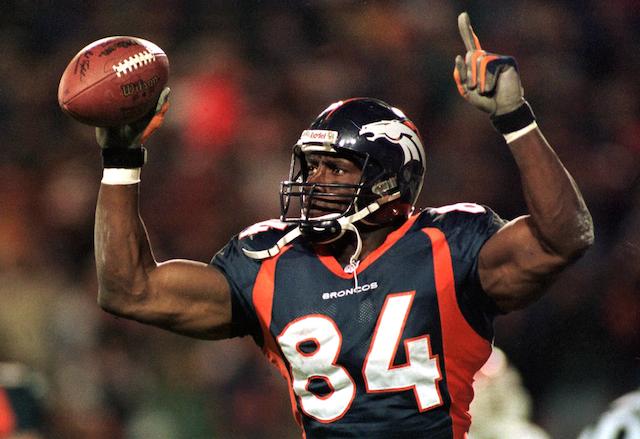 Year drafted: 1990, 192nd overall (seventh round)
If you like a trash-talking, matchup nightmare of a football player, they didn't get much better than Shannon Sharpe. Potentially the steal of the 1990 draft, Denver didn't draft Sharpe until the seventh round that year, but he quickly proved to be one of the best players in that class. Sharpe spent all but two seasons with the Broncos, winning two Super Bowl trophies in the process.
On the franchise leaderboards, he is second all-time (only to Rod Smith) with 8,439 receiving yards, 675 receptions, and 55 touchdowns as a Bronco. Overall, it's evident that Sharpe is a top-five tight end in NFL history and had one of the most recognizable personalities ever.
3. Steve Atwater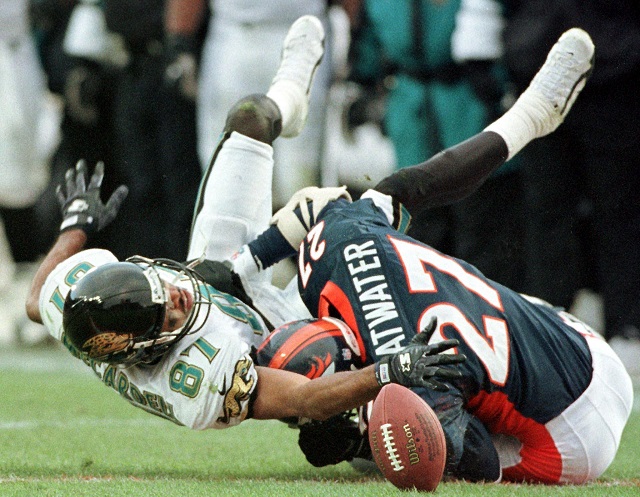 Year drafted: 1989, 20th overall
Back when the Broncos were winning back-to-back championships in the late '90s, the offensive ability of John Elway and Terrell Davis was a big reason for their success. However, their defense during those days was also strong, ranking in the top 10 in points and yards allowed during each of those Super Bowl-winning seasons. A catalyst of that unit was bruising safety Steve Atwater, who the Broncos couldn't pass up in the first round of the '89 draft.
During his 10-year career in Denver, Atwater collected eight Pro Bowls, two All-Pro selections, and those two Super Bowl rings. Atwater was seemingly in the middle of every play, making key tackles and interceptions when the team needed them most. A finalist for the 2016 Hall of Fame class, it's only a matter of time before Atwater is enshrined with the highest individual honor a player can receive.
2. Terrell Davis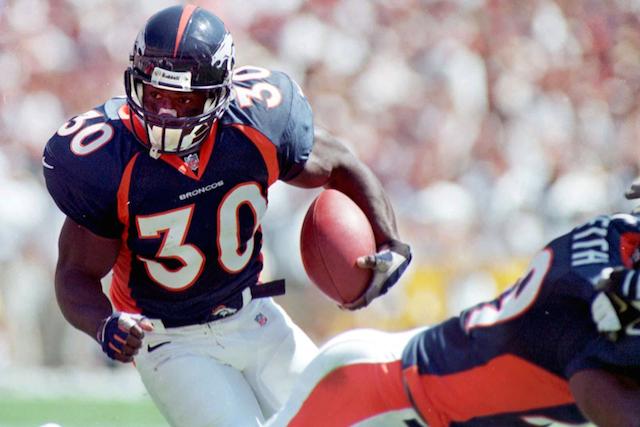 Year drafted: 1995, 196th overall (sixth round)
The franchise's all-time leading rusher, Terrell Davis was simply one of the best to ever play the game, regardless of position. With better than 7,600 career yards and over 60 touchdowns, his numbers might not sound legendary, but it's important to realize that Davis did that in just seven professional seasons (only four of which were full seasons).
He was the league MVP back in 1998 — after securing a rare 2,000-yard season — and was Super Bowl MVP in Denver's first ever championship victory in 1997. Simply put, without Davis, Elway wouldn't have captured his two rings. Despite a career shortened by injuries, Davis is an NFL legend and deserves to be inducted into the Hall of Fame. As a sixth-round draft choice, the Broncos truly found a diamond in the rough with TD.
1. Von Miller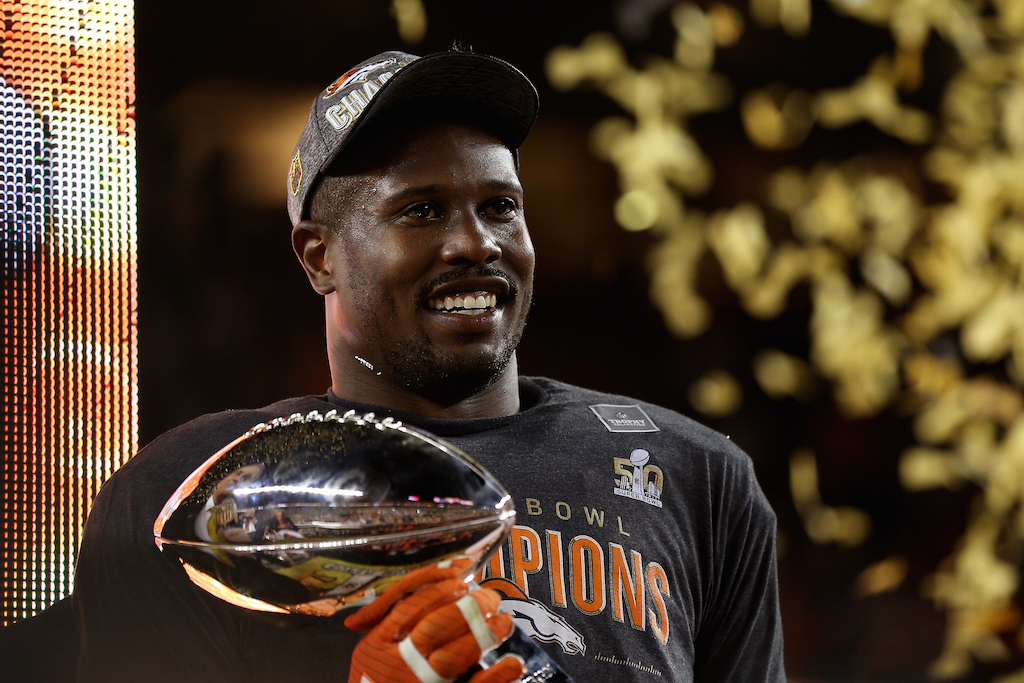 Year drafted: 2011, second overall
The highest draft pick in the history of the Broncos, Von Miller has been everything the team could've expected and more in his five NFL seasons. In every season except 2013, Miller has been in the top 10 in the league in sacks and earned four Pro Bowl selections because of it. He's also been named to two All-Pro teams and was named Defensive Rookie of the Year for the 2011 campaign.
While Miller has done so many brilliant things in his relatively short NFL career, it's what he did in the Broncos' most recent Super Bowl run that makes him their best draft selection ever. Miller's postseason stats from this past season include one interception, two passes defended, two forced fumbles, and five sacks in three games played. In the AFC championship, he led a unit that shut down one of the most prolific passers in NFL history, Tom Brady.
Then, in the Super Bowl, Miller crushed fellow 2011 pick and league MVP Cam Newton with 2.5 sacks, five tackles, and two forced fumbles in one of the greatest defensive performances in Super Bowl history (which earned him the game's MVP). While the script is still out on his career, it's safe to say that Denver hit the jackpot with one of their most important picks in franchise history.
Statistics courtesy of Pro-Football Reference.com. Videos courtesy of YouTube.com.