The Denver Nuggets Are Getting Healthy and Ready to Become an Under-the-Rader NBA Championship Contender
The fact that he's been forced to carry a severely-depleted Denver Nuggets team all season may be at least part of the reason Nikola Jokic finds himself at the front of the queue for the NBA MVP Award, but help may finally be on the way.
Star guard Jamal Murray tore his ACL and hasn't seen the floor since the end of the 2020-21 regular season last April. Michael Porter Jr. injured his back earlier this year and has yet to return.
But signs point to both of them being ready to go for the playoffs, which would not only be a massive boost for The Joker but would make the Nuggets a sneaky pick to come out of the Western Conference.
Nikola Jokic has successfully carried the Denver Nuggets all year
Jokic has been arguably the best player in the NBA this season, regardless of position. He's averaging 25.4 points (13th in the league), 13.8 rebounds (second), and 7.9 assists (sixth).
He's shooting 56.7% from the floor, 35.8% from three, and 80.7% from the free-throw line on almost six attempts a night.
Ja Morant may be king of the NBA highlight reel this season, but a plodding 7-foot Jokic may be just behind him on the list based on pure, unadulterated, entertaining passing skills that no one his size — or any size, really — should possess.
Denver's fulcrum leads the way for the 2021-22 MVP per NBA.com's ranking ladder.
With a supporting cast full of names the casual fan may barely know, Jokic has the Nuggets sixth in the Western Conference standings at 36-26. But that supporting cast is about to take a giant step up.
Jamal Murray and Michael Porter Jr. could be back on the floor soon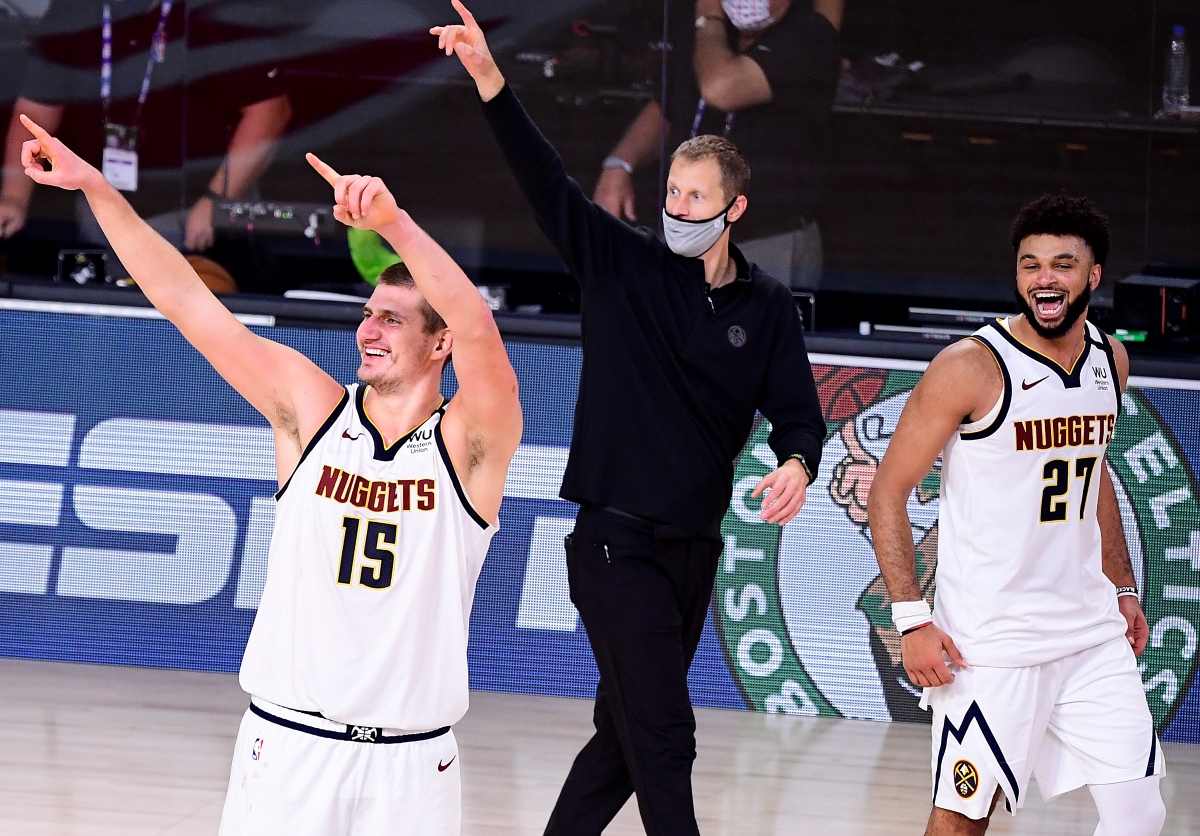 Murray has missed more than an entire season, while MPJ had back surgery in November. According to Sam Amick of The Athletic, however, both could be returning sooner rather than later.
Porter Jr. could hit the floor by the end of this month. Murray is being brought along more slowly, but the Nuggets are hopeful he returns by playoff time as well.
Porter broke out last season. After missing his rookie year with a back injury (which dropped him from the projected No. 1 overall pick to Denver's spot at No. 14), he played in 54 games his second year and averaged 16.4 minutes.
In 2020-21, though, the 6-foot-10 sharpshooter played in 61 games, starting 54, and averaged 19.0 points and 7.3 rebounds on 44.5% shooting from three in more than 31 minutes. He was rewarded with a five-year, $172 million extension.
Murray blew up in the 2020 bubble playoffs when he averaged 26.5 points and 6.6 assists on 50.5% shooting and 45.3% shooting from three as he helped bring the Nuggets to the Western Conference Finals.
The Canadian combo guard was averaging better than 21 points with shooting splits of 48/41/87 through 48 games last year. Before Jokic became the franchise player in Denver, Murray was its future and had moved from possible star to legitimate star.
Monte Morris and Will Barton have held down the fort so far in the backcourt, and Aaron Gordon has helped more on the wing rather than playing his ideal position as a small-ball 4.
After that, it's been a combination of Jeff Green, Austin Rivers, Facundo Campazzo, and Bones Hyland surrounding last year's MVP. Even 80% of MPJ and Murray are upgrades over any of those four and will instantly vault the offense to a new level around Jokic.
With all three of their stars, the Nuggets have the ammo to win the Western Conference
"I think he cannot wait," Jokic told Amick when asked about Murray. "He cannot wait to come back at the end, just because of how competitive he is. He's traveling with us. He's with us. So I think he's in a good spot."
The 2020-21 MVP also said, however, "I'm just trying to win every game possible — every game. So I don't think about it. I think I'm in good shape."
The Joker has been just about solely responsible for each of those tasks this year in the Mile High City — trying to win every game possible and keeping the team in good shape.
But the returns of Murray and Porter Jr. and a fully-stocked roster around him will go a long way toward helping Jokic. They would also push the Nuggets from pesky playoff team to under-the-radar championship contender.
All statistics courtesy of Basketball Reference.
RELATED: Bill Walton Gushed Over Nikola Jokic Like Only Bill Walton Can