Denver Nuggets Had Little Choice But to Throw $92 Million at Aaron Gordon
The initial reaction to Aaron Gordon signing a four-year, $92 million extension to remain with the Denver Nuggets was that the Nuggets dramatically overpaid. Gordon isn't their best player. He's not their second- or third-best player, either. But when one takes a step back to look at the deal from a broader perspective, it's a contract that made sense for Denver.
The Nuggets acquired Gordon from the Orlando Magic at the trade deadline in March 2021, also taking in Gary Clark in exchange for defensive guard Gary Harris, 2020 first-round pick R.J. Hampton, and a top-five-protected first-round selection in 2025. Gordon played well in the role given to him. That fueled a big finish for the Nuggets even with Jamal Murray's season-ending ACL tear.
The Denver Nuggets have a spotty free-agent history
Since unrestricted free agency came to the NBA in 1988, the Denver Nuggets haven't been a premier destination for star players. They haven't been a premier destination for much of anyone, to be perfectly frank.
One could argue the highest-profile free-agent signing in franchise history was when Denver landed one-time All-Star Kenyon Martin from the New Jersey Nets in 2004. Other notable signings were Andre Miller in 2003, Paul Millsap in 2017, and Antonio McDyess in 1998. Oh, and the Nuggets convinced Marcus Camby to re-sign in 2004.
The Hall of Fame selection committee won't be crashing many doors to get that bunch to Springfield.
Instead, Denver must work on the margins. Getting Nikola Jokić in the middle of the second round in 2014 was a masterstroke of luck and scouting. Drafting Murray and getting him to commit to an extension is how things must work for the Nuggets. Even when the team is a marginal contender, the big names have stayed away.
That's where Aaron Gordon comes in.
Aaron Gordon fit in right away with the Nuggets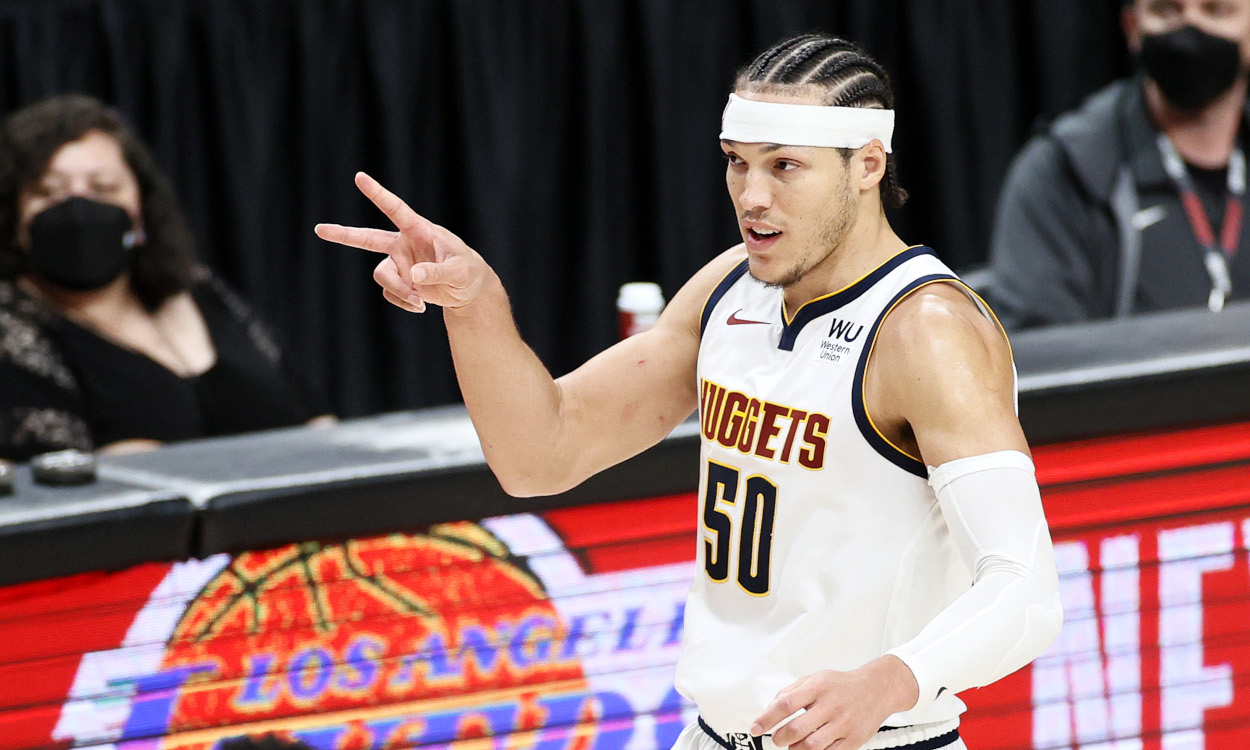 Last season, the Denver Nuggets needed an upgrade at the 4 spot. Millsap wasn't getting it done at age 35. He started half the team's 72 games but averaged only 9.0 points and 4.7 rebounds. JaMychal Green is better as a second-unit option, while Michael Porter Jr. is more effective as an oversized wing than a power forward.
In 25 games after the trade, Aaron Gordon averaged 10.2 points, 4.7 rebounds, and 2.2 assists on 50% shooting. He also provided mobility on defense that Millsap could no longer provide.
After the trade, Denver ran off eight straight wins and was 21–7 overall. When Gordon played, they were 19–6. He sat out the first post-trade game waiting on NBA clearance to begin with his new team. He later sat out a couple of late-season games with a calf issue.
Jokić talked at length about how quickly chemistry developed with Gordon. While he had a poor series as the Phoenix Suns routed Denver in four straight games in the Western Conference semifinals, he played well in the first-round win over the Portland Trail Blazers.
The bottom line for the Denver Nuggets was that they had to keep Aaron Gordon
Aaron Gordon is not a star. Let's make no illusions about that. But he became a crucial piece in the championship puzzle for the Denver Nuggets as a role player around Jokić and Murray (when he's able to return).
Given the difficulty Denver traditionally has in attracting free agents, this was a case of already having a player who fit the culture. So why risk damaging that?
Gordon's extension also sends a clear message to the organization and the Western Conference hierarchy. It says the Nuggets are in it to win right now, and if there are luxury-tax implications down the line, so be it.
Porter is also extension-eligible this season, and a max contract off his rookie contract could be as much as five years and $168 million. Denver is on the cusp of the tax line next season ($136 million), and when new deals for Gordon and Porter (presumably) kick in, it'll blast well past the apron.
Denver Nuggets governors Stan and Josh Kroenke have a reputation for pinching the proverbial pennies. But with the reigning MVP in place, it appears they are ready to put their money on the line to chase the franchise's elusive first NBA championship. Keeping Aaron Gordon in the Rockies is a step on that path.
Statistics courtesy of Basketball Reference.