Denver Nuggets Coach Mike Malone Is Worried About Overworking MVP Nikola Jokić: 'Nikola's Going to Be Worn Down by Christmas at This Rate'
It's not surprising the Denver Nuggets are leaning heavily on reigning NBA MVP Nikola Jokić. However, coach Mike Malone raised some understandable concerns about how much the Nuggets ask their star to do. Jokić, never touted as a top defender, saved Denver from an embarrassing home loss to the woeful Houston Rockets when he blocked Jae'Sean Tate's layup attempt at the buzzer. The Nuggets improved to 5–4 with the win.
But Jokić's impact on the team is unprecedented. Even with the small sample size, Denver is historically good when he's on the floor and likewise record-book-levels of bad when he sits. Given that Jokić has never averaged more than 34.6 minutes a game, it raises questions about how the Nuggets can keep up in the rugged Western Conference.
Nikola Jokić is in unprecedented territory statistically
It's not uncommon for a star player to be at or near the top of his team in most major statistical categories.
But what Nikola Jokić is doing to keep the Denver Nuggets barely above .500 is astounding. Here is where he ranks among qualifiers on the team:
Field goal percentage: 1st (59.9%)
3-point percentage: 1st (40.0%)
Free-throw percentage: 1st (82.2%)
Rebounds per game: 1st (13.4)
Assists per game: 1st (5.2)
Steals per game: 1st (1.6)
Blocks per game: 2nd (0.9)
Points per game: 1st (25.4)
By a margin of one blocked shot, Aaron Gordon prevents Jokić from being on pace to be the first player in NBA history to lead his team in all those categories.
The shooting numbers are particularly telling. With Jokić's 59.9% shooting mark overall, Denver is seventh in the NBA at 46.6%. Without him? Yikes. The rest of the team is at 44.4%, which would rank 18th in the league.
Denver is the second-worst 3-point shooting team in the NBA at 29.1% with Jokić. Without his 16-of-40 marksmanship, the Nuggets even fall behind the horrific shooting of the Detroit Pistons, who make an NBA-worst 27.7% from long range. Denver without Jokić is at 27.5%.
Malone has reason to be concerned about the Denver Nuggets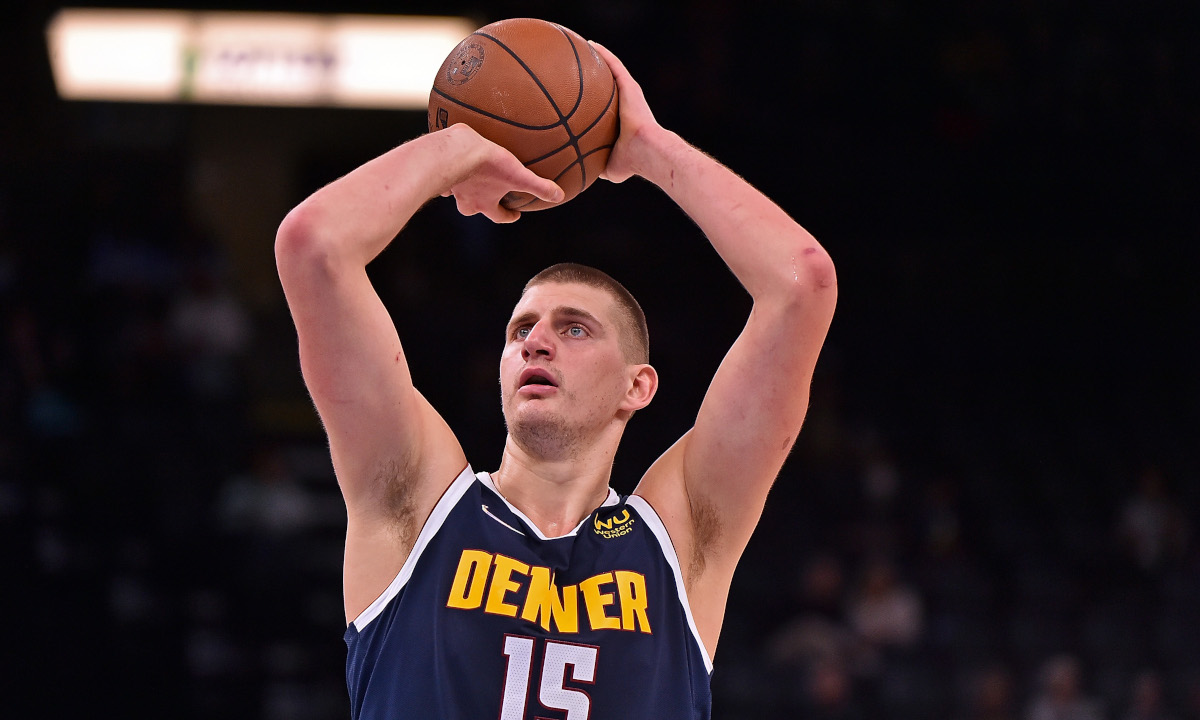 The on-off statistics are known to be deceptive at times. It's taking an individual and viewing him through the context of five-person basketball.
But what the on-off numbers say about Nikola Jokić's impact on the Denver Nuggets is two-fold. The message is both startling and terrifying.
With the Joker on the floor, Denver outscores its opponents by 14.2 points per 100 possessions. But when Malone rests Jokić, the Nuggets get hammered by a margin of 21.6 points per 100 possessions. So it's hard to blame Malone for wanting to keep his superstar on the court as much as possible. But he's also aware of the risks, per a tweet from Harrison Wind of DNVR Sports:
"Every time he comes out, everything just falls apart. It's every night. I went to him in the fourth quarter, and I called his name. He looked at me kind of like, 'Already?' And I feel for him. Nikola's going to be worn down by Christmas at this rate."

Mike Malone
Without internal improvements, help may not be on the way for Jokić anytime soon, either.
Nikola Jokić misses Jamal Murray
Point guard Jamal Murray tore his left ACL on April 12 and missed the rest of the season. Per Kyle Irving of The Sporting News, there is no timetable for Murray's return to the Denver Nuggets.
On media day before the start of training camp, Murray was pragmatic about his situation.
"Just five months ago, I couldn't lift my leg off the bed," Murray said. "So I've come a long way. But even when I do certain things, I've got to remind myself that I can't do it at the speed or the level that I want to do it. … That's just going to come with time. And I can't rush time."
What would help Nikola Jokić would be if other players on the club would pull their weight. The Nuggets gave Michael Porter Jr. a max rookie extension during the offseason. To say Porter may be pressing would be an insult to the entire community of pressing players.
Porter is shooting a dismal 35.9% and is hitting just 20.8% from deep. He's averaging 9.9 points and 6.6 rebounds in 29.4 minutes per game. Last season, he averaged 19.0 points and 7.3 boards in 31.3 minutes a night while shooting 54.2% overall and a sizzling 44.5% from long range.
That he's also making only 55.6% from the line in less than half of his average attempts from last season compounds the situation. Shooting poorly while also being less aggressive is never a good formula for success.
Nikola Jokić is a world-class talent. But no one can win by themselves in the NBA. Michael Jordan couldn't; neither could LeBron James. If someone else doesn't step up to give the reigning MVP some help, things are going to get ugly fast for the Denver Nuggets.
Statistics courtesy of Basketball Reference and NBA.com.
RELATED: The Denver Nuggets Are Facing a Troubling $172 Million Problem, Forcing Them to Consider 1 Unfathomable Solution