Derek Carr Is Closely Monitoring the Raiders' Free Agency Plans
Article Highlights:
Las Vegas Raiders quarterback Derek Carr has high hopes for the 2022 offseason
The three-time Pro Bowl selection told reporters he's already thinking about signing a contract extension and who the Silver and Black could add in free agency
If the Raiders are wise, they'll extend Carr and ensure they have an opportunity to sign Green Bay Packers star receiver Davante Adams
Las Vegas Raiders quarterback Derek Carr stands to have a constant smile on his face throughout the 2022 NFL offseason. Not only is he due for a new contract, but the Silver and Black are expected to pursue several high-profile free agents when the new league year begins in March.
Although Carr has been in the NFL long enough to temper his expectations, especially when the Raiders are involved, the veteran gunslinger is trying to stay optimistic ahead of free agency.
Derek Carr said he's closely watching what the Raiders do in free agency
As of Feb. 26, 2022, Spotrac projected the Raiders would enter the new league year with $19.7 million available in cap space. New head coach Josh McDaniels and general manager Dave Ziegler can create more room via cap cuts and potential trades in the coming weeks.
All bodes well for Carr, who turns 31 on March 28 and is entering the final year of his contract. The Raiders appear committed to extending their franchise quarterback and keeping him in Sin City for the foreseeable future.
According to the Las Vegas Review-Journal's Vincent Bonsignore, Carr told reporters on Friday, Feb. 25, that he's already thinking plenty about the offseason. Theoretically, the Raiders could extend the Fresno State product and sign multiple experienced starters in free agency.
"Obviously, that's in mind when I'm thinking about [an extension]," said Carr, who is slated to earn $19.8 million next season. "But there's also some football players that I want to play with, so I keep that in mind too."
NFL teams can officially begin negotiating with unrestricted free agents on Monday, March 14. The new league year begins two days later.
Carr is likely still hoping the Raiders pursue Davante Adams, his former college teammate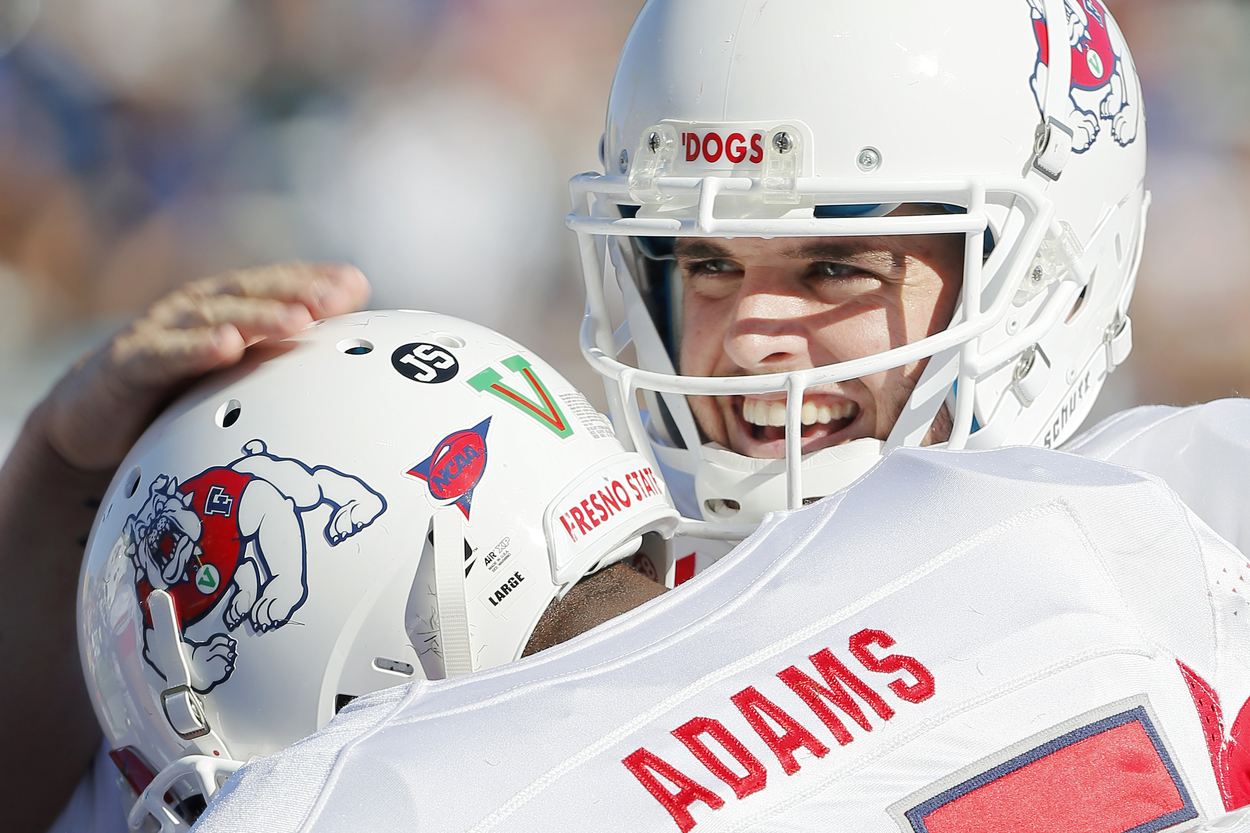 Officially, Carr has to be careful with what he says ahead of unrestricted free agency. Unofficially, the three-time Pro Bowl selection is almost certainly hoping the Raiders break out the big bucks for Green Bay Packers receiver Davante Adams.
Adams hauled in 233 catches, 3,031 yards, and 38 touchdowns at Fresno State from 2012-13, when Carr was his starting quarterback. The two parlayed their success together into becoming second-round selections in the 2014 draft.
Nearly a decade later, the veteran wideout remains among the NFL's best and had a career-high 123 catches and 1,553 yards in 2021. He also added 11 touchdowns en route to earning first-team All-Pro honors for the second straight season.
Although Adams is eligible to receive the franchise tag, the Packers have severe cap issues and the lingering question regarding Aaron Rodgers' future in Green Bay. Conversely, the Raiders have cap space and a franchise quarterback who knows the five-time Pro Bowl receiver all too well.
During a 2021 appearance on The Cris Collinsworth Podcast, Carr said he hoped to recruit Adams "over to the dark side" if given the opportunity. That chance could be quickly approaching, and the veteran quarterback will likely want to take full advantage.
Every indication thus far is the Silver and Black will keep Carr, at least for the 2022 campaign
Life is good for Carr right now. He's the starting quarterback of a team that overcame plenty of off-field drama and heartbreaking tragedy to reach the 2021 NFL Playoffs, and he nearly led the Raiders to a road victory over the Cincinnati Bengals in the AFC Wild Card Round.
When the Raiders' 2021 season ended in mid-January, questions remained about Carr's future in Nevada. Would the Raiders extend him, or would they try finding a suitor, especially if the three-time Super Bowl champions could acquire Packers star Aaron Rodgers? A third possibility, one involving Carr not re-signing this summer and instead choosing to hit the market as a free agent in 2023, also existed.
For now, it certainly appears the Raiders intend to maintain the status quo. Although there had been no trustworthy reports regarding an extension as of publication, Carr seems committed to sticking around in Las Vegas. The Raiders also have not been credibly linked to acquiring either Rodgers or Seattle Seahawks quarterback Russell Wilson if either seeks a trade.
If the Raiders theoretically explored a trade, they'd need to ask how many potential replacements will be as good or better than Carr in 2022. That alone is reason enough to extend Carr and do whatever it takes to ensure Adams is wearing the Silver and Black next season.
Like Sportscasting on Facebook. Follow us on Twitter @sportscasting19.
RELATED: What the Las Vegas Raiders' Plan of Attack Must Be for the 2022 NFL Offseason