Derek Carr Emotionally Addresses Former Raiders Teammate Henry Ruggs III's Fatal Accident: 'I Have a Thousand Questions I Wish I Could Ask'
Article Highlights:
Las Vegas Raiders quarterback Derek Carr emotionally discussed former teammate Henry Ruggs III's fatal car crash, which resulted in the death of a 23-year-old woman
Ruggs, 22, is facing charges of DUI resulting in death and reckless driving
Carr preached love when addressing the ex-Raiders receiver's legal situation
In the late hours of Monday, Nov. 1, Las Vegas Raiders quarterback Derek Carr received a text from teammate Henry Ruggs III. The second-year receiver sent a video of him golfing and asked for critiques on his swing.
Only hours later, Carr learned the Alabama product was in a serious car crash that left him badly injured and killed a 23-year-old woman. When he met with reporters on Wednesday, Nov. 3, the veteran quarterback was still processing his former teammate's crash, which could send Ruggs to prison for up to 20 years.
Derek Carr emotionally addressed Henry Ruggs' legal issues in a press conference
While Carr and his teammates prepared for a Week 9 clash with Daniel Jones and the New York Giants, Ruggs appeared in Las Vegas Justice Court in a wheelchair and a neck brace. He faces charges of driving under the influence resulting in death and reckless driving after traveling at 156 mph and slamming into another car.
At one point on Wednesday, Carr noticed Ruggs' locker, an observation the Pro Bowl quarterback said affected him.
"I just wish I could have done something," Carr said. "No one ever wants to see this, whether it's a football player or not. You never want to see something like this happen."
After a night of drinking at TopGolf Las Vegas, Ruggs crashed his Chevrolet Corvette into a Toyota Rav4 at approximately 3:40 a.m. on Tuesday, Nov. 2. The Toyota's driver and her dog were pronounced dead at the scene.
A day later, Carr, who said Ruggs' crash broke his heart, still only had so many words he could say about the situation.
"There are things that happen in life for all of us that we don't have control over, and you wish you did. I have a thousand questions I wish I could ask, but I don't get those opportunities. I don't understand everything and why certain things happen."

Derek Carr
The Raiders released Ruggs late Tuesday. He was released from jail on a $150,000 bond and is barred from driving and consuming alcohol.
Carr preached love when discussing his former Raiders teammate
Carr began his press conference by expressing condolences to the families affected by the crash. At the time he met with reporters, the veteran quarterback said he had not yet spoken to Ruggs and didn't know if he was allowed to do so.
Carr said he "will always be here" for Ruggs, and he doesn't intend for that to change. He also said he'd "prove that over the course of time" to his former teammate.
"He's probably feeling a certain type of way about himself right now, and he needs to be loved. If nobody else will do it, I will do it."

Derek Carr
New York Giants receiver Kadarius Toney, who played against Ruggs when both were in the SEC, also preached love in a tweet. However, the Giants rookie approached the situation far differently and said "everybody [makes] mistakes" in the much-criticized post.
Carr also acknowleged how difficult the Raiders' 2021 season has been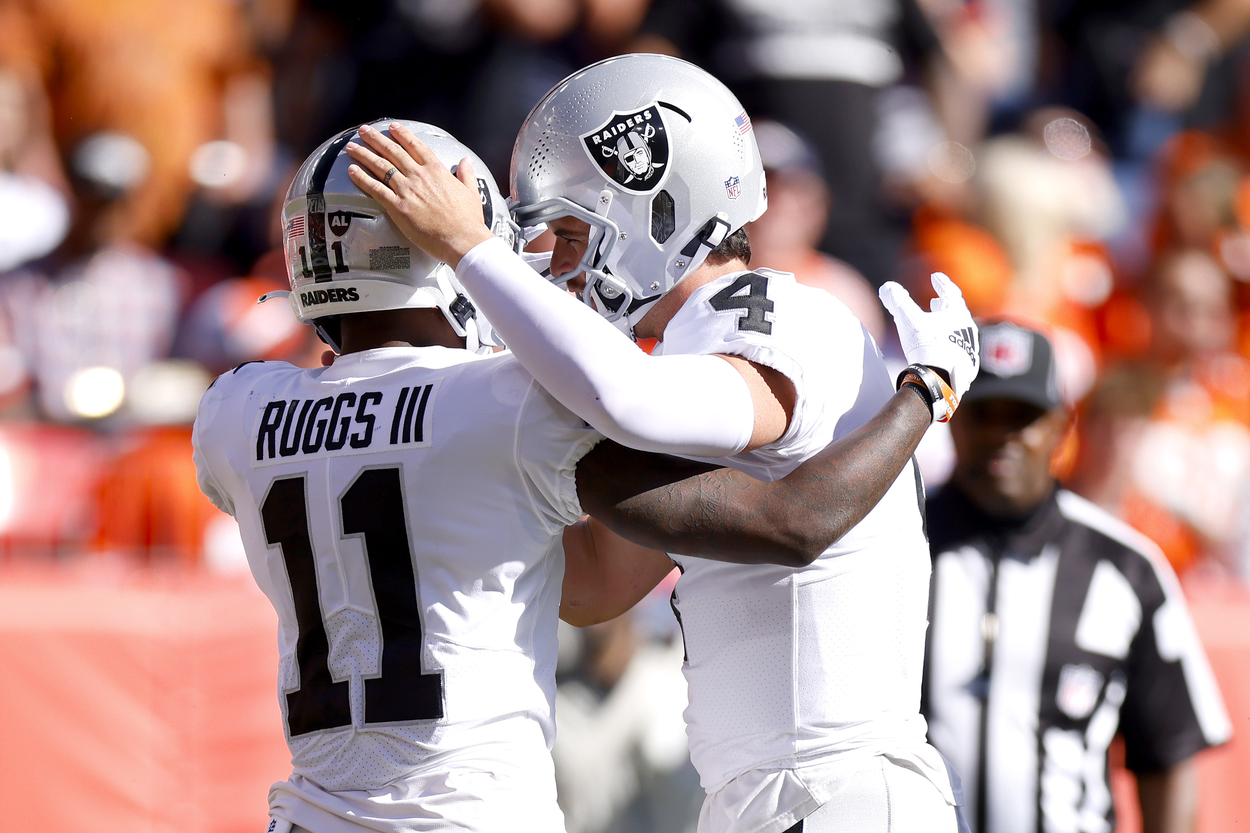 Put bluntly, this has been a nightmarish season for Carr and the Raiders organization. Their 5-2 record and claim to the AFC West division doesn't even come close to telling the full story.
Ruggs is facing up to 20 years in prison after the crash that resulted in the death of a woman and her dog. Former head coach Jon Gruden resigned in October after offensive emails he sent while working at ESPN from 2009-18 were published.
"We're dealing with a lot of things this year, that's for sure," Carr remarked. What a crazy year."
Carr, who said the Raiders are "ready to go" from a football aspect, then made a request.
"Can we please have nothing else [bad happen]?" Carr asked.