Derek Carr Should Be Furious Over The Las Vegas Raiders' Recent Trade Talks
The Las Vegas Raiders have been active in the early parts of the NFL offseason. They've tried to trade signal-caller Marcus Mariota, hoping to get his $10.1 million contract off their books. He isn't the only player the team hopes to move this offseason.
Head coach Jon Gruden and general manager Mike Mayock are known to be aggressive in finding new talent for the Raiders. This new trade development should have Derek Carr furious at the team's front office.
Derek Carr has had elite protection with Trent Brown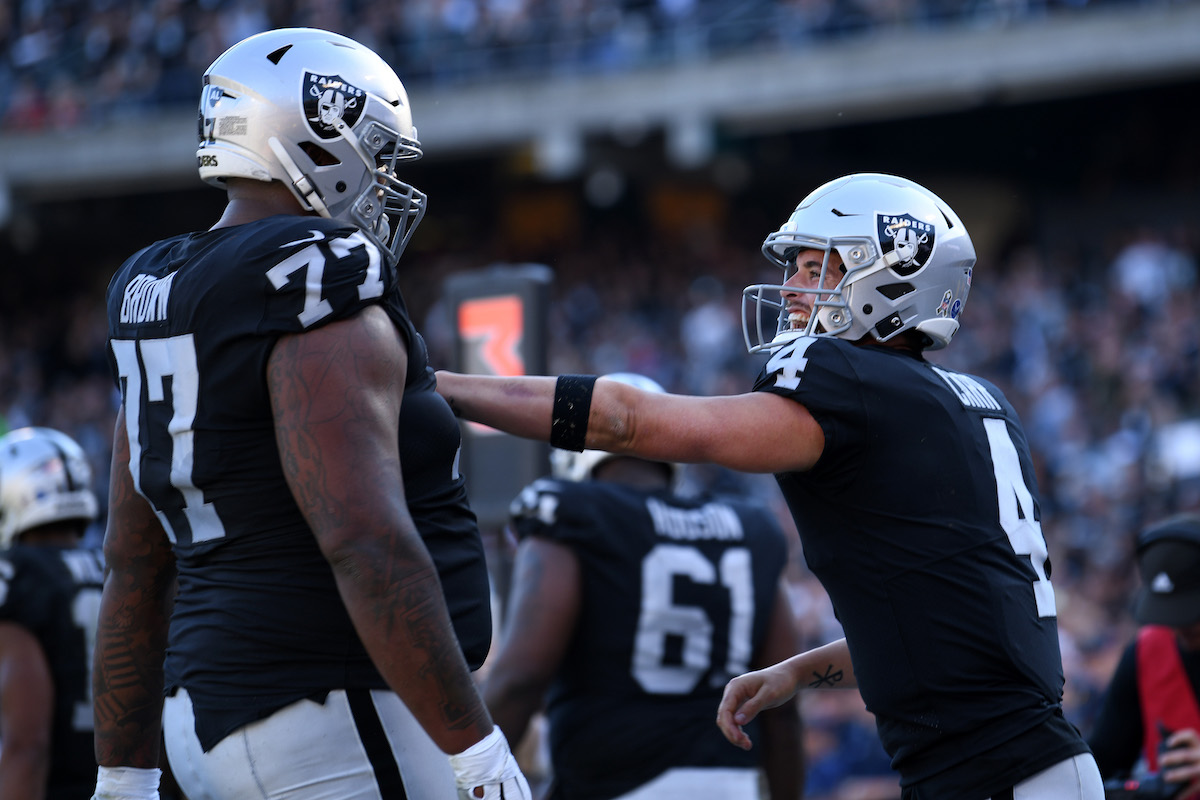 RELATED: Russell Wilson Has Forced Derek Carr's Brother to Turn His Back on His Own Flesh and Blood
Derek Carr had one of his best seasons in 2020, finally making the jump in Jon Gruden's offense. The Fresno State product threw for a career-high 4,103 yards, 27 touchdowns, and nine interceptions last year. He also set a personal best in QBR (71.0). His performance in his second year under "Chucky" has the Raiders confident in him as their long-term signal-caller.
The 29-year-old hasn't had to worry about facing too much pressure when Trent Brown is there protecting him. The 6 foot, 8 inch, 380-pound tackle has been an immovable object for pass rushers since he entered the league in 2015. He hasn't allowed a sack in 63 career games and is a mauler when run blocking.
The issue with Brown is that he can't stay on the field. He missed 11 games in 2020 because of various injuries and spent time on the reserve/COVID list. The six-year tackle has appeared in 16 out of 32 regular-season games since joining the team in 2019.
When Brown is on the field, he's a difference-maker for the Las Vegas Raiders. His pass-blocking ability protects Derek Carr, and his run-blocking dominance opens holes for Josh Jacobs. Both Carr and Jacobs should be fuming about the team exploring trades for the big right tackle.
The Las Vegas Raiders are exploring trades for Trent Brown
RELATED: Darren Waller Sends a Warning to Patrick Mahomes and the Chiefs About Their AFC West Dominance
According to Ian Rapoport, the Las Vegas Raiders have had exploratory trade talks about Trent Brown. The Florida product is entering the third year of a four-year, $66 million contract with the Raiders.
The tackle's contract mixed with his injury history is why Las Vegas is engaging in trade talks. Brown has no more guaranteed money left on his deal, making him a prime candidate for the Raiders to move because there is no penalty for them. He carries a $14 million cap hit in 2021 and an even bigger $15.2 million hit in 2022, per Sports Illustrated.
It will be hard for general manager Mike Mayock and the team to find a trade partner because of Brown's contract. The 27-year-old tackle will probably have to restructure his deal if the Raiders want to move him. Las Vegas could release Brown if they can't find a trade destination, which gives him the option to pick his next team.
Potentially losing a quality lineman in Trent Brown shouldn't sit well with Derek Carr. The free-agent market for tackles this year isn't deep, so trying to trade one of the best in the league is a head-scratching choice.
Mike Mayock says the 'jury is still out' on Trent Brown
RELATED: Raiders Owner Mark Davis Is Using His $700 Million Net Worth to Make an Immediate Impact on His New WNBA Team
When healthy, Trent Brown is one of the more dominant tackles in the NFL. The Raiders' willingness to trade him has more to do with his hefty contract and inability to stay on the field. Mayock still sees the potential in his star lineman.
"Mike Mayock says the 'jury is still out' on Brown's immediate future but said when Brown is healthy and in shape, he can still be one of the most dominant linemen in football," NFL Network reporter Omar Ruiz tweeted on March 3.
The Raiders will have options if they release Brown, but it is uncertain if they will be upgrades. Taylor Moton could become a free agent if the Carolina Panthers let him walk. Kelvin Beachum is another player who's been solid during his one season with the Arizona Cardinals. However, the Raiders might be better off keeping Brown and hope he stays healthy.
The Las Vegas Raiders continue to stay active during the NFL offseason, as Trent Brown is the latest player they put on the trade block. Derek Carr's future is bright with the team, but he shouldn't be happy about the team looking to get rid of one of the better blockers in the league.
Stats courtesy of Football Reference