Derek Carr's Future With the Las Vegas Raiders Is Even More Confusing Thanks to GM Mike Mayock
Since the Las Vegas Raiders hired Jon Gruden in 2018, Derek Carr's future with the team has been uncertain. The veteran NFL coach is known to be picky about who he wants to lead his offense. In the two seasons under Gruden, Carr has performed reasonably well.
There have been more rumors swirling around Carr's future with the team this offseason. However, those were somewhat squashed when general manager Mike Mayock praised his quarterback but didn't 100% commit to him as their future either.
Derek Carr has played well under Jon Gruden
RELATED: Jon Gruden and the Las Vegas Raiders Are Having Trouble Trading Their $10.1 Million Signal-Caller
Derek Carr's future with the Raiders was unknown because nobody knew how well he would play for an aggressive coach like "Chucky." Jon Gruden demands excellence from his players, especially the quarterback. After three seasons in Gruden's system, the 29-year-old quarterback has shown that he can run the Raiders' offense.
Carr's thrown for 12,206 yards, 67 touchdowns, and 27 interceptions in three seasons under Gruden, posting a career-high in passing yards (4,103) and QBR (71) in 2020. There was a noticeable jump in Carr's performance in his third year in Gruden's offense. He read opposing defenses quicker, resulting in better decisions.
He's also found a reliable target in Darren Waller, who's become a superstar since Gruden's arrival. The tight end's racked up 2,416 yards receiving and 12 touchdowns since 2018. Carr's leadership was essential in helping new additions like Nelson Agholor understand the offense in an unusual offseason.
Despite the strides he's made with Jon Gruden, Derek Carr's future in Las Vegas is still uncertain. He's under contract with the team, but that doesn't mean Las Vegas cant trade the seven-year quarterback. General manager Mike Mayock doesn't seem interested in trading Carr, at least that's what he said during his press conference.
Mike Mayock calls Derek Carr 'one of the top quarterbacks in the NFL'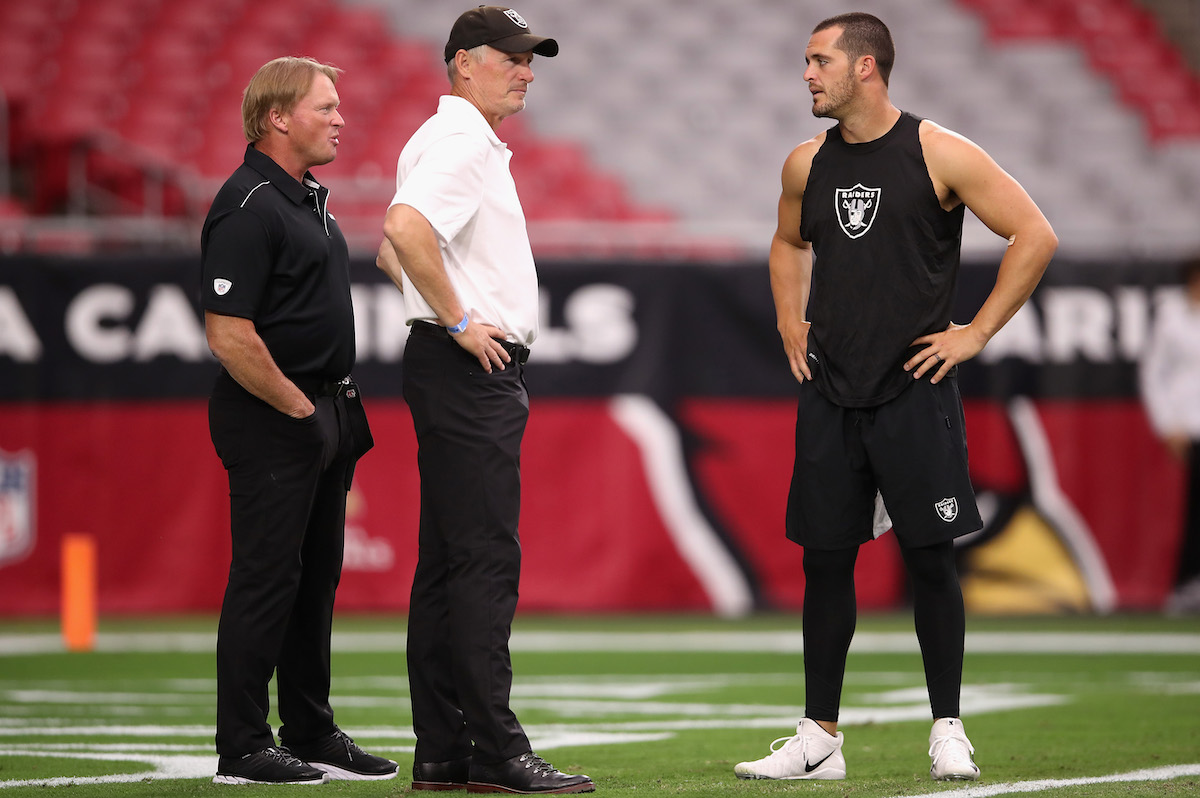 RELATED: Jon Gruden and the Las Vegas Raiders Just Decided Derek Carr's Future With the Team
Derek Carr isn't on the same level as Patrick Mahomes or Deshaun Watson, but he is still a serviceable signal-caller who is capable of winning games. The Las Vegas Raiders have loved what they've seen from the Fresno State alum, and Mike Mayock believes they have a top-tier quarterback on their roster.
"I'm going to tell you the same thing I've told you guys the last couple of years, which is I think Derek Carr had his best year yet under Jon Gruden. I think he's one of the top quarterbacks in the NFL, and we couldn't be happier with him. I think Jon and I would both stand shoulder to shoulder and pound the table for Derek Carr," Mayock said during his press conference on March 3.
That is quite the statement coming from the general manager about their quarterback. The Raiders had reflected Mayock's sentiments to this point, refusing to trade Carr when other teams inquired about him. The team and the front office seem confident in the seven-year signal-caller that he can be their long-term answer under center.
Despite Mayock giving his quarterback the highest praises, he still left the door open for him to be moved. The Raiders GM could be in the running to acquire a big-name talent at quarterback.
Mike Mayock leave's door open for potential Russell Wilson trade
RELATED: Russell Wilson Has Forced Derek Carr's Brother to Turn His Back on His Own Flesh and Blood
Mike Mayock and Jon Gruden seem to be happy with Derek Carr as their quarterback, at least for now. The Raiders could be open to trading their signal-caller if a better one becomes available. There have been reports that Seahawks quarterback Russell Wilson could leave Seattle, and the Raiders were one of the four teams that he'd be interested in joining. Mayock didn't confirm or deny his interest in the Seahawks quarterback.
"I have no idea who might call me or who might not call me. So you have to do the evaluations both on your own players, and every other player in the league. And you've got to stack your board and understand what league value is all around the league — and we do that," said Mayock.
These comments paint a more vague picture of Carr's future in Las Vegas. In one breath, Mayock is happy with his quarterback, and in the next, he's talking about evaluating all players and positions. With a phenomenal talent like Wilson potentially becoming available, the Raiders GM is keeping his options open just in case there's an opportunity to improve his roster.
The Las Vegas Raiders seem like they want Derek Carr as their quarterback of the future unless someone better becomes available. He is the projected starter in Week 1 for Las Vegas, but things could change before that. If the Russell Wilson situation deteriorates any further, Jon Gruden and Mike Mayock could begin shopping Carr around. With how the NFL offseason has gone so far, anything is possible.
Stats courtesy of Football Reference