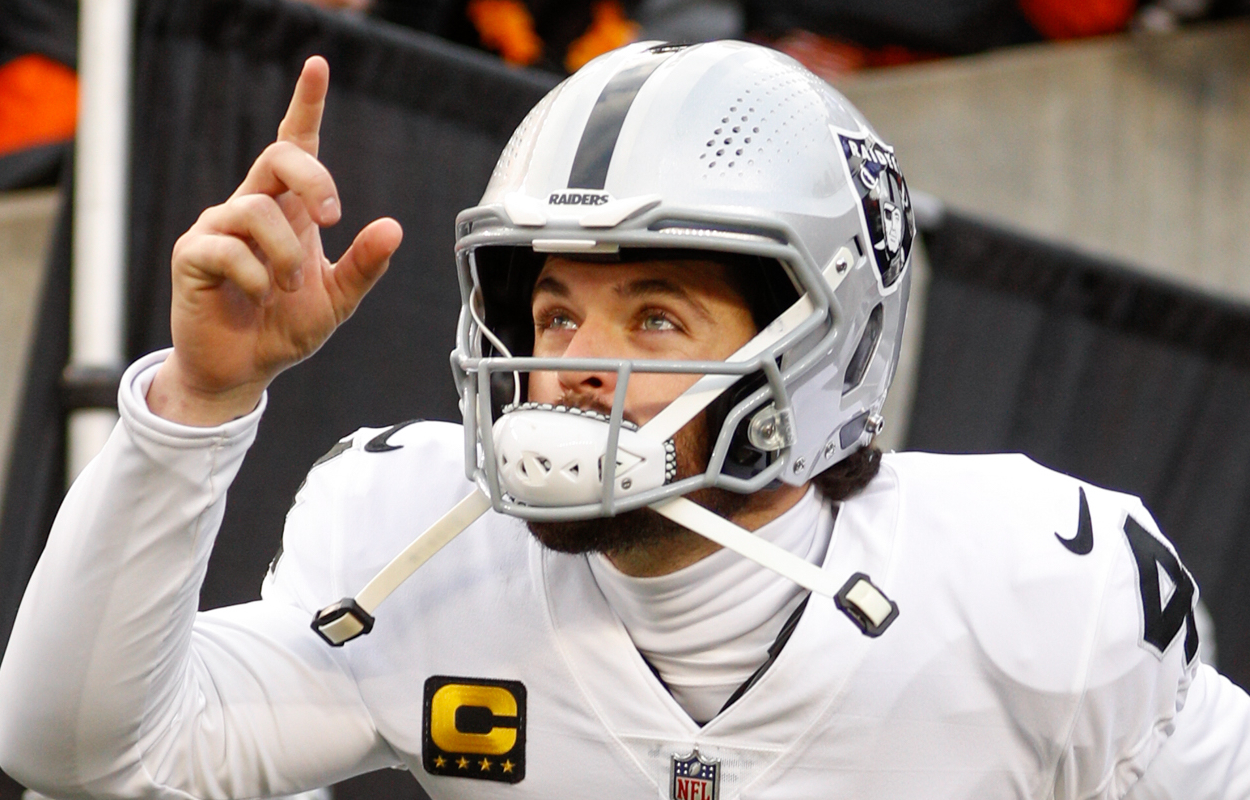 Derek Carr: Pros and Cons to the New York Giants Acquiring the Raiders' Veteran QB
If the Las Vegas Raiders look to trade veteran quarterback Derek Carr this offseason, the New York Giants must strongly consider making a call.
Article Highlights:
The Las Vegas Raiders and Derek Carr could reportedly part ways in the coming months
The New York Giants must strongly consider pursuing the Fresno State product via trade
Whether Carr would leave the Raiders for the Giants is another conversation worth having
For all of their problems throughout the last decade, the Las Vegas Raiders have at least enjoyed Derek Carr providing stability and durability at quarterback. Despite their failure to agree on a contract extension in 2021, it appeared the two would continue their marriage into next season.
That belief, if it even really existed, didn't last long. The football world understandably began questioning Carr's future in Las Vegas only hours after the Raiders' season ended on Super Wild Card Weekend. With one year left on his current contract, the Fresno State product would attract no shortage of suitors on the trade market if the Raiders decide to make him available.
That sound you hear — or that you should hear — is the New York Giants' next potential general manager and head coach each typing Carr's name into the notes app on their smartphone.
Pros: Derek Carr would bring instant credibility and experience to the Giants
The Giants don't have a quarterback problem. They instead have multiple quarterback problems. Not only has Daniel Jones failed to establish himself as the clear long-term option, but the Duke product also suffered a neck injury midway through his third season and isn't expected to be cleared until the summer of 2022 at the earliest.
With respect to Jones, who has tried making the most of various frustrating situations, he is a far lesser option than Carr. The three-time Pro Bowler would bring instant experience and credibility to a Giants franchise that is a league-worst 22-57 since the start of the 2017 season.
The Carr family is already familiar with the Giants franchise. Although Derek has played his entire eight-year career as a member of the Raiders, his older brother, David, spent four seasons (2008-10 and 2012) in the Giants' quarterback room.
As of publication, the Giants had not interviewed any head coaching candidates; that process is expected to begin when a general manager is in place. An offensive-minded head coach, such as former Philadelphia Eagles head coach Doug Pederson or San Francisco 49ers offensive coordinator Mike McDaniel, could appeal to Carr if either is hired.
Carr makes perfect sense for the Giants, but do the Giants make perfect sense for Carr? That is the question worth asking right now.
Cons: New York might not have enough in place to attract Carr (if he has a say)
Several contending teams, including the Indianapolis Colts and New Orleans Saints, could pursue a quarterback this offseason. The Denver Broncos are a reliable quarterback away from potentially contending for a wild-card berth next year. Jalen Hurts' middling performance on Super Wild Card Weekend only raised questions about his future with the Philadelphia Eagles.
All those teams have far more to offer Carr than the Giants. Indianapolis has All-Pro running back Jonathan Taylor and guard Quenton Nelson leading the way on offense. However, the Colts' financial ties to Carson Wentz ($28 million owed in total cash in 2022) could make a trade for Carr difficult unless the teams swap quarterbacks.
New Orleans has a proven head coach in Sean Payton and a dangerous running back in Alvin Kamara. Broncos receiver Courtland Sutton has flashed in the past, and former Alabama star Jerry Jeudy might be a quarterback away from finally reaching his potential. Denver also has a defensive building block in young cornerback Patrick Surtain II.
The Eagles have three first-round picks in the 2022 NFL Draft and a legitimate young receiver in DeVonta Smith, whose presence should have Carr salivating.
Compare that to the Giants. Injuries have sapped running back Saquon Barkley, the second overall pick in 2018, of his effectiveness. Although receiver Kadarius Toney impressed at times in his rookie year, he's already struggled with injuries and maturity concerns. New York's offensive line remains unimpressive even after left tackle Andrew Thomas made monumental growths in his sophomore season.
Outside of a treasured history and New York-style pizza, what do the Giants have that the Colts or Saints can't offer Carr? The Giants would also likely need to make several cap moves this offseason to clear space for the veteran quarterback, who is owed $19.7 million next year.
Should the Giants and Raiders realistically pursue a trade involving Carr?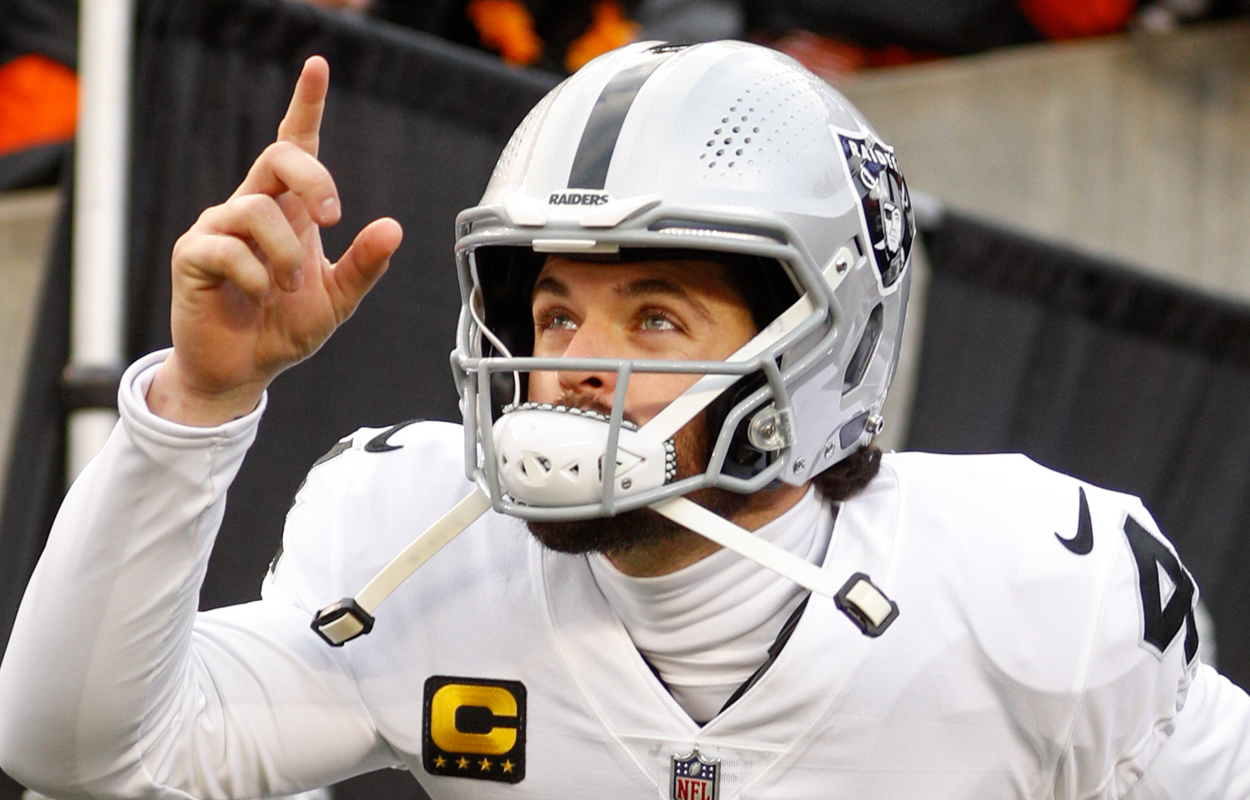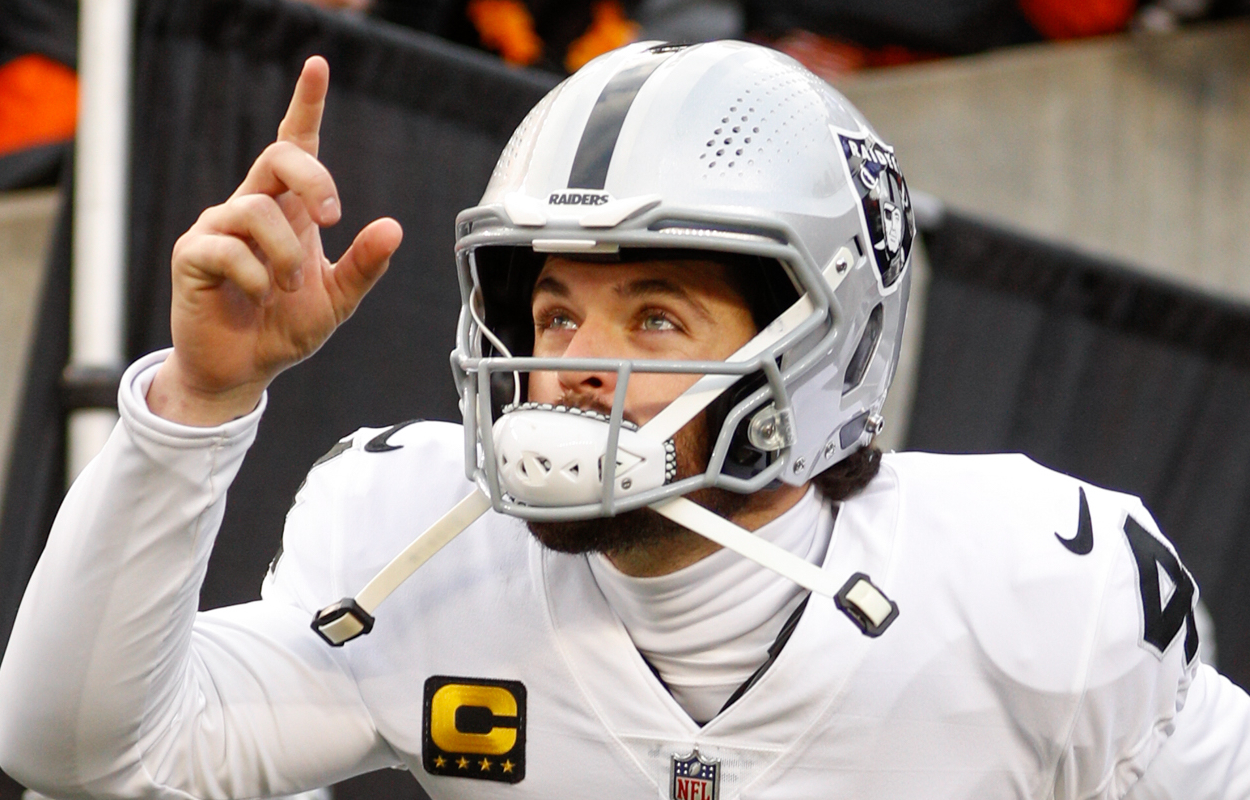 As noted earlier, Carr makes perfect sense for the Giants. However, the Giants do not make sense for Carr, not at this stretch of his career. He turns 31 in March and should be competing for titles, not throwing touchdowns on a rebuilding team.
Assuming the Raiders allow Carr's input on where he'd want to play in 2022, he must prioritize teams with an established offensive core and a proven head coach. Of the aforementioned teams, the Colts (assuming they can make a trade) and Saints immediately come to mind. Although the Eagles make sense, they're a distant third.
As for Denver, it's difficult to envision Las Vegas trading Carr within the AFC West. Intradivision trades involving starting quarterbacks aren't unheard of — the Eagles traded Donovan McNabb to the Washington Football Team in 2010 — but they're still an infrequent occurrence.
Sorry, Giants fans, but you might not want to start buying your custom Carr jerseys just yet. And, no, you shouldn't start spending the money on a Russell Wilson jersey, either.
Like Sportscasting on Facebook. Follow us on Twitter @sportscasting19.