Derek Carr Wants to Be Like Tom Brady and Play Til He's 45 Years Old: 'I Feel Great'
Derek Carr is neither loved nor hated around the NFL. He falls squarely in the middle of the league when compared to the rest of the quarterbacks. An *average* QB, one who's just good enough to keep a team within striking distance of the postseason year after year, but also one who will likely never win a Super Bowl.
Carr put up impressive numbers from a pure box score standpoint despite the Las Vegas Raiders failing to reach the playoffs the past two seasons. He threw for 4,054 yards and 21 touchdowns in 2019 and 4,103 yards and 27 touchdowns in 2020.
Carr has thrown 4,000-plus yards for three consecutive seasons and hasn't recorded a passer rating under 90.0 since 2017.
Las Vegas Raiders quarterback Derek Carr is already thinking about playing football into his 40s
Carr is only 30 years old; he's got plenty of strong NFL years left in him. However, the longtime Raider already has dreams of playing into his 40s — just like Tom Brady.
"I feel like I'm 20," said Carr. "…that comes with more knowledge on how to train, how to eat, how to take care of your body. And that takes a little bit of money sometimes, but it's definitely worth it…But the way they rehab and stuff nowadays, I feel great" (ESPN).
Carr highlights the importance of modern-day medicine and rehab when discussing how he keeps his body healthy, something that Tom Brady — the pioneer of playing past when you're supposed to — spends a lot of time promoting.
Tom Brady is the perfect player to take inspiration from
Brady just turned 44 and presumably has no plans of slowing down anytime soon. He's coming off an impressive 2020 season in which he threw for 4,633 yards and 40 touchdowns. Brady hasn't thrown for that many yards since 2015, and he's recorded more than 40 TDs on just one occasion (2007).
Of course, Brady and the Tampa Bay Buccaneers are coming off an impressive Super Bowl win over Patrick Mahomes and the Kansas City Chiefs, only adding to the league-wide belief that he has a few elite years left in him.
Brady has done a phenomenal job of staying healthy and keeping his body in shape as he continues to climb up there in age, even managing to play through a partially torn MCL this past season. If Carr is serious about playing deep into his forties, Brady is unquestionably the man to take inspiration from.
2021 is a prove-it year for Derek Carr and the Raiders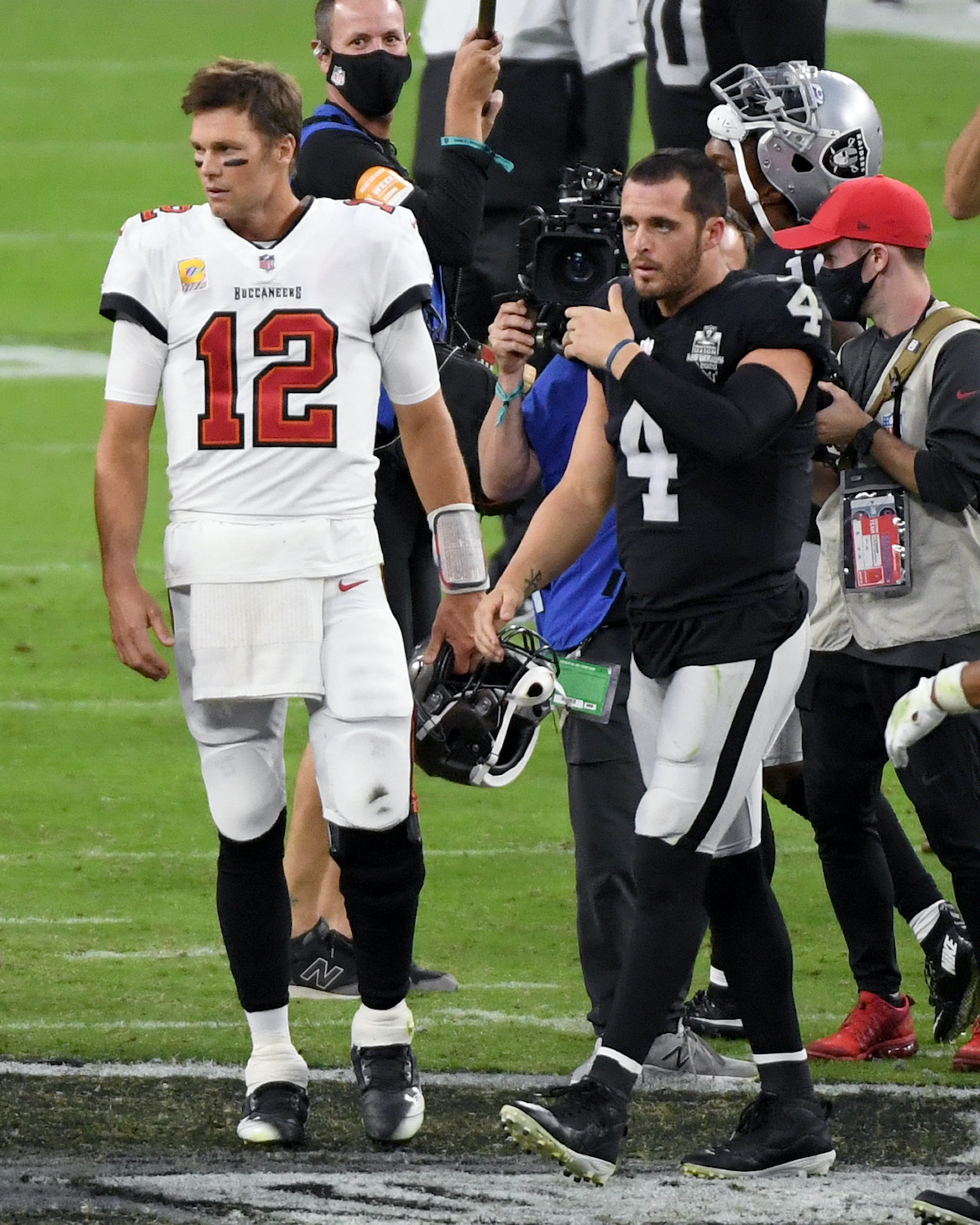 Carr may very well play deep into his forties, but there's no guarantee that it will be with the Raiders. They've long been rumored as a team looking to make a change at quarterback.
Carr has zero playoff appearances to his name thus far (he missed one in 2016 due to injury), and head coach Jon Gruden has a reputation of being a QB fanatic. If there's anyone who loves the idea of getting to draft and develop a new big-armed quarterback soon, it's Gruden.
The odds are somewhat stacked against Carr in 2021. The AFC West projects as a tough division, and the Raiders gutted their offensive line this past offseason. If things go poorly for Carr and Las Vegas, don't be surprised if the veteran quarterback ends up having to pursue his dream of playing into his forties with a new team.
All stats courtesy of Pro Football Reference.