Derek Jeter Can't Get Rid of His $14.75 Million New York Castle
During his heyday as a Yankee, Derek Jeter purchased a four-acre Greenwood Lake property about 45 miles from Yankee Stadium. The over-12,500-square-foot mansion cost him $425,000 in 2003. Then, in 2018, as a member of an investment group buying the Miami Marlins, Jeter relocated to Florida.
No longer needing a New York home, he listed his former address for well over $14 million. It hasn't sold yet, but Jeter isn't too concerned. In fact, due to COVID-19, it remains temporarily pulled from the market.
Derek Jeter's MLB history and net worth
RELATED: Derek Jeter's 8-Year-Old Signature Sold for an Obscene Amount of Money
Jeter started his big-league career in the mid-'90s. When he signed with the Yankees, he earned an $800,000 signing bonus. In his first year of the majors, '96, he earned $130,000, reports Spotrac. The next year, his salary jumped to $550,000 and it continued to jump each year.
By the time he bought the mansion, he was in his third year of a 10-year, $189 million contract, details the New York Times. In a year he earned $14 million, $425,000 could be considered a nominal investment. There's little doubt that Yankees management felt Jeter was worth his total earnings of $269 million for his 20 years in New York.
He has five World Series rings. The shortstop's career batting average stands at .310. He hit 260 home runs and has a total of 1,311 runs batted in. Adding in his endorsements from Nike, Gatorade, Rawlings, and others, Jeter raked in $400 million. His total net worth today is $185 million, ranking him the second richest MLB player behind Alex Rodriguez, according to Radio.com.
Jeter's Tiedemann Castle
RELATED: Michael Jordan Invested Millions to Join Forces with Derek Jeter
One nickname for Jeter's New York mansion is the Tiedemann Castle. He named it after the Tiedemann family who long owned the property. The original Castle was built in 1903, according to Insider. Jeter has a personal connection to the property going way back prior to when he bought it. The Tiedemanns adopted Jeter's maternal grandfather, who grew up there.
Jeter completed many renovations to the mansion and its surrounding grounds, creating the "Gem on the Lake," as dubbed by his listing agent. The property is located on close to 700 feet of shoreline along a lake. Built of stone, the Castle is surrounded by fountains and gardens. There is a replica of the Statue of Liberty and a waterfall.
The Castle boasts a multistory turret, six bedrooms, five kitchens, seven full bathrooms, and five half bathrooms. There is a game room, a home gym, a large den, and an infinity pool. The 2018 listing price was set at $14,750,000. It spent a year on the market before Jeter pulled it this past winter. It remains off the market due to the continued coronavirus outbreak.
Jeter's other investments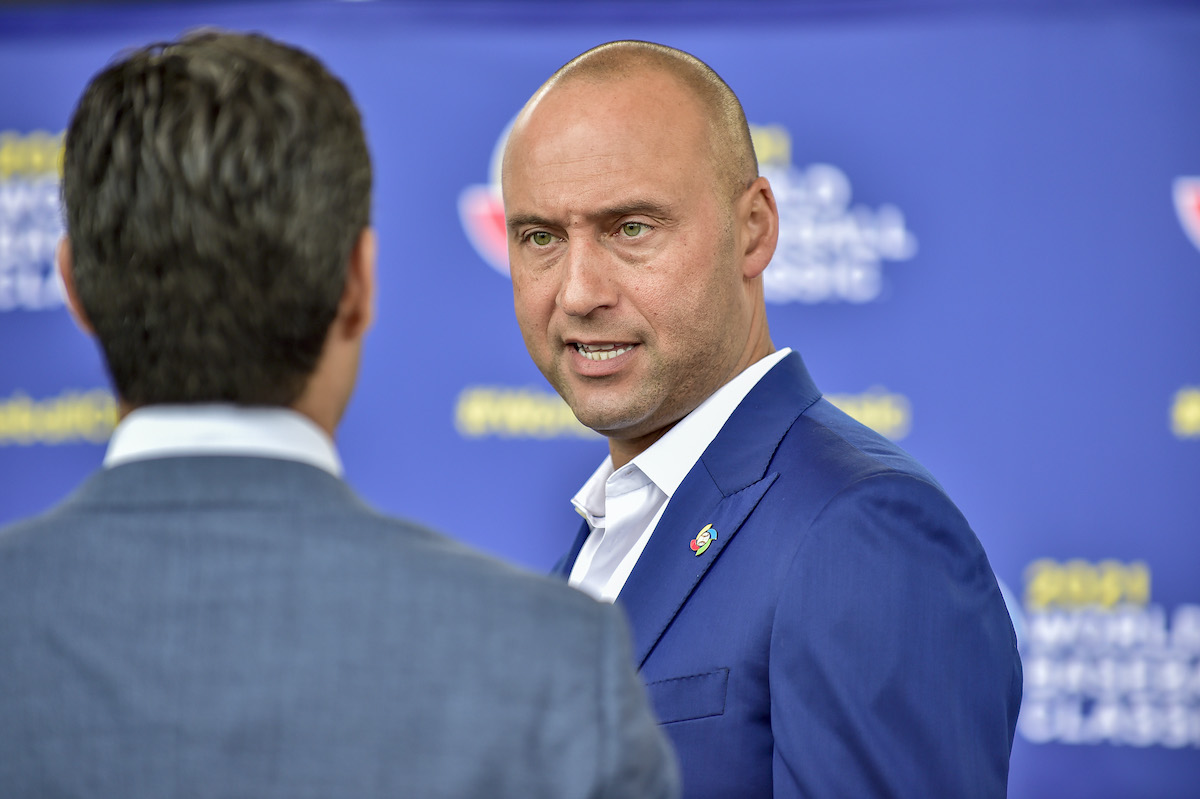 As mentioned, Jeter's investment group owns the Marlins. He is co-founder of The Players' Tribune, a content platform to connect athletes with their fans. The company sold in 2019 for an undisclosed amount, reports Variety.
Jeter has also made other real estate investments. He lives in a 19th-floor apartment in Miami's Grove Grand Bay, which he and his wife, Hannah Davis Jeter, moved into in 2017. At the time, reports the Miami Herald, he signed a lease with an option to buy. The 5,200-square-foot living space listed for $6.5 million.
Jeter also owns a home on Davis Island in Tampa Bay. Currently, the Bucs' new quarterback Tom Brady rents it out. Jeter bought two homes in 2005 and 2006 and combined them into a 30,000-square-foot mansion now with an estimated worth of $7.7 million.
Just what other opportunities Jeter may partake of in the future, are yet unknown. The 46-year-old has a growing family, with Hannah giving birth to their second daughter in 2019. No doubt he will have his family in mind with any new home purchase, or other investment.