Derek Jeter Is Getting the Michael Jordan Treatment With an Upcoming Docuseries Produced By Spike Lee
ESPN took the world by storm in the spring of 2020 with The Last Dance, a docuseries chronicling the incredible career of Michael Jordan. For Bulls fans, it was unbelievable. They got to take a trip down memory lane while hearing from the man himself. A similar docuseries is in the works from the brilliant mind of filmmaker Spike Lee: a series on former New York Yankees shortstop Derek Jeter. Here's see how Lee plans to honor Jeter with the show, and what viewers can expect. 
Why 'The Last Dance' docuseries worked so well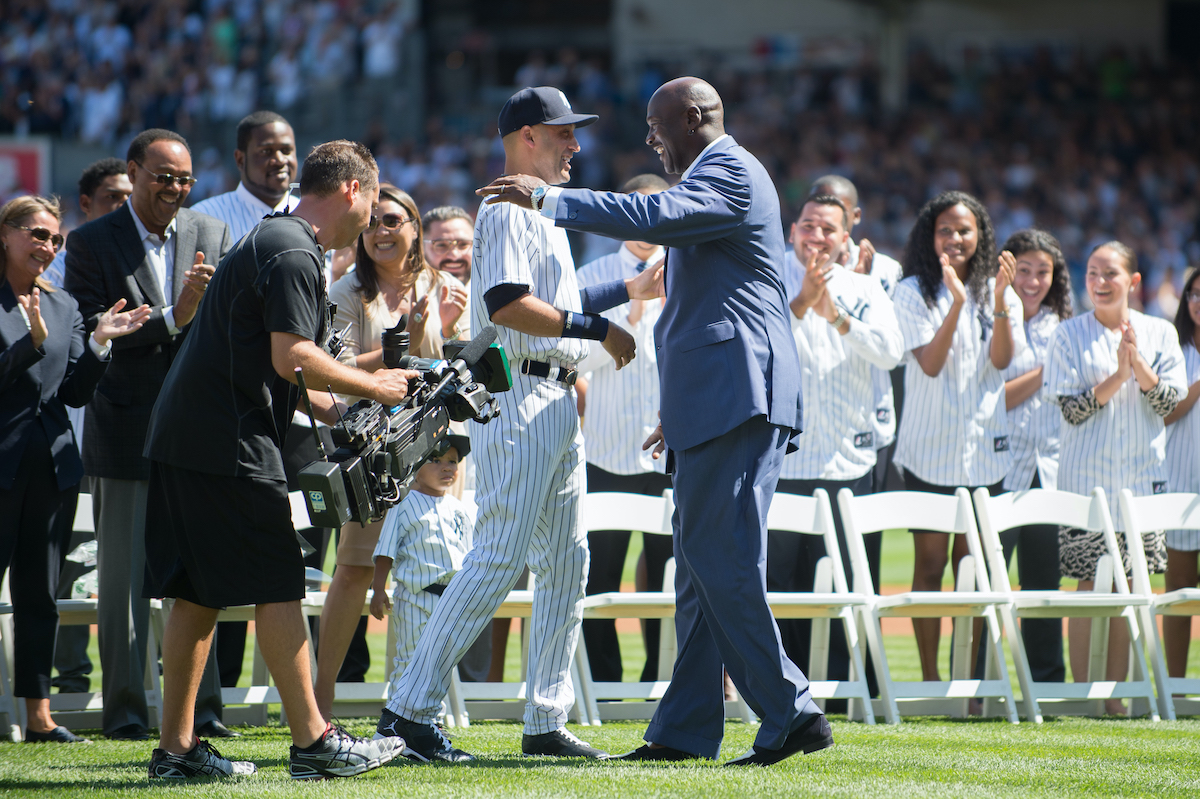 The narrative framework of The Last Dance was simple: Tell the story of Jordan's NBA career through the prism of his last season, which was full of turmoil for the Chicago Bulls. The franchise was coming off two straight championships after Jordan's return from playing baseball. General manager Jerry Krause sought to break up the team and start over, telling head coach Phil Jackson he would not be back. While Krause comes off as somewhat villainous, there's an argument to be made for the Bulls being at the end of their run anyway. 
The series cut between highlights and interviews, including a lot of details and insights from Jordan. For fans of the '90s era of basketball, it was the perfect nostalgic series to distract them from the coronavirus pandemic. For younger viewers, it acted as a de facto history lesson, showing them Jordan's greatness. 
Jeter may not have had the same impact on baseball that Jordan did on basketball. But there's no question that a documentary on him will draw a lot of interest. 
Derek Jeter's impact on New York and baseball
ESPN announced yet another docuseries in the style of The Last Dance. This one will be called The Captain and will follow the life and career of Jeter, coinciding with his Hall of Fame induction this summer. 
There will be plenty to discuss. Jeter first joined the Yankees as their starting shortstop in 1996 after a cup of coffee at the big league level in 1995. He almost immediately became the talk of the town. Originally, the Yankees planned to go with Tony Fernandez at shortstop, but a spring training injury inserted him into the lineup. He never looked back. Jeter won the Rookie of the Year Award that year. He eventually moved up in the Yankees' lineup, becoming one of their best hitters. 
Jeter finished his career with five championships (1996, 1998, 1999, 2000, and 2009). He played with Yankee legends from the past like Bernie Williams and Paul O'Neill as well as more contemporary stars like CC Sabathia and Mark Teixeira. He retired in 2014 after accumulating over 3,000 hits. His Hall of Fame candidacy was all but assured. 
Jeter played in so many playoff and World Series games that there will be more than enough content to consider. Baseball fans will likely get to hear from formative figures in his career such as Joe Torre, Andy Pettitte, Brian Cashman, and Mariano Rivera. So who else would be good for a documentary series? 
Other potential candidates for a 'The Last Dance'-style docuseries
Jordan and Jeter are obvious candidates to hear about in a long-form storytelling format. But what other athletes will get a similar treatment in the years ahead? 
The first, most obvious choice, is Kobe Bryant. After a legendary, Hall of Fame career, the former LA Lakers' star tragically died last January in a helicopter accident. After Jordan, he'd be one of the most compelling basketball stars to take a deep dive on. 
One other star that would likely be featured is Tom Brady. Not only has he won seven Super Bowls, but he's also played well into his forties. That's a story plenty of sports fans would want to hear.
While Kobe and Brady docuseries would no doubt be interesting, fans will have to be satisfied with Jeter and Jordan docs for now.
RELATED: 10 of the Most Unforgettable Moments in Derek Jeter's Career