Derek Jeter Wants to Lock Up Your Sports Trading Cards in His $9 Million Vault
When news circulated that Yankees shortstop Derek Jeter would play his last MLB game on September 28, 2014, many baseball fans' hearts broke. Little did they know he was only retiring from the game; they'd continue to see Jeter in a different space.  
Eight years after hanging up his cleats, the 48-year-old former infielder has expanded his business portfolio across many industries, further extending his $200 million net worth.
So far, Jeter's biggest sports-related venture involves the growing sports card trading market via his business, Arena Club. The tech-focused sports card company is backed by a $9 million investment capital. So, what has the right-handed shortstop been up to since he left the MLB in 2014? Let's find out. 
Derek Jeter's entrepreneurial grove after baseball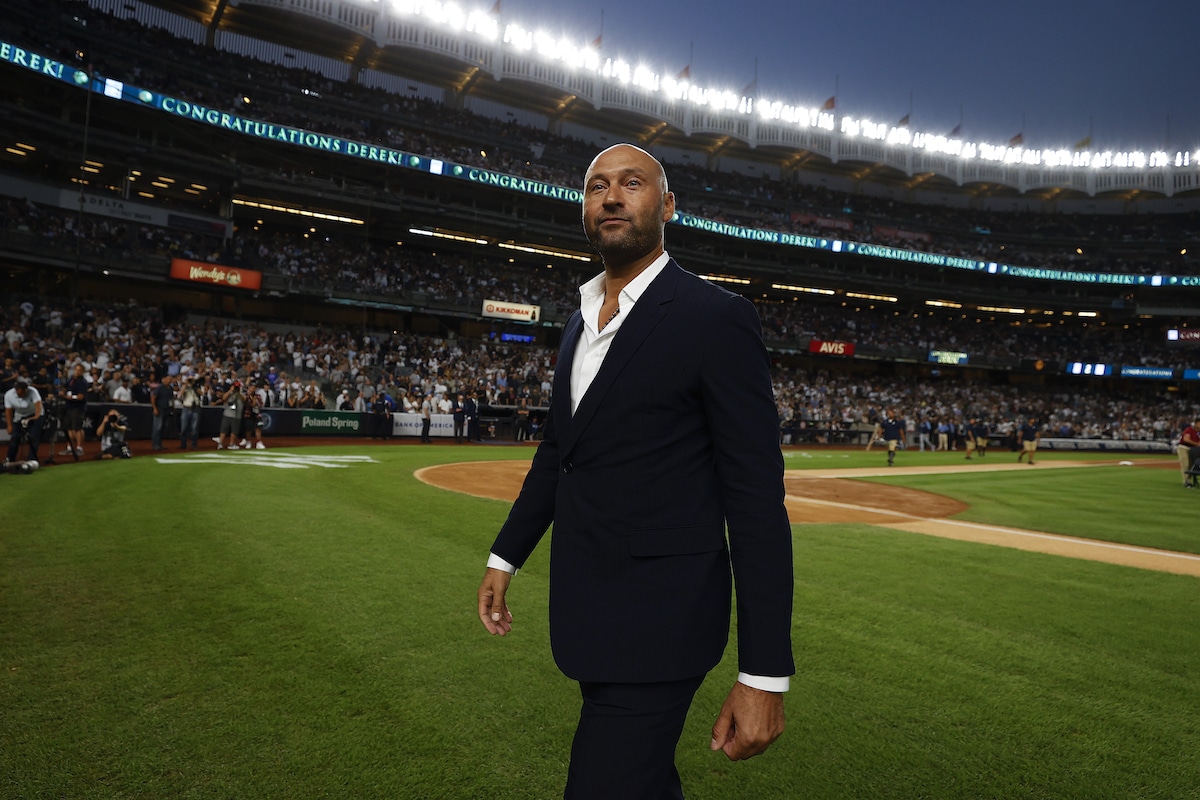 Jeter had a winning aura since he first made his field debut in the MLB with the Yankees in 1995. His Hall of Fame career backs it up. But fans didn't know as much about his entrepreneurial skills. In fact, he credits baseball as the inspiration behind his road to business success.
In an interview with Forbes, Jeter remarked, "I've always valued the importance of surrounding myself with a great team of professional players. It's the same approach I take with business ventures … I also understand the importance of dedicating yourself to the goal at hand — something all athletes have in common."
Like Tom Brady, the former Yankees captain entered the fashion apparel business. In early 2022, he partnered with UNTUCKit founder Chris Riccobono to establish Greatness Wins, a high-performance workout and athleisure apparel brand. Other Greatness Wins investors include NHL legend Wayne Gretzky and ballet and dance professional, Misty Copeland. 
Derek Jeter launches another business, Arena Club, after a $9 million funding
Jeter has ruffled the feathers of the sports card trading sector with his new venture, Arena Club. Launched on September 9, 2022, the sports card trading company takes a new, stand-alone digital approach that enables avid collectors to sell, store, and verify their sports cards with additional security. 
Jeter co-founded Arena Club with LA-based entrepreneur, Brian Lee, co-founder of The Honest Company, after a $9 million funding from big-wig companies, like BAM Ventures, Lightspeed Venture Partners, and Defy.
The company merges the physical and digital spaces in sports collecting through its online showrooms. There, collectors can display and trade their cards, while their physical cards are securely locked in an ultra-modern vault called Arena Club. 
Here's how it works: If a trader wishes to have their cards at hand after authentication, Arena Club will send the cards back in protective "blocks."
As noted on Tech Crunch, the company leverages computer vision and machine learning to provide users with quicker and transparent authentication and grading processes. Each graded card comes with a grading report, explaining to a collector the justification behind the grade. 
You might wonder how Arena Club cashes in. The company charges a $25 fee to grade, vault, and list a card for sale on its website. If a user only needs their card graded and returned, they'll incur a cost of $35. Arena Club also charges a seller $5 for every successful trade based on the cash value of every transaction.
It's no doubt Jeter will pile up more stacks of cash on top of the $266 million he made playing baseball. 
Arena Club already boasts some valuable sports cards
Lee and Jeter have brought a new and exciting dimension to sports card trading. Their tech-focused strategy has, in fact, attracted some of the most expensive sports cards, which are already locked in the state-of-the-art vault controlled by Arena Club. 
It's possible to track Arena Club's growing success around sports cards by merely looking at the big names and price tags of its vaulted cards. The most expensive sports card is a Shohei Ohtani 2018 Topps Chrome Sapphire Edition card that sells for a whopping $1 million, and it comes as no surprise that only 1/1 card is available.
The second-most-expensive card is a Lewis Hamilton 2006 Futera Grand Prix. A collector must splurge $500,000 to have it in their personal card storage box. Moving down the price levels: A Mike Trout 2011 Topps Update Series Baseball Black card also lies securely inside the vault and sells for $175,000. 
RELATED: Derek Jeter Sells Tom Brady's Rental Home out From Under Him for $22.5 Million