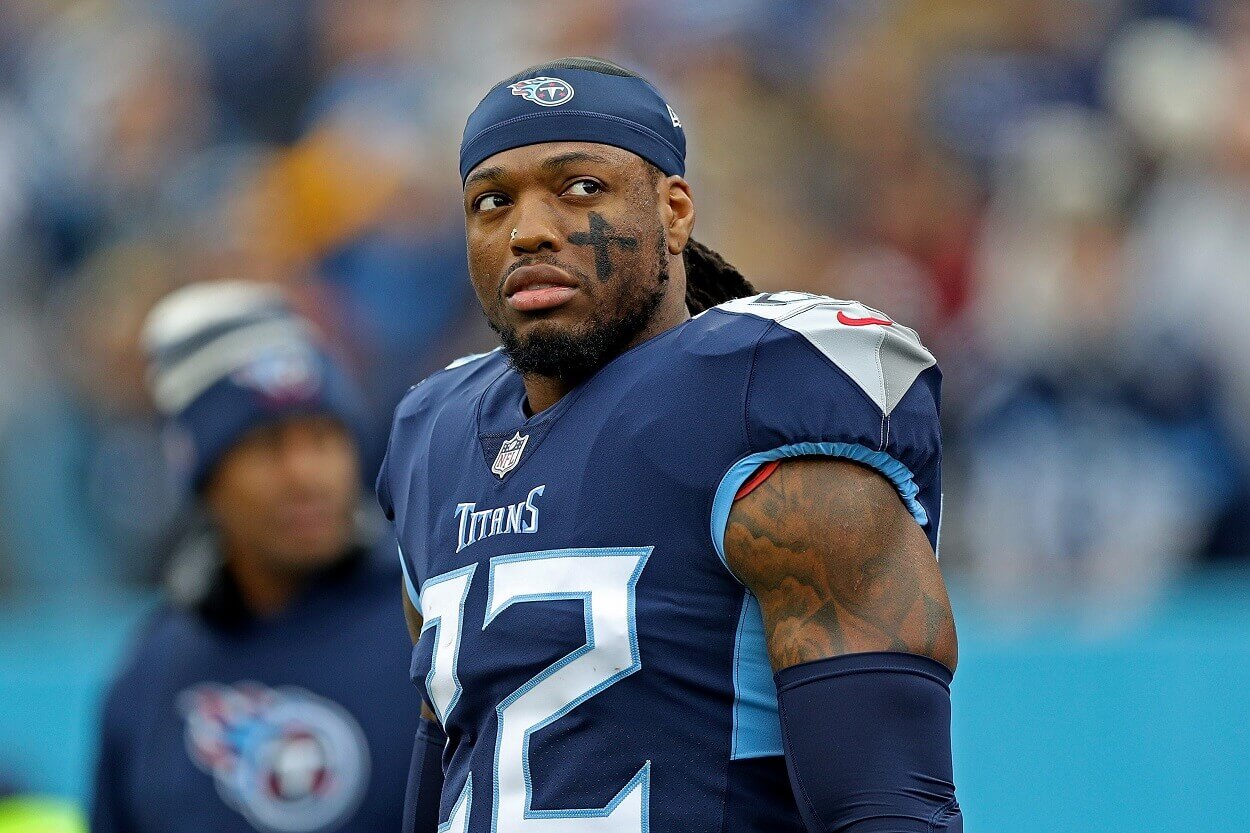 Derrick Henry to the Bills and 5 Other Bold Trades That Need to Happen During the 2023 NFL Draft
A look at six trades that should be made during the 2023 NFL Draft.
Investing picks on prospects is a smart strategy for sustained success in the NFL. However, trading picks for established players can be a smart, less-risky way of fortifying your roster. While we've seen several deals already go down this offseason, there are a few stars who could still get traded over the coming weeks. 
Obviously, Aaron Rodgers to the New York Jets is the league's worst-kept secret, so we'll skip that one for now. But looking at potential deals involving perennial Pro Bowlers, here are six bold trades that need to go down once the 2023 NFL Draft begins.
Bold Trade Proposal No. 1: Buffalo Bills send 2023 second-round pick to the Tennessee Titans for RB Derrick Henry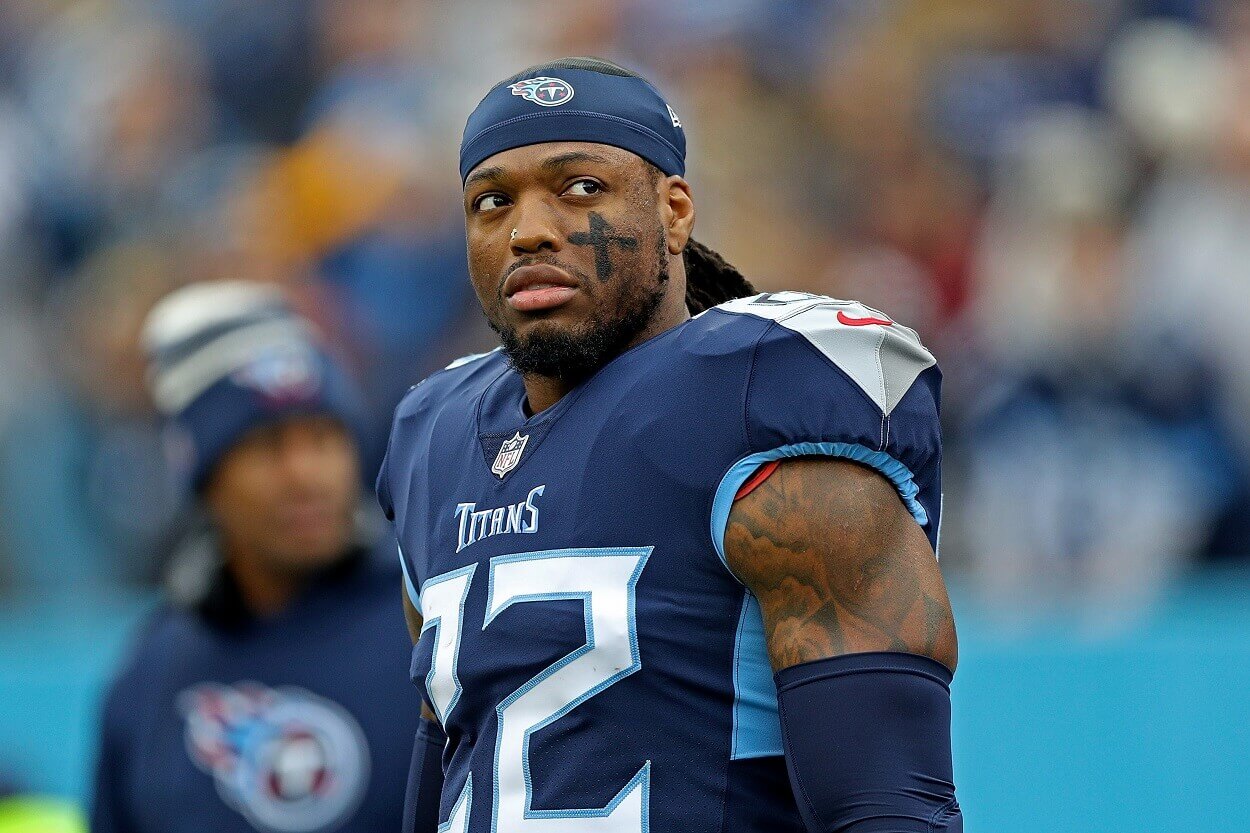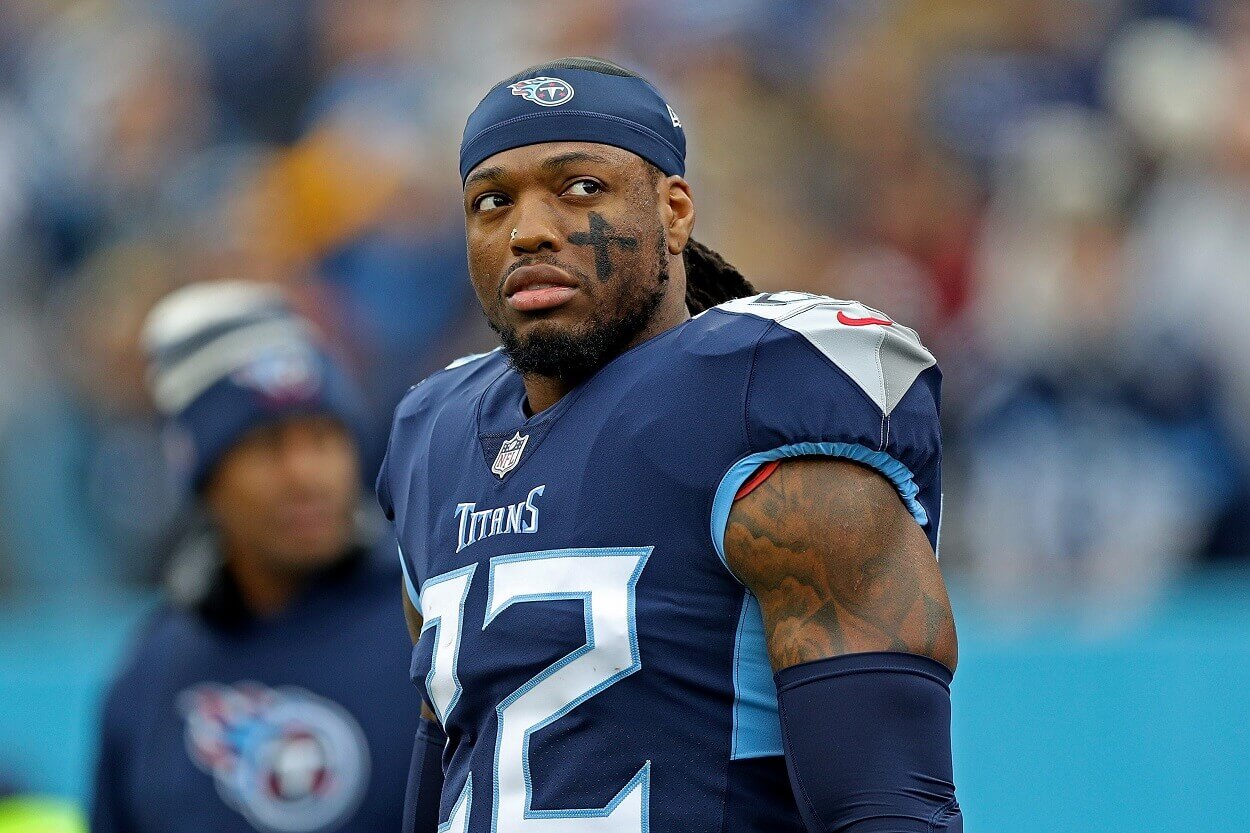 Do the Bills have to bolster their backfield? Between 2022 second-round pick James Cook (5.7 yards per carry as a rookie) and free-agent signee Damien Harris (15 rushing touchdowns in 2021), the reigning AFC East champions have plenty of raw talent at the top of their depth chart. However, relying on the second-year pro and the injury-prone former New England Patriot may not be a wise idea for Sean McDermott. 
Rather than trying to make it work with Cook and Harris, the Bills need to abandon the half-measure approach and go all-in to land Derrick Henry. The three-time Pro Bowler doesn't appear to have a future in Tennesee, especially with a new general manager in charge. And even though Henry's days as a top-tier back may be coming to an end, he's exactly the type of blue-chip talent a team like the Bills should target to put them over the top. 
Can you imagine defenses having to contend with the two-headed tandem of the 6-foot-3, 247-pound Henry and the 6-foot-5, 237-pound Josh Allen? From adding a much-needed physical presence to their backfield to providing their superstar quarterback with another receiving option to setting up play-action opportunities for All-Pro wideout Stefon Diggs, acquiring Derrick Henry would make one of the league's most explosive offenses even more dangerous. 
Bold Trade Proposal No. 2: Miami Dolphins send 2023 third-round pick to the Minnesota Vikings for RB Dalvin Cook
Speaking of big-name running backs who could be playing elsewhere in 2023, Dalvin Cook's days in Minnesota appear numbered. Despite being a highly productive playmaker for years, the four-time Pro Bowler looks bound to wear a different uniform for the first time in his NFL career. With the Vikings in desperate need of cap space and Cook carrying a $14.1 million cap hit this season, the Miami Dolphins should make a move for what could be the missing piece of a championship puzzle. 
Adding Cook to an offense that already features Tyreek Hill and Jaylen Waddle would allow Tua Tagovailoa to take full advantage of his skill set. The Dolphins have tried to patch together their backfield with solid-but-unspectacular options like Raheem Mostert and Myles Gaskin. No disrespect to either player, but even a less-than-100% version of Cook is vastly superior. 
Of course, Miami would have to be willing to take on the final three years of his deal, which is no small price to pay. Set to make $37 million in cash between 2023-25, Cook would command a sizable chunk of cap space for an aging player who comes with significant durability concerns. However, with Tua's rookie deal nearly up and the Dolphins clearly in win-now mode, they should trade a 2023 third-round pick to the Vikings and use their star power on the perimeter, in the backfield, and under center to make a run at the Lombardi Trophy.
Bold Trade Proposal No. 3: Jacksonville Jaguars send 2023 second-round pick to the Arizona Cardinals for S Budda Baker
Poor Jonathan Gannon. After being privileged to work with elite talent in Philadelphia, the Arizona Cardinals' first-year head coach inherited a roster that needs reinforcements on all three levels. To make matters Gannon may soon say goodbye to one of his team's few established stars before he even has a chance to see him in action. 
With five-time Pro Bowler Budda Baker officially requesting a trade, first-year GM Monti Ossenfort should expect to field calls from at least a few teams. After all, the hard-hitting safety has developed into one of the best players at his position since he entered the league as a second-round pick in 2017. And even though Baker will likely require a new contract that pays him north of $15 million, that shouldn't stop a sneaky Super Bowl contender from saving him from spending the 2023 season in the desert. 
That's right, folks. After being sellers for years, it's time for the Jacksonville Jaguars to start buying talent to fortify what's already a playoff-caliber roster. While their offense should be in fine hands with Trevor Lawrence and a cast of weapons that now includes Calvin Ridley, the Jaguars need help on the back end of their defense.
Acquiring a proven playmaker and well-respected veteran leader like Baker for a 2023 second-round pick would be a home-run move by general manager Trent Baalke, who's quietly done a nice job since taking over in Jacksonville. 
Bold Trade Proposal No. 4: Philadelphia Eagles send 2023 third-round pick to the Tampa Bay Buccaneers for LB Devin White
This is definitely a luxury move that would simply be a case of the rich getting richer. However, with Howie Roseman's history, it's impossible to rule the Eagles out of the running for any deal. So, with speedy linebacker Devin White looking to get paid and the Tampa Bay Buccaneers not interested in meeting his asking price, the Eagles' savvy GM could strike again and land yet another high-end talent. 
White has faced some criticism for lackluster effort, but he has elite speed and untapped upside. Put him in the middle of an Eagles defense that features plenty of proven veterans who should force him to raise his game, and the Pro Bowl linebacker could cement his place as a long-term building block. Figuring out a fair return for a player with his resume and contract situation might be challenging, but a 2023 third-round pick would be a decent compromise for all parties.
Bold Trade Proposal No. 5: New England Patriots send conditional 2023 fifth-round pick to the Arizona Cardinals for WR DeAndre Hopkins
It's no secret Mac Jones needs more help. Bill O'Brien might be a substantial upgrade over Matt Patricia, but it's not like he can run routes for the Patriots' third-year quarterback. And as much as Bill Belichick may hope JuJu Smith-Schuster will outperform Jakobi Meyers, signing a No. 3 receiver to replace your most reliable option in the passing game isn't going to bring the Lombardi Trophy back to Foxborough. 
What could help the Patriots compete in the rugged AFC is actually acquiring a receiver who scares defenses. DeAndre Hopkins has been sitting on the trading block for months, and while the Cardinals could end up cutting him, why risk letting him hit the open market and sign with another contender? 
The Patriots have the cap space and draft capital to afford Hopkins. They have a huge hole at the position. And Belichick has a shorter leash than ever. New England needs to stop messing around, send a conditional Day 3 pick for the 30-year-old wideout, and start building an offense that can put up more than 14 points a game.
Bold Trade Proposal No. 6: Indianapolis Colts send 2023 and 2024 first-round picks, plus 2023 and 2024 second-round picks to the Baltimore Ravens for QB Lamar Jackson 
It doesn't get much bolder than trading multiple first-round picks and signing a player to what should be the richest deal in NFL history. Then again, when you've gone through the agony of unexpectedly losing your franchise quarterback to retirement and subsequently swinging and missing on just about every one of his replacements, there probably isn't a price you wouldn't be willing to pay to shore up the most important position in sports. 
The Indianapolis Colts could easily stay at No. 4 and hope a quarterback falls to them. They could even trade up to secure at least one of Bryce Young, C.J. Stroud, Will Levis, or Anthony Richardson. Heck, they could even trade for Aaron Rodgers. 

But for a franchise that has tried just about every other method of finding an heir to Andrew Luck, the opportunity to acquire a former MVP seems almost too good to be true. Yet we're a week away from the 2023 NFL Draft, and the Colts have a chance to put together a compensation package and contract offer that would make Lamar Jackson the centerpiece of an offense that features 2021 rushing champion Jonathan Taylor and the promising receiver duo of Michael Pittman Jr. and Alec Pierce. 
The Ravens would have to demand at least two first-rounders, with the fourth overall pick in this year's draft providing a potential pathway to secure an immediate replacement for Jackson. Plus, you'd have to figure general manager Eric DeCosta would require the Colts' second-round pick in 2023 (No. 35 overall) in any deal involving his team's most accomplished player.