Derrick Henry's Colossal Injury Is Perfect for Adrian Peterson and Bad News for Barry Sanders
What a tumultuous week it has been in the NFL. After everything that happened, let's not forget that the Tennessee Titans watched star running back Derrick Henry undergo surgery and head for the injured reserve. The devastating loss of the MVP candidate prompted the team to bring in veteran Adrian Peterson to fill a massive void.
Now, as the Titans begin their brief term without Henry, the hope is that Peterson and Jeremy McNichols can step up and keep this team in the playoff picture. What Peterson has left in the tank is a huge question, though this is a great opportunity for him.
While this is a perfect shot for Peterson to prove he still can play, it is bad news for another Hall of Fame running back: Detroit Lions legend Barry Sanders.
Derrick Henry's untimely injury opened the door for Adrian Peterson
Henry appeared to be well on his way to another 2,000-yard campaign and a shot at winning the NFL MVP award. That is how well the Titans running back was playing.
Henry has a league-high 937 yards and 10 scores, far and away leading the way in yards on the year. Indianapolis Colts running back Jonathan Taylor is second on the list and still more than 100 yards below Henry even after a 172-yard outburst against the New York Jets on Thursday.
After Henry ran for more than 2,000 yards in 2020, it looked like he would do so again easily, especially with a 17th game added to the NFL slate. But the foot injury sent him to IR, and he is out anywhere from 6-10 weeks.
That forced the Titans to make an addition, and in came Peterson after he had previously remained unsigned. The former Minnesota Vikings star previously played with the Detroit Lions and will now compete with McNichols for the lead role, although neither back can get close to replicating what Henry was doing on the gridiron.
Barry Sanders might not be too thrilled with Peterson's new job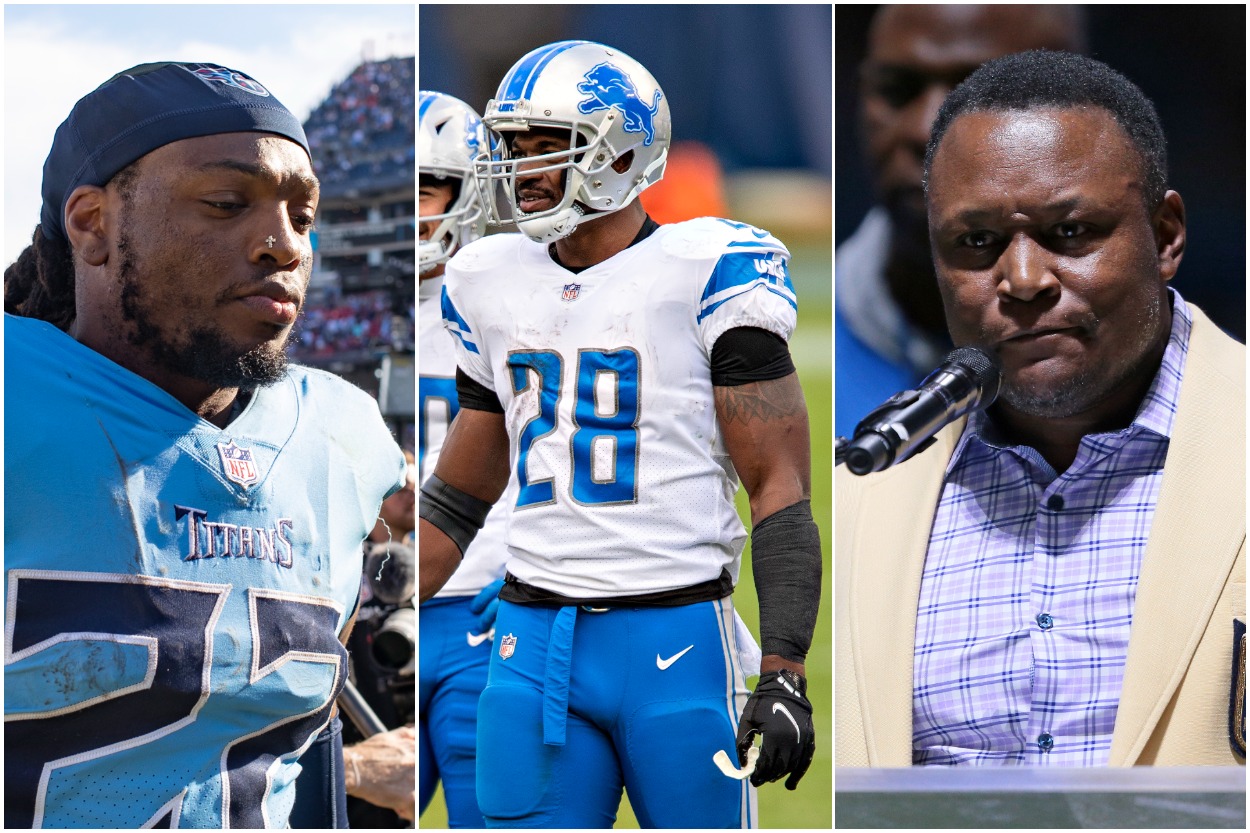 Peterson floated around the free-agent spectrum for quite some time, much to everybody's surprise. Even with a rash of injuries to running backs, nobody came calling for his services — until the Titans came and snagged him.
However, Barry Sanders might not be too pleased with Peterson's role.
Peterson needs 449 yards to pass Sanders for fourth in all-time rushing yards, and that number could be achieved. In reality, nobody knows what — or if — Peterson has anything left in his legs.
On the other hand, Henry's timetable appears to be two months, at best. If Peterson can average 10-12 touches per game over the next eight weeks and find a way to rush for 50 yards per game, he could pass Sanders before Christmas rolls around.
That would be quite the accomplishment, and after several NFL teams passed on his services, it might be a prime opportunity for Peterson to prove he can still produce. With the Lions in 2020, Peterson rushed for 604 yards on 156 carries with seven scores, so perhaps he has something left.
The legend is getting right back to it
Peterson is wasting no time getting acclimated to his new squad. He signed to the practice squad and, on Friday, was elevated to the active roster, preparing to suit up for a massive Sunday night showdown with the Los Angeles Rams.
Now, it doesn't help that the LA defense includes Jalen Ramsey and Aaron Donald. The Rams also loaded up and acquired Von Miller from the Denver Broncos in a trade, and the star edge-rusher will make his debut Sunday against the Titans.
How much work Peterson gets remains to be seen. But after the Rams game, the Titans face the New Orleans Saints and Houston Texans.
If Peterson can stay on the field and get a dozen touches per game, he has a terrific shot to pass Sanders and help the Titans remain afloat in the playoff hunt.
Stats Courtesy of Pro Football Reference
RELATED: Meet Jeremy McNichols, the Player Who Will Try and Fail To Replace Derrick Henry for the Tennessee Titans