Derrick Henry Is the Perfect NFL Player To Bring Back the Stiff Arm
Running used to be a more important part of NFL teams' strategies than it is now. Despite the ground game now taking a backseat to the passing attack, teams still rely on it to mix things up against opposing defenses. A key part of a running back's game has always been the stiff arm, which allows him to create some extra space between him and the defender who is on him.
There's one running back in particular who has perfected stiff arm, which had fallen out of favor at one point. This is why Derrick Henry is the perfect rusher to bring the stiff arm back to the NFL.
Derrick Henry has worked on his stiff arm since high school
The New York Times wrote about Henry and his stiff arm and revealed that the running back started developing the move in high school. His coach at the time, Bobby Ramsay, encouraged Henry to use the stiff arm because of his size.
Ramsay realized that Henry, at over 6 feet tall in high school, couldn't be a slashing runner and lowering his shoulder into a shorter defender would have slowed him down. So Ramsay allowed Henry to "break tackles with his bulk and use his speed to run away from pursuers." It was all part of the coach's strategy to "use whatever weapons are at your disposal."
Is size an advantage or a disadvantage for a running back?
Not everyone thought Henry's size was a good thing. Many recruiters dismissed Henry's talents because, according to Ramsay, they felt his was too big, or "ran tall," as it's known in scouting.
They wanted backs who had a lower center of gravity. Despite his size, Henry was fast — running a 4.54 40-yard dash — and could use his size to break tackles and get into the defensive backfield.
Derrick Henry is perfect to do the stiff arm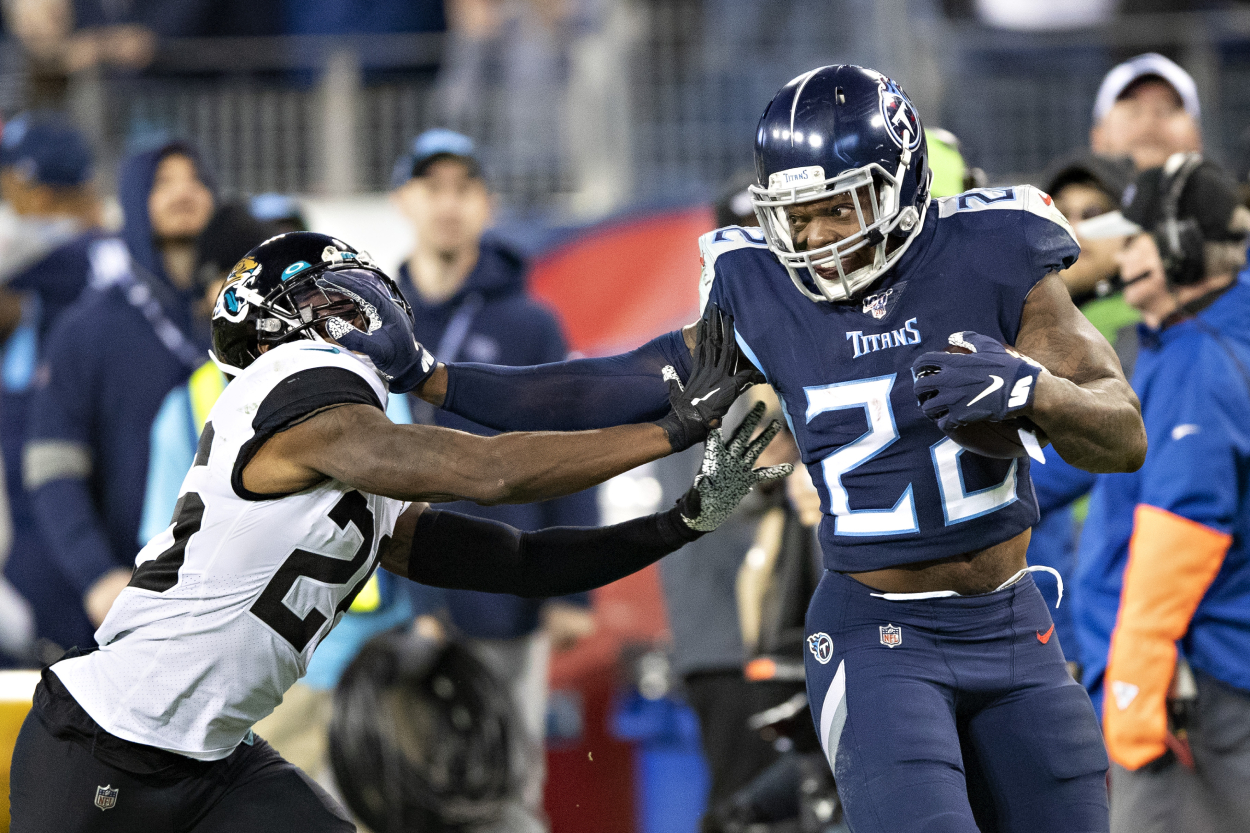 Henry's build makes him the perfect player to utilize the stiff arm in his game. He has long arms, which were measured at 33″ in the run-up to the 2016 draft, when the Titans took him in the second round.
He has such a long reach that it was longer than all but three draft-eligible running backs who have been measured in the past five seasons. The longer your arm, obviously the better your stiff arm because it provides more of a buffer between you and the defensive player.
Derrick Henry has 3 different stiff arms
Henry has three different types of stiff arms, as detailed by Ramsay in the Times profile. He even had hilarious nicknames for each one.
The "social distancing" stiff arm
Ramsay describes one of his the stiff arms as a "social distancing" move, in which Henry stretches out his long arms in advance of contact being made by the defender, which keeps opposing players away.
The "it's time to go to bed, son" stiff arm
Another one of Henry's stiff arms is what Ramsay calls the "it's time to go to bed, son" move. In this technique, as the defender goes after Henry's waist the Alabama alum pushes down on his foe's helmet — similar to how a father pats his son on the head, leading to the name Ramsay gave the move.
The "barroom get the heck away from me" stiff arm
Ramsay calls Henry's third technique the "barroom get the heck away from me" move. The high school coach notes that Henry breaks out this technique when the defender is already close to him — and Henry makes it look easier than it actually is.
Henry used this technique on the Bills' Josh Norman earlier this season on a four-yard run that went viral. QB Ryan Tannehill witnessed the play from just a few yards away, and he called it "probably one of the meanest stiff arms" he has ever seen.