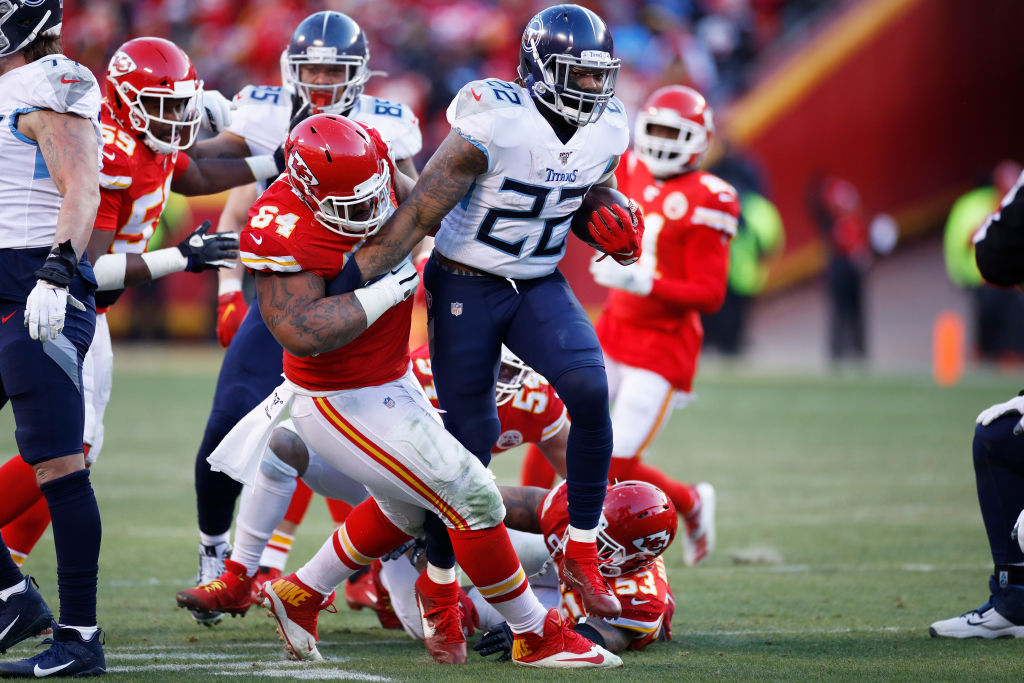 Derrick Henry Spends Crazy Amount on Custom-Made Necklace Honoring Kobe Bryant
Derrick Henry considered Kobe Bryant his all-time favorite athlete. To show how much Henry respected him, he purchased an expensive custom-made necklace.
There's respect and admiration for someone. And then there's RESPECT and ADMIRATION. Derrick Henry is the latter when it comes to his hero Kobe Bryant. Henry put his money where his mouth is recently when he purchased an astonishingly expensive custom-made necklace honoring the NBA legend that includes 35 carats of diamonds.
Henry shocked at Kobe's death
Like everyone, the news on the death of Kobe Bryant, his daughter, and seven others shook Henry to his core when he learned of the tragic accident just moments before taking the field for the Pro Bowl in Orlando.
Henry admitted to reporters before the game that the NBA superstar was his favorite athlete in any sport.

It's indescribable. Kobe is my favorite athlete of all-time. I have four or five of his jerseys. I still don't want to believe it. I guess it will really hit me when I get home and look at all my jerseys. It is so sad. He is a legend, an icon. And to hear his oldest daughter was with him, I can't even put it into words. It's so sad.

Derrick Henry
After playing in his first Pro Bowl, a game Henry was excited to play in; he departed Camping World Stadium with the same grief that had befallen the sports world. 
"It's just so heartbreaking, really," Henry said. "Prayers out to his family. It's sometimes hard to understand the meaning of God's plan, but you have to trust what He is doing. It is so tragic. May (Kobe) rest in peace."
Henry purchases $85,000 necklace
Just a couple days after the Titans slapped a franchise tag on Henry, the fourth-year running back decided to splurge on some jewelry that would honor his hero and serve as a great reminder of Bryant's importance in Henry's life.
Henry went to Zo Frost, a jeweler in Houston, who has done work for other athletes, including Lamar Jackson, Deshaun Watson and Earl Thomas.
The $85,000 necklace looks as expensive as it costs. It sparkles with 35 carats of diamonds. Bryant's logo serves as the necklace's backdrop and has a mamba snake in honor of his nickname "Black Mamba" wrapped around it. It weighs in at a staggering 120 grams. 
Other tributes to Kobe Bryant
While Henry will wear his jewelry in honor of Bryant, other athletes have been more permanent in their tribute selection opting for tattoos. LeBron James, James' Lakers teammate Anthony Davis, and Cleveland Browns receiver Odell Beckham Jr. all have forever inked Bryant's legacy on their bodies.
LeBron James' tattoo features a snake and the late athletes's jersey numbers, 8 and 24. The design also includes two roses as well as the words "Mamba 4 Life."
Odell Beckham Jr. took a different approach and opted for a tattoo of Bryant's face on his stomach. Beckham had a closer connection to Bryant than most, because Shaquille O'Neal is his godfather so he hung out with the Lakers as a young child.
Anthony Davis developed a special relationship with Bryant while the two played together during the 2012 Olympics. Davis, just 19 years old at the time, became Bryant's shadow and the two would eat meals together and hang out together including when Bryant met with other elite athletes.
All the tributes show just how important Bryant was in the lives of so many athletes, and in Henry's case, where money isn't an issue, it shows just how much they're willing to spend to show their respect and admiration for one the NBA's all-time greats.