Derrick Henry's New Contract Is Great News for Green Bay's Aaron Jones
Aaron Jones was one of the brighter spots last year for the Green Bay Packers, but being a great running back doesn't mean you'll get a big contract anymore. However, the Titans' new contract for Derrick Henry could be a good sign for Jones' future.
As he prepares to play out his contract year in one of the stranger NFL seasons ever, how likely is it that he gets the payday that his play deserves?
Aaron Jones was a multi-positional star for last season's Packers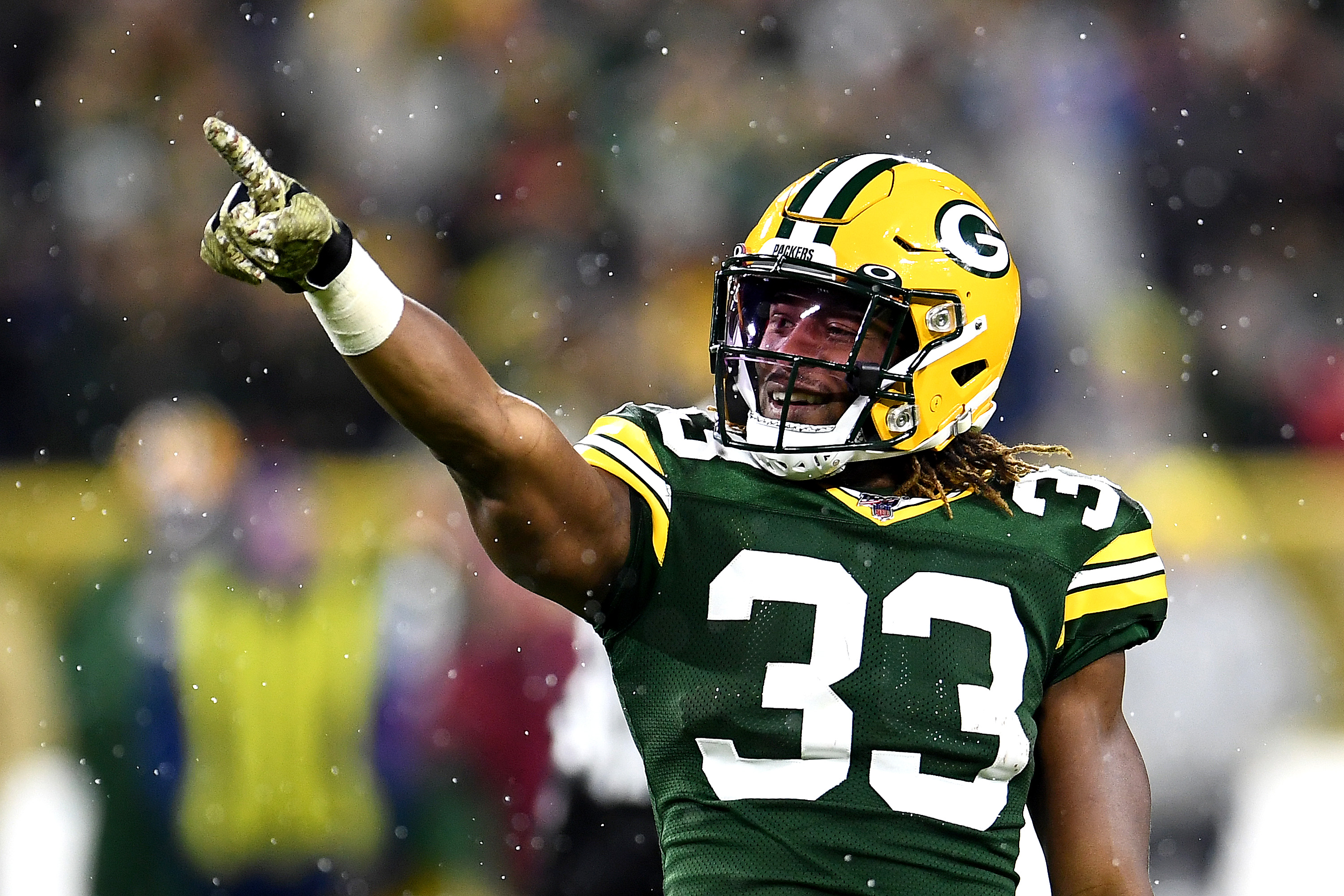 The Green Bay Packers won their division and made it to the NFC Championship Game without much elite talent on the outside. Aaron Jones played a big role in making that happen, according to Forbes.
In his first two years as a pro, Jones showed his talent in frustratingly short glimpses. He missed four games in both of those years, and former head coach Mike McCarthy often overlooked the running game despite Jones averaging over five yards a carry in both years, one of the many reasons Packers fans were happy to see him go last year.
New head coach Matt LaFleur gave Jones more responsibility — he carried the ball more times last season than he did in the previous two combined and he paid back his trust with a great season.
Playing a full regular season for the first time ever, Jones ran for a career-high 1,084 rushing yards and 16 touchdowns. He added 49 receptions and three touchdowns from the passing game, bringing him into a tie with Christian McCaffrey for the most touchdowns in the NFL. Jones also improved substantially as a pass blocker.
He managed to bring it in the playoffs as well. He scored two touchdowns in Green Bay's victory over the Seattle Seahawks in the Divisional Playoff round and added another pair in the NFC Championship defeat to the San Francisco 49ers.
There are a lot of questions about the future of the Packers, but Jones' effectiveness is no longer one of them.
That doesn't mean he'll get paid, though
RELATED: Aaron Rodgers Has Lost Signature Part of His Game Says Former NFL GM
Assuming the NFL season still happens, and Jones doesn't decide to opt-out, he will be playing in the last year of his rookie deal. He would deserve his first big contract worth tens of millions of dollars, but he may not get that deal because running backs very rarely get paid like that in this day and age.
Running backs have never been valued less than they are now. Most teams understand that the intense wear and tear of the position means that they burn out quicker than other positions.
No one wants to have the next Todd Gurley or David Johnson on their hands. There's also the fact that Jones is one of several star running backs who may hit the open market next year. Dalvin Cook, Alvin Kamara, Joe Mixon, Leonard Fournette, and Kenyan Drake are all entering the final year of their contracts.
Green Bay has decent backups in Jamaal Williams and 2020 second-round pick AJ Dillon for Jones, but that doesn't change the fact that Jones is their best offensive weapon, he's in his prime, and LaFleur wants the running game to be an important part of the offense going forward.
Jones may not get all the money he wants, but he should still get a decent deal from them, or another franchise if he becomes a free agent.
Did the Titans reset the market for running backs?
RELATED: You Won't Believe How Insane Derrick Henry's High School Stats Were
Derrick Henry's new deal with the Tennessee Titans may spell good news for Jones' future negotiations. Henry was able to parlay his breakout season into a contract including $25.5 million in guaranteed money, per ESPN. He and Jones have similar levels of importance to their teams, although Jones offers more in the passing game.
Henry plays a big role in making Ryan Tannehill, who signed a four-year, $118 million contract in March, look like an above-average quarterback for the first time in his career.
Tannehill completed 76.5% of his play-action passes and had an average of 13.6 yards per attempt, with both stats the highest among any quarterbacks with at least 75 play-action pass attempts. His average play-action completion gained 17.8 yards, also best in the NFL.
Jones isn't quite as fundamental to making Aaron Rodgers look good, but the surrounding talent does impact his game more than it used to. Jones is very important to Green Bay's present. He'll likely be useful in the near future as well.
All stats courtesy of Pro Football Reference