Derrick Rose: After 4 Years, is He Finally Getting His Game Back
The year was 2012, and Derrick Rose looked really good. He was cutting to the basket and getting to the rim. He was blowing past the defenders with ease. He was shooting the ball well from outside. He was even rebounding and dishing out assists. Rose looked great and the Bulls were on their way to championship contention — and then it happened. He landed awkwardly and tore his ACL.
It happened in the first game of the first round of the playoffs, and Rose wasn't able to get back to the court for 18 months. When Rose finally did return, early in the 2013-14 season, he looked rusty and a shadow of himself. He didn't have a rhythm and it showed, as he shot just 35.4% from the field. Then misfortune struck again — Rose tore his meniscus in his 10th game of the season. He was shut down yet again, set to return the following season.
In 2014-15, Rose finally played, getting into 51 games and requiring yet another meniscus surgery toward the end of the season, which kept him out for several weeks. He had a first healthy offseason since his MVP year (2010-11) to work on his game and came into training camp this year ready to prove himself. That was cut short, as a broken orbital bone required Rose to wear a mask and caused him issues with double-vision. That affected his ability to shoot early on, and he struggled to put the ball into the basket.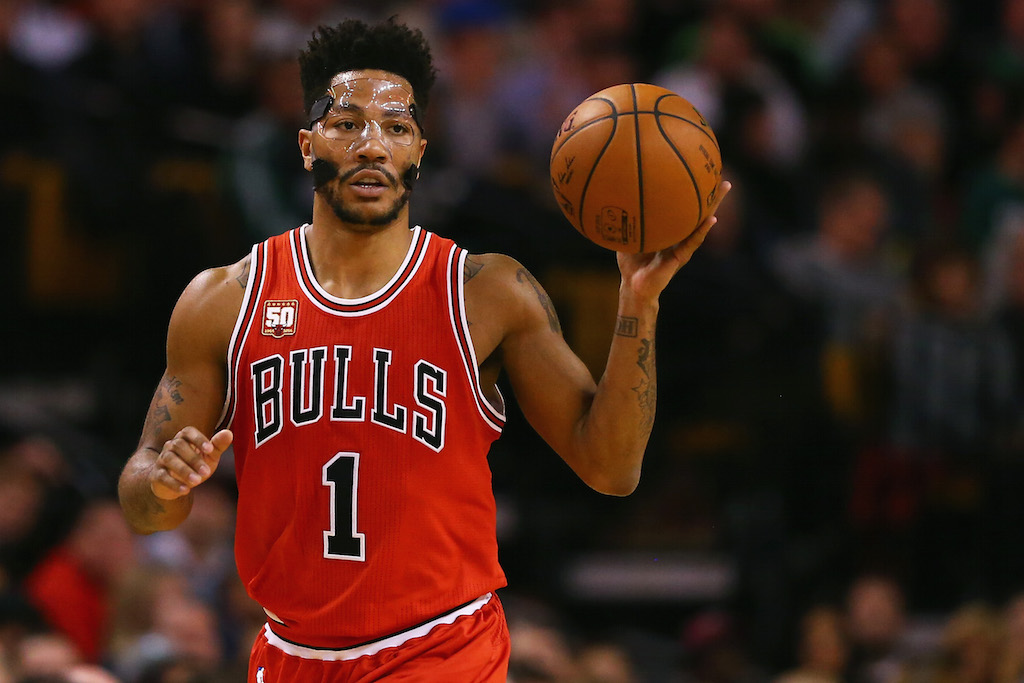 But Rose has stayed relatively healthy this season, playing in 48 of the Bulls' 55 games so far. As his vision has improved, Rose has become more comfortable, looking progressively better and better. He doesn't look like the player who was out of sync last season anymore. He has a burst to the basket again and is able to do it more than once every few games. Rose will never be an MVP again, but he's getting back to All-Star level.
After dropping a season-high 34 points with eight assists in a triple-overtime loss to the Detroit Pistons on December 18, Rose went into a mini-slump and struggled to put the ball in the basket, shooting 28.6% from the field in the next two games — both losses. But then the Bulls went into Oklahoma City on Christmas Day — a nationally televised game — and Rose shocked the audience, showing signs that he was returning to form, yet again. And it's been progressively better since then.
In his last 24 games, going back to that Christmas Day win, Rose has shot an efficient 46% from the floor on 17.2 field-goal attempts per game. A big part of that is that only 2.1 of those attempts come from beyond three-point range, and he's hitting on 32% of those anyway — a respectable number, when comparing to Rose's career percentages from downtown. He's averaging 19.5 points and over four assists and four rebounds.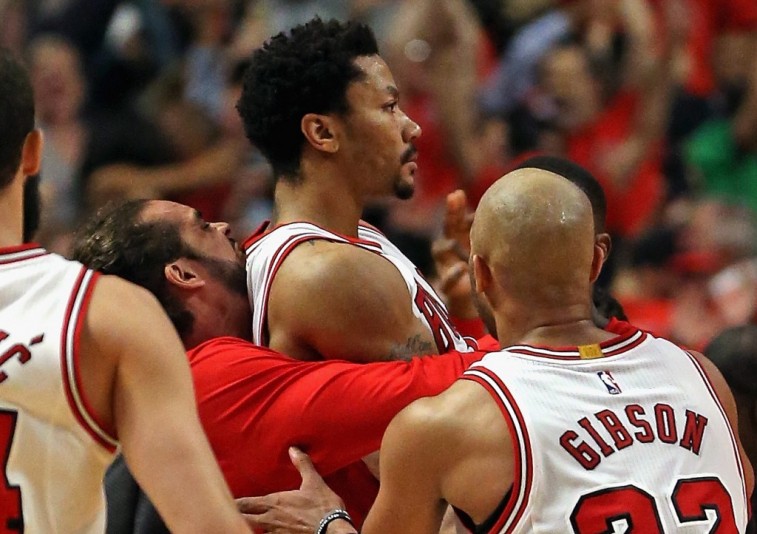 If that weren't enough, Rose has been even better of late. Despite the Bulls being in a massive downward spiral, which has effectively overshadowed Rose's return to form, Rose has averaged 23.3 points on 47.1% shooting in his last six games (since Jimmy Butler has gone down with a knee injury). The Bulls won their last two games; a quality win over the Toronto Raptors at home in which Rose scored 26 points and an 11-point victory over the Los Angeles Lakers in which Rose scored 24 (including 10 points in the fourth quarter to help put the game away).
The change in Rose's game this year — seeing more mid-range bank shots and floaters than any time since his original ACL injury — could partly be attributed to his eye injury earlier this season. While it was the source of his struggles from the field — he averaged just 13.3 points on 34.3% shooting in his first 14 games — it taught him to use the backboard and take shots that work for him, rather than hanging around at the three-point line. The knee injuries took his ability to blow by any defender whenever he wants, but as a mid-range jumper who must be respected, he's seen more lanes to the basket as teams have been forced to step out and contend his 15-foot banker from the wing.
With Rose toiling away on a Bulls team that isn't truly a championship contender and seeing his contract come up after next season, the Chicago front office is under more pressure than ever to put together a winning team soon. They don't have too many players in place on the roster, other than Butler, who can realistically be a part of the Bulls' next championship team. But Rose is slowly working his way to proving that he could still be one of those players.
Follow Ryan on Twitter @RyanDavisBP
Statistics courtesy of Basketball-Reference.com.