Derrick Rose Defends Jimmy Butler's Exit From Minnesota — Kind Of
NBA player Derrick Rose has an autobiography coming out in which the former MVP touches on a variety of incidents throughout his career. However, one particular section is garnering attention. Rose played with All-Star guard Jimmy Butler in Chicago and Minnesota, and he discusses his former teammate candidly, particularly in regards to the now-infamous practice near the end Butler's tenure in Minnesota. NBA fans are divided on the way Butler's time with the Timberwolves ended, but Derrick Rose defends his teammate's decision — sort of.

"One basket…"
Late in the book, Rose discusses the headline-making Timberwolves practice from early on in the 2018-19 season in which Butler notoriously taunted his teammates after leading the team's second unit over the team's starters while, in Butler's own words, shooting only one shot.

Minnesota traded Butler soon after, but the Timberwolves couldn't match the success of his only full season with the team. Rose bemoans the attention that the practice got, asking why a one-basket performance was worth the attention that the practice received, but he doesn't entirely dismiss Butler's frustration with the team, saying:
"Jimmy was feeling, 'Why'd y'all pay them [other Minnesota teammates] first and I was the one that got you to the playoffs?'" he said. "That's all it was. Jimmy wasn't doing it right, though he was right."

So there you have it — Derrick Rose says Jimmy Butler was right to question Minnesota's decision-making. However, the former MVP said his teammate could have expressed his discontent another way.
"Jimmy wasn't doing it right, though he was right."
Rose, who will be an unrestricted free agent this offseason after a season-plus with the Timberwolves, knows why Butler was frustrated, even if he doesn't approve of the way that Butler went about venting his frustrations.

With Butler, the Timberwolves ended the longest playoff drought in NBA history, but they were quicker to extend their young players than they were Butler. When you look at his stats from his one full season in Minnesota, it's clear Jimmy Butler deserved some kind of salary boost for his performance.

Karl Anthony Towns signed a five-year, $158 million extension, and Andrew Wiggins signed a four year, $147 million deal. Despite spending for those two players, the team was non-committal to max out Butler, which caused a rift between the two parties. Rose acknowledges that in the book, claiming that the league is quicker to throw the bank at young and unproven players than established veterans.

What next for Jimmy Butler?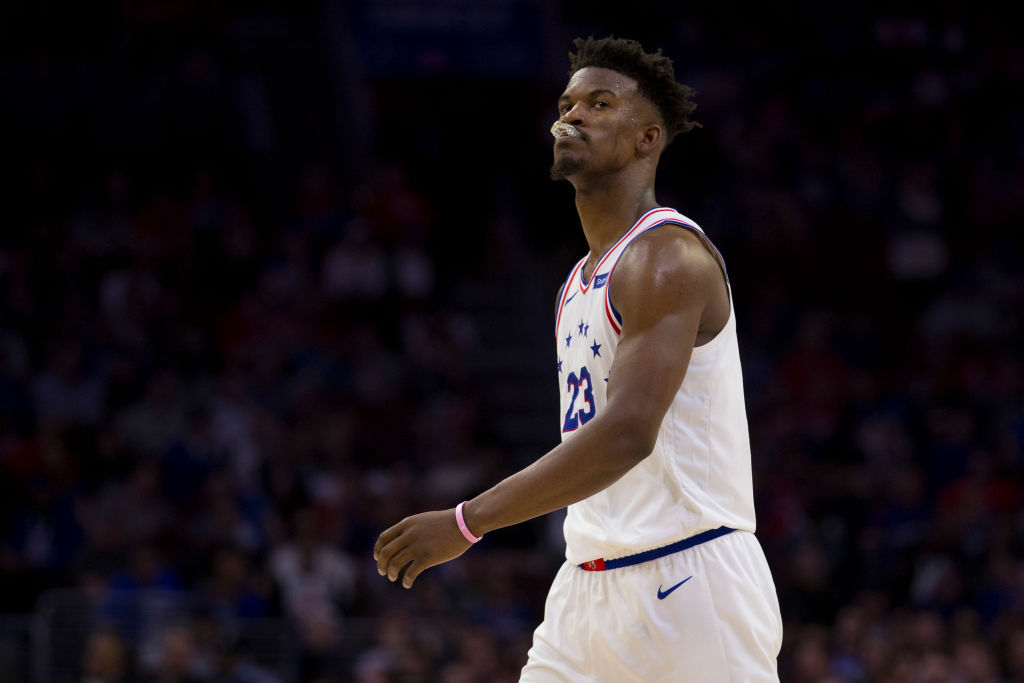 The Philadelphia 76ers had a somewhat disappointing season that ended with the Kawhi Leonard buzzer beater that sent the 76ers packing. Despite that, they went step-for-step with another great team, and switching things up too much will not ensure success next year. However, Jimmy Butler has a lot of mileage for someone turning 30 before the season begins, and like the Timberwolves, the 76ers have a young duo to think about.

At his best, Butler can be a dominating force which impacts the game without necessarily needing to score the ball, but at his worst, he can be a little bit too much to handle, and his in-your-face attitude can rub teams the wrong way. The 76ers have an important decision to make about Butler in the offseason.

The next steps for Derrick Rose
Derrick Rose's offseason will be an interesting one. On the one hand, he started the 2018-19 season having some of his best performances since his injury problems derailed his career, even notching a new career high in points in a game against the Utah Jazz. On the other hand, his high production also came with high usage, and his numbers went down once Ryan Saunders took over as coach.

One gets the sense that Rose plans to move on, especially after what he said about the Timberwolves young players. He may find a good landing spot, but it is becoming increasingly clear that Rose cannot be the consistent star he once was. Should he accept his role and know his limits as a player, however, he could prove to be a good role player for his new squad.