Derrick Rose Overcame a Rough Upbringing on Chicago's South Side to Amass a Net Worth of $90 Million: 'So Any Little Bumps or Sounds in the House, I'm Scared'
In an era dominated by superstars like LeBron James and Kevin Durant, Derrick Rose deserves recognition. The 2008 first overall pick made history with the Chicago Bulls, becoming the youngest player in NBA history at 22 years and 191 days to win the league MVP.
Although injuries might have derailed his Hall of Fame trajectory, D-Rose is still a solid player and an integral part of the New York Knicks. But before overcoming injuries to build a long career and a healthy bank account, Rose overcame living in a tough neighborhood on the South Side of Chicago.
Derrick Rose grew up on the South Side
Part of what made the 2008 NBA Draft so special was seeing Rose go to his hometown Bulls. But the 33-year-old didn't have great memories of Chicago growing up. He later expanded on what it was like to live in a dangerous part of town.
"When I was younger, we used to have a lot of things that used to happen in my house and on my block to where I kind of got PTSD (post-traumatic stress disorder) in a way," Rose told ESPN. "I'll be downstairs in the basement doing something and I'd hear somebody playing upstairs and I'd run up there thinking somebody was bursting in our house about to attack my cousin … this girl. She used to beat up everybody in the neighborhood. Like, she would beat up somebody and I would think they were coming back for revenge. So any little bumps or sounds in the house, I'm scared, or at night I would hear something and get scared because I was thinking that these people came back."
The three-time All-Star also shared some of the ways he would try to help his family during financial hardships.
"My job every day was getting up trying to find ways to hustle," Rose said. "Not where I'm selling drugs or anything, but things like shooting dice, shooting jump shots to get a few dollars for my mom. … Anything to try to take the load off of my mom. She'd get a check for $700 or some weeks didn't even get paid, one time a whole month. She'd get $600 or $700 and after paying the bills would have $100 to spend and for two weeks. And having a kid. How are you supposed to do that?"
What is Derrick Rose's net worth?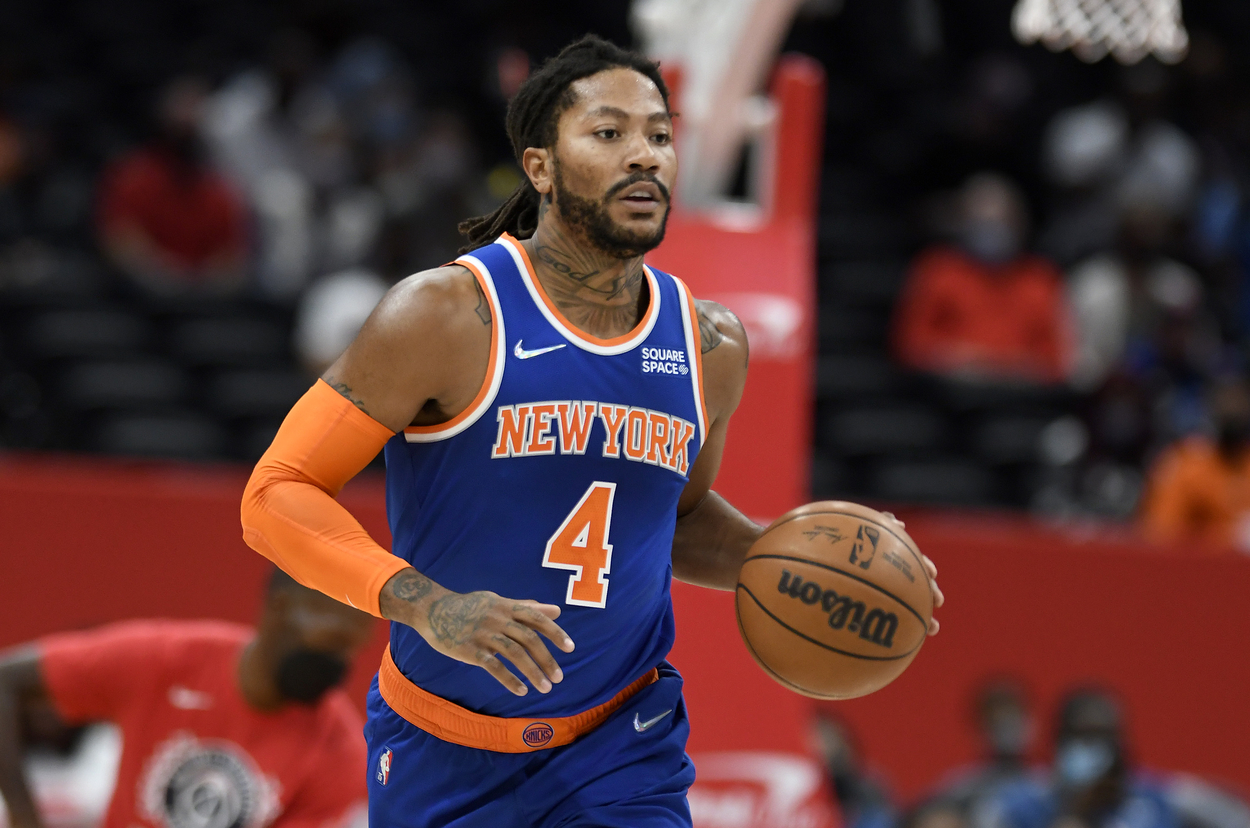 After years of struggling in a bad neighborhood, Rose made it to the NBA. Soon after, the life-changing money started to come in.
As of 2021, Rose's estimated net worth is $90 million. The bulk of that comes from his salary. Through 13 NBA seasons, Rose has earned $155 million from NBA contracts, the majority of which comes from his rookie extension in 2011 worth $94 million. He also signed a massive deal with Adidas early in his career worth $190 million at minimum.
But D-Rose still has more money on the way. The veteran guard inked a three-year deal this summer to stay in New York, which will pay him an additional $43.5 million.
Rose still has more to show
Although the money has been superstar-caliber, Rose's overall career can be considered a bit of a disappointment. A torn ACL, as well as a torn meniscus, would derail the MVP in his prime, keeping him from reaching an All-Star level again. However, D-Rose has found new life as a sixth man.
In the last three seasons, the veteran has made just 31 starts. But he has packed a scoring punch off of the bench, averaging 18.0 points with the Minnesota Timberwolves, 18.1 with the Detroit Pistons, and 14.7 between the Pistons and Knicks. He also flourished in the final weeks of last season, dropping 24 or more points four times in May. Then in New York's postseason series against the Atlanta Hawks, he scored a season-high 30 points in Game 3.
With the financial commitment they made, the Knicks certainly expect Rose to be a big part of their plans. With his old Bulls coach Tom Thibodeau, D-Rose helped New York clinch its first postseason berth since 2013, the year the former MVP missed due to injury. The goal will obviously be to return to the postseason. But maybe, the guard can help take the Knicks higher than they've ever been this century.
Certainly, Rose has overcome bigger obstacles before.
All statistics courtesy of Basketball Reference and contract figures courtesy of Spotrac.
RELATED: Joakim Noah Recalled What It Was Like Playing With Prime Derrick Rose: 'There Was Nothing Like Him'