Derrick Rose Proves Former Coach Wrong After Trade to New York Knicks Ends With Playoff Berth
For the first time since 2018, Derrick Rose is preparing to open the NBA Playoffs. The New York Knicks open their first-round series against the Atlanta Hawks at Madison Square Garden Sunday night. Derrick Rose was a midseason addition to the Knicks, coming over in a February trade from the Detroit Pistons. The deal has thus far worked out just how Rose hoped it would.
New York acquired Rose on Feb. 8, early in this strange coronavirus-delayed season, and at the time, the Knicks weren't playing like a team that would have homecourt advantage for the first round. They were 11–14 the morning of the trade, in eighth place in the Eastern Conference. Rose's Pistons were already a dumpster fire at 5–18, last in the East and in a free-fall toward the upper part of the lottery.
But at the time of the trade, Rose was cautioned that the second stint in Manhattan might not turn out any better than the first.
Derrick Rose gets a warning on his way out of Motown
RELATED: Derrick Rose Was so Poor Growing Up in Chicago He Used to Eat Powdered Sugar While Watching 'Power Rangers'
In an interview on SiriusXM Radio in February, Detroit coach Dwane Casey opened up about a conversation with Derrick Rose after the trade.
Casey recalled Rose telling him that he wanted a chance to make the playoffs this season. That made sense for Rose. Since his career-changing knee injury while with the Chicago Bulls in the 2012 NBA Playoffs, Rose has only played in two postseasons. The last was in 2018 with the Minnesota Timberwolves and ended in the first round. In 2015, the Chicago Bulls reached the second round before bowing out.
Casey wasn't bullish on New York's chances at the time.
"And I said, 'Derrick, you may have a chance here just as you may have a chance in New York.' But I'm happy for Derrick and was glad we were able to accommodate him.'"

Dwane Casey
To be perfectly frank (even though nobody's perfect, Frank), Casey had a point. Rose went through a lost season in New York in 2016–17, scoring 18 points a night for a 31–51 club under first-year coach Jeff Hornacek. Before their turnaround under coach Tom Thibodeau this season, the Knicks had missed the playoffs seven straight seasons.
Rose and the New York Knicks took off
RELATED: New York Knicks Welcome Back Fans, Except 1
The New York Knicks, powered by the transformation of newly minted All-Star Julius Randle, took off after acquiring Rose. New York finished 30–17 after the trade. Only the Brooklyn Nets (34–13) and Philadelphia 76ers (32–16) had better records in the Eastern Conference during that span.
Rose was a role player in New York, starting three of the 35 games he played and averaging 26.8 minutes. He put up 14.9 points, 4.2 assists, and 2.9 rebounds per game and shot 48.7% from the floor, 41.1% from 3-point range, and 88.3% at the line.
The 3-point shooting was a surprise; Rose's career-high from deep had been 37.0% in 2018–19, and he is a career 31.1% marksman from long distance in his career.
His impact was felt the most since returning from a bout with coronavirus (COVID-19). The Knicks were 18-9 after Rose came back, and he averaged 15.8 points, 3.9 assists, and 3.0 rebounds in 27.6 minutes a game.
Derrick Rose a supporting player for the Knicks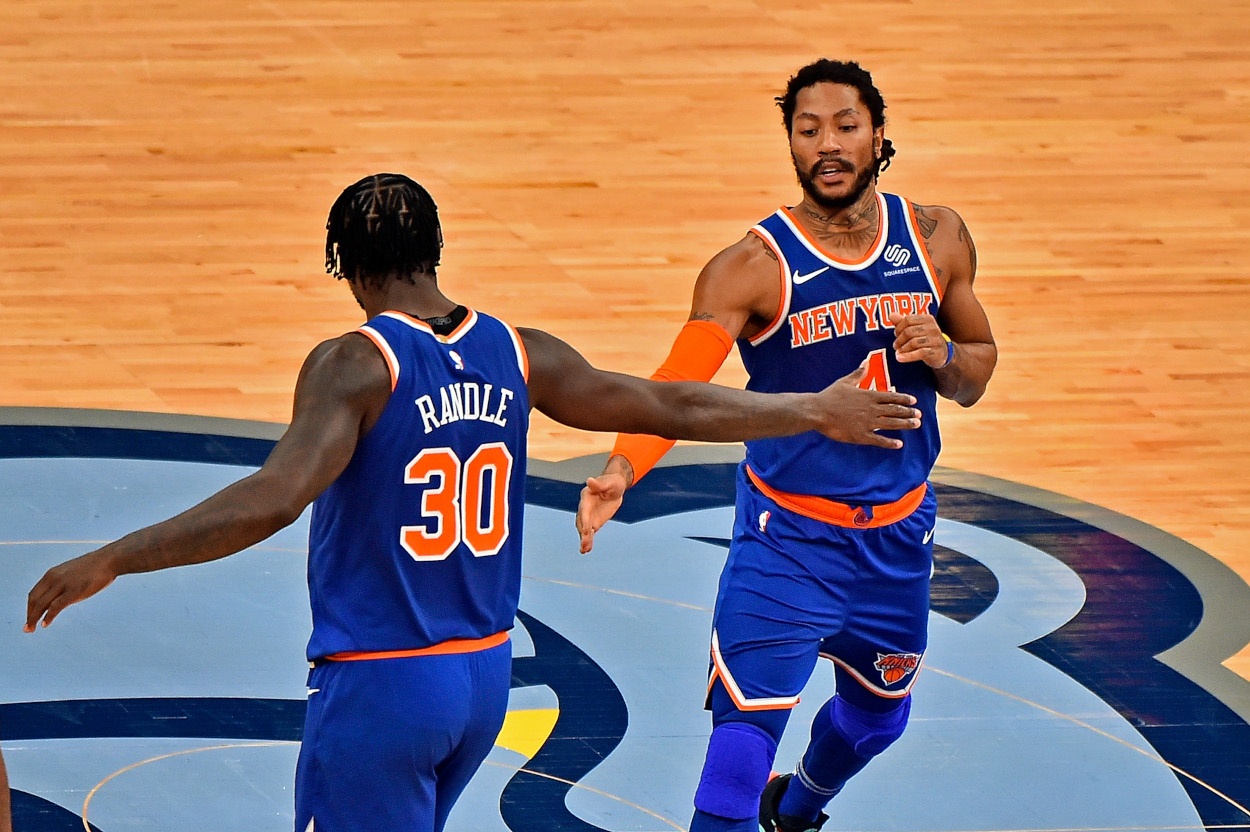 RELATED: The New York Knicks Cost Themselves a Shot at Grant Hill With an Offensive Video
The New York Knicks benefited from bringing back Derrick Rose, but it was Julius Randle's team. His improvement, particularly as a 3-point shooter, is unprecedented. In his seventh NBA season, Randle increased his 3-point shooting volume by nearly two attempts per game over 2019–20, from 3.6 to 5.5. But his percentage rocketed from a dismal 27.7% last season to a more-than-respectable 41.1%. Simply put, no one does that.
The Knicks improved markedly in their first year under Thibodeau. New York hadn't had a winning season since their last playoff berth in 2012–13. They set a franchise record with 65 losses in 2014–15 and matched that in 2018–19. Throw in becoming a national punchline because of owner James Dolan and losing the high-profile free-agent war to the upstart Brooklyn Nets, and, yeah, it's been a tough time to be a Knicks fan.
How far the New York Knicks can go in the postseason remains to be seen, but it can't hurt to have a veteran presence (and a former NBA MVP) like Derrick Rose to help steady the ship.
Statistics courtesy of Basketball Reference.