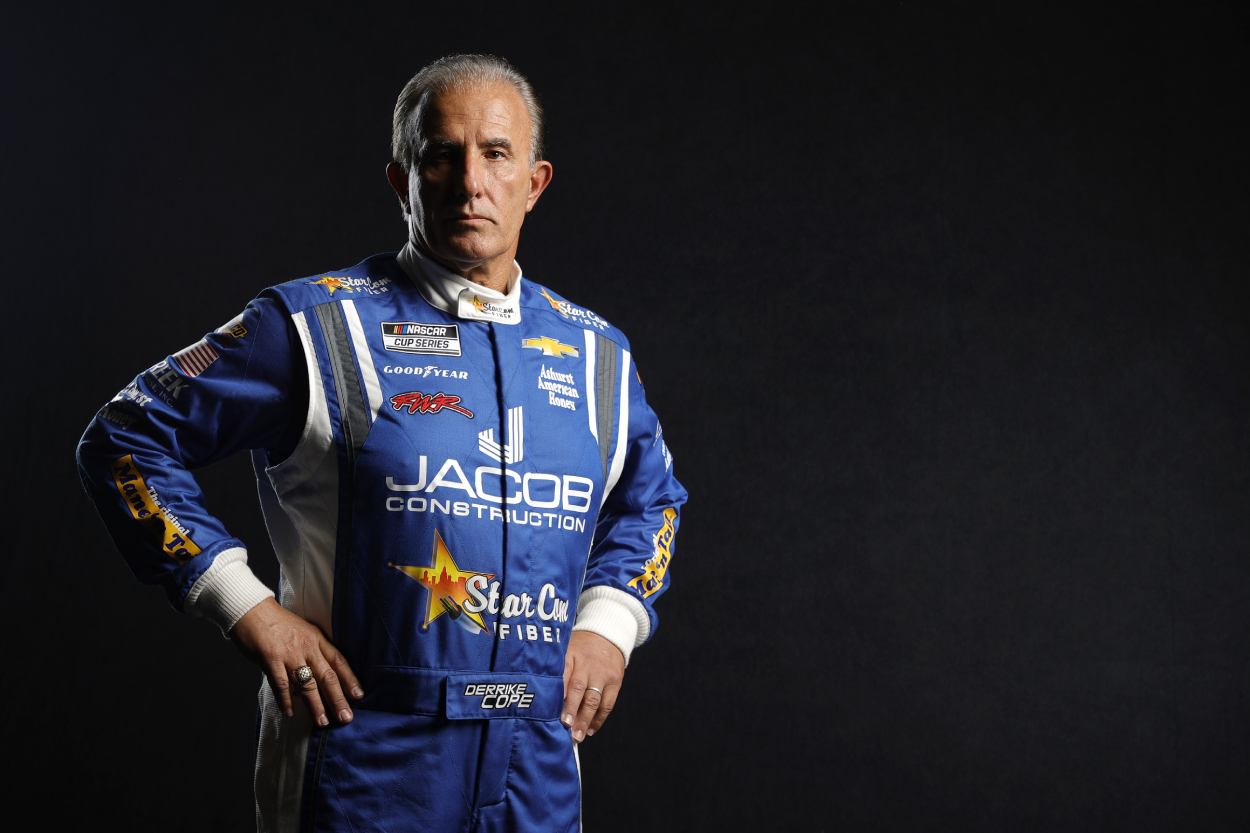 Derrike Cope Doesn't Care What You Think of His Age as He Preps for Daytona 500
Derrike Cope, who won the Daytona 500 back in 1990, doesn't care what you think of his age as he gears for this year's race.
When it comes to experience among the 2021 field of Daytona 500 racers, Derrike Cope is your winner. Cope has already won the event that's billed as the Super Bowl of NASCAR races. He did it back in 1990. Cope is ready to give it one last hurrah and he doesn't care what you think about his age as he gets ready for one of the biggest races in all of motorsports.
Daytona 500 facts and figures
The Daytona 500 will have a little different look and feel to it Sunday. As the coronavirus (COVID-19) continues to wreak havoc with the world of sports, the Daytona 500 isn't exempt. There won't be 101,500 people on hand to watch the big event, but that doesn't mean there won't be a whole lot of excitement.
Denny Hamlin will be seeking his third straight Daytona 500 victory. Hamlin, who is looking to win his fourth career Daytona 500, comes in as the race favorite, according to Draft Kings. He also won the race in 2016. Richard Petty owns the record for most Daytona 500 victories with seven, his final one coming in 1981.
The last driver to win back-to-back Daytona 500 races is Sterling Marlin, who accomplished the feat in 1994 and 1995. If Hamlin pulls off the three-peat Sunday, he will tie Cale Yarborough for second place for the most wins in Daytona 500 history with four.
Derrike Cope makes a return to Daytona
Derrike Cope is back at the Daytona 500. Cope made a name for himself in 1990 when he capitalized on a Dale Earnhardt tire issue and pulled out the victory. Earnhardt ran over a piece of debris during the 1990 Daytona 500 and cut a tire. Cope rallied and hung on for the improbable victory, which was also the first top-five finish of his racing career.
Cope returns to the Daytona 500 more than 30 years after winning the race. He will be making his 15th start in the race, but it will be his first since 2004. "After you win it, you feel you can go back and win it again," he said, according to NBC Sports. "Every time you go there, you feel that way. I still feel that way."
In addition to the 1990 Daytona 500 win, Cope has one other Cup Series victory. He claimed the 1990 Budweiser 500 in Dover. He has 32 top-10 finishes in 427 Cup Series races.
Cope doesn't care what you think about his age
When Derrike Cope straps in for Sunday's Daytona 500, there won't be any other driver in the race within 15 years of his age. Cope, 62, knows NASCAR is loaded with young guns making a name for themselves in racing. He doesn't care. "I really don't care what other people think," Cope said Friday in a Zoom session, according to NBC Sports. "If I did, I probably wouldn't be in this position. So, honestly, it's really about what I want."
Cope will be the second-oldest driver to ever compete in the Daytona 500. Mark Thompson was 66 when he raced in the 2018 Daytona 500. Cope has seen the changes in the sport. He realizes it's a sport dominated by younger drivers. Again, he doesn't care. "This sport is very aggressive right now," he said. "You've got a lot of young kids who really have no regard for pretty much anything, except getting to the finish line and winning. You know what? The way I feel like is I'm not really going to worry about pretty much anything. I feel like I understand the air as good as anyone.
"I will go to Daytona and if I do make it to the end … and be in a position to race hard, they'll know I'm there. The one thing I have always done is I'm not afraid of anything. I'm not afraid of mixing it up. I'm not afraid of pushing and shoving and I'm not afraid of wrecking. Bottom line is if they want to play, we'll play. That's just the way I look at it. I've got one shot at this thing."